New advanced computer modeling helped predict Idalia's intensity spike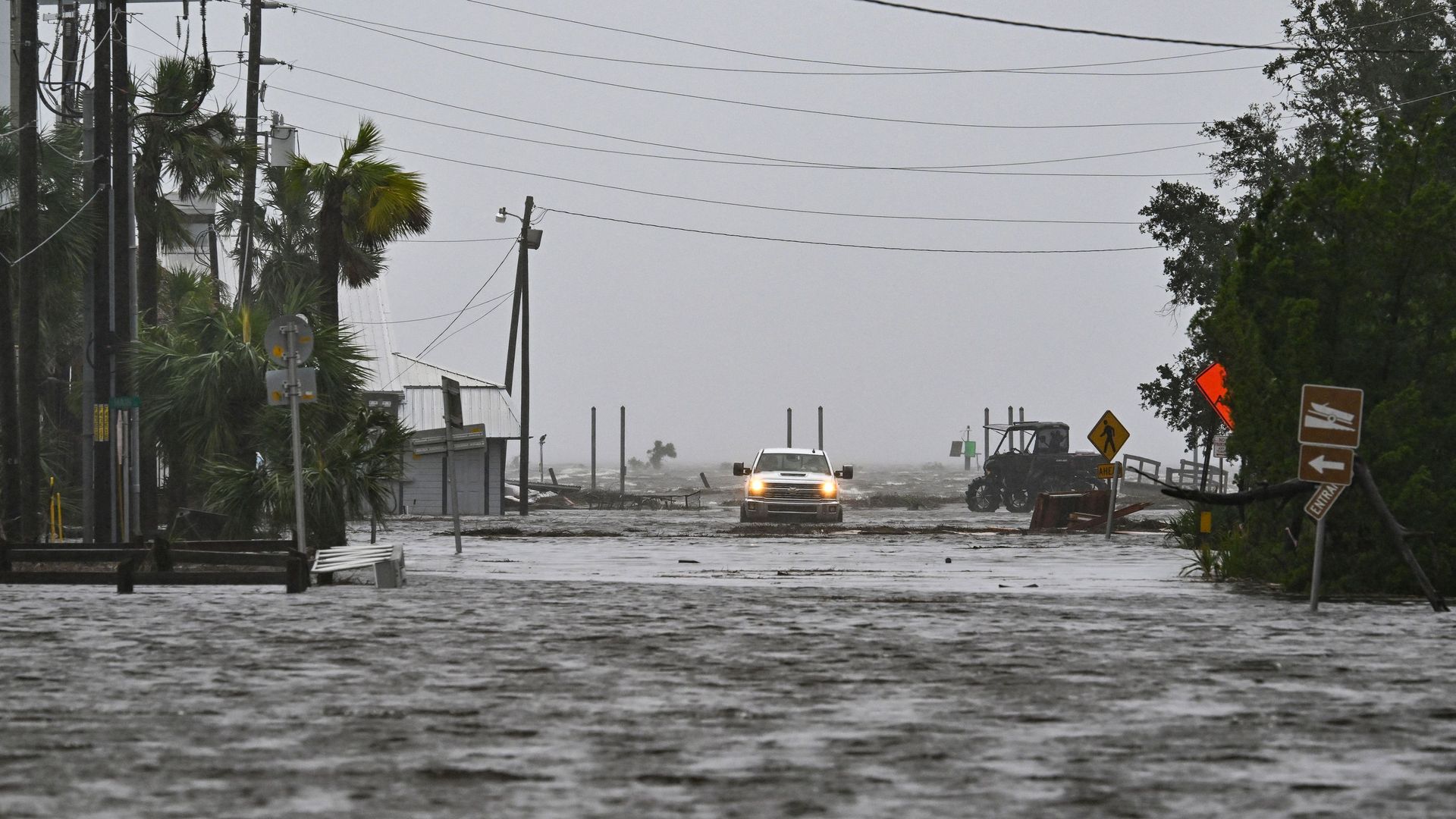 Hurricane Idalia's dramatic intensification during the 24 hours leading up to landfall was largely predicted, based on increasingly advanced computer modeling and data from NOAA and Air Force hurricane hunters.
The big picture: The storm illustrates how the National Hurricane Center's forecast capabilities are largely keeping pace despite climate-change-related trends in rapid intensification.
"While climate change makes certain kinds of forecasts (like hurricane intensity) harder, our techniques for making skillful forecasts are improving even faster," MIT meteorologist Kerry Emanuel told Axios via email.
Between the lines: Storm intensity forecasts have long frustrated NHC meteorologists, even as they have become more skilled at track projections in recent years.
But now the investment in new computer models that aim to better resolve small-scale features in the core of a tropical storm or hurricane may be making a clear difference.
For example, these models consistently showed a "caution" flag for Idalia's intensification in the run-up to landfall.
Though with Idalia, nearly every single indicator — including stalwart empirical-statistical tools and global computer models that have a coarser resolution — all told essentially the same story: the Jacuzzi-like waters of the Gulf of Mexico plus favorable atmospheric conditions would allow Idalia to put on a rare display of rapid intensification.
Yes, but: The Hurricane Center's forecasts for Idalia were far from perfect.
Three days in advance, it was predicted to be a Category 1 storm at landfall along Florida's Gulf Coast. At 5am ET on Sunday, hurricane forecaster Eric Blake sounded the alarm in a technical discussion that caught the attention of meteorologists and emergency managers outside of NHC.
"There's a notable risk of rapid intensification while the system moves across the record warm eastern and northeastern Gulf of Mexico," he wrote. "The upward overnight model trend certainly bears watching."
The official forecast at the time — which Blake noted might be an underestimate —was for a 90-mile-per-hour Category 1 storm at landfall.
It wasn't until about 48 hours before landfall that NHC's forecast was brought in line with the eventual outcome of a land-falling major hurricane of Category 3 intensity.
In the end, Hurricane Idalia's top sustained winds increased by about 55 miles per hour in 24 hours, greatly exceeding the 35 mph increase needed to qualify under the definition of rapid intensification.
Of note: The NHC forecast for the 24-hour intensity increase showed a 45-mph boost in maximum sustained winds, which tied for their highest such forecast on record. However, it still under-forecast what actually happened.
The intrigue: Hurricane Idalia's example showcases the improvements forecasters, modelers and researchers have made to better predict a phenomenon that is becoming more common and pronounced as the world warms.
Climate change trends are providing more opportunities for storms to rapidly intensify when other conditions allow, due to increasing sea and air temperatures, and the related higher amount of water vapor in the atmosphere.
Therefore it is critical that forecasters improve their ability to foresee rapid intensification to allow for necessary evacuations and other preparations on land.
However, the popular assumption that because the weather is becoming more extreme it is getting harder to predict, does not hold up, at least not when it comes to hurricanes, experts tell Axios.
What they're saying: "I'm old enough to remember when reliably forecasting rapid intensification was a pipe dream. It was either missed entirely or the timing was so far off that it wasn't especially useful," said Brian McNoldy, a hurricane specialist at the University of Miami.
"We can acknowledge that correctly predicting RI is a success while also acknowledging that there is still plenty of room for improvement," he said, pointing to the under-forecast 72 hours in advance.
Go deeper