How Florida's new immigration law could slow hurricane recovery efforts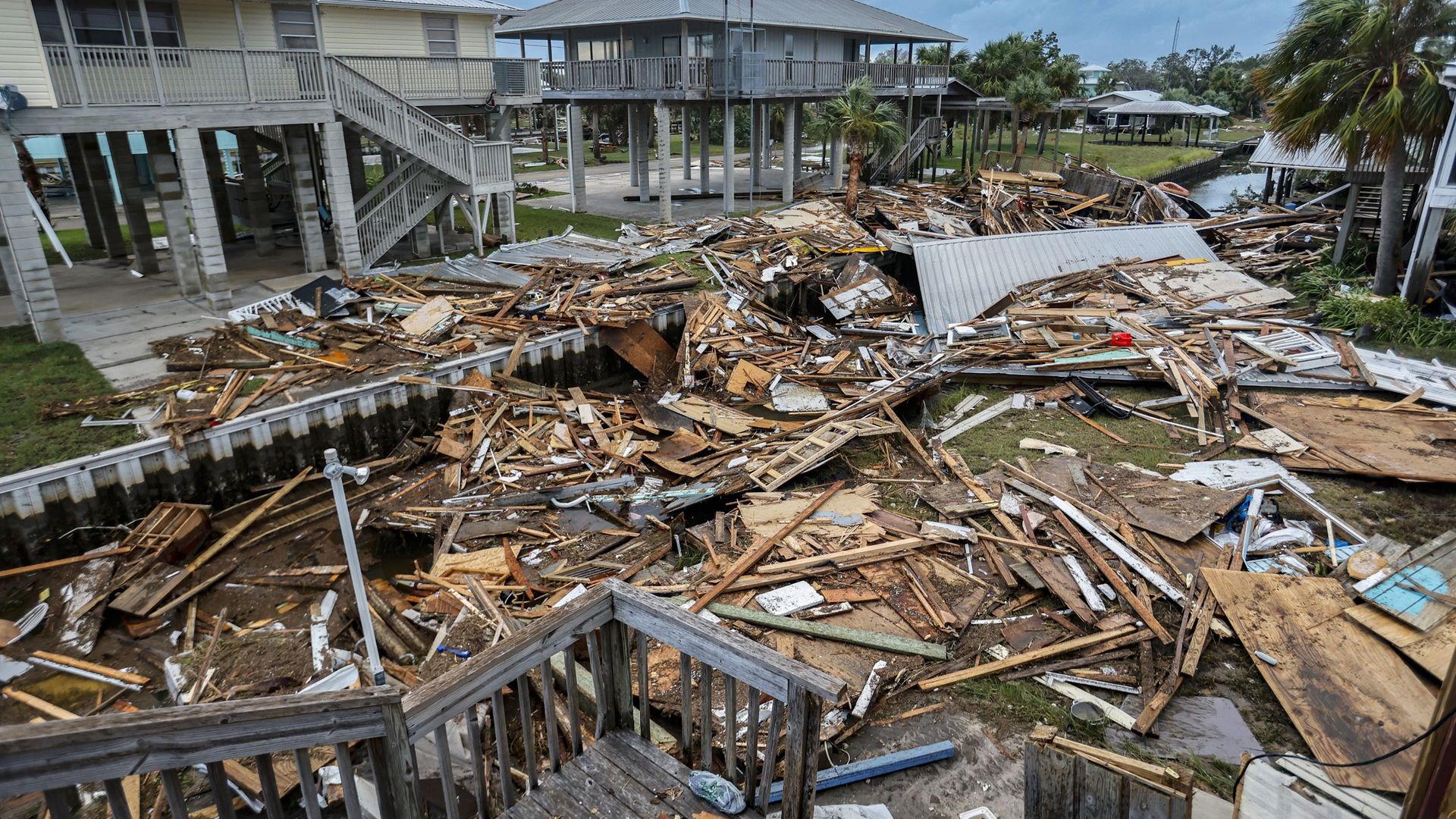 Gov. Ron DeSantis' new immigration law is leaving some workers wary of joining Hurricane Idalia recovery efforts in Florida.
Driving the news: A series of verbal surveys conducted by Resilience Force over the summer found that a majority of their laborers feared going to the state over concerns of deportation, Sacha Feinman, communications director for the nonprofit, told Axios.
Context: The group trains their "resilience workforce" – which is largely composed of immigrants, many of whom are undocumented – to work in disaster restoration.
In a series of worker meetings at their Houston and New Orleans hubs, organizers polled their teams to see how people felt about going back to Florida in the event of another hurricane.
Each time, more than 50% of workers said the risk was too great.
"After natural disasters that we'll be seeing time and again, Floridians need experienced and intelligent workers who know how to repair and rebuild homes and social infrastructure," Feinman said.
But because of the new immigration law, the workforce that is capable of doing that is not interested in going back to work in the state, he explained.
Catch up quick: A law signed by Gov. Ron DeSantis in May tightened restrictions on Florida's undocumented community is driving immigrants out of the state, Axios' Yacob Reyes reports.
The legislation voids out-of-state driver's licenses for those without proof of citizenship, bars municipalities from using state money to issue identification cards for undocumented immigrants and requires most companies in Florida to verify the immigration status of new hires, among other restrictions.
It also repeals a state law that allowed some undocumented immigrants to obtain a license to practice law in Florida.
What they're saying: "These workers are some of our best and our most experienced," Feinman said. "So Florida is now being deprived of that workforce at a time when it potentially most needs it."
The nonprofit is calling on DeSantis to overturn the legislation and make it so that Florida is "once again a welcoming place for immigrants who can help the citizens of the state."
There were still people working on Hurricane Ian repairs when the law passed and those people have now fled the state, Feinman explained.
The bottom line: "There is not commensurate supply of workers to meet the demand for recovery from these climate disasters, and it's just going to get worse and worse the longer this law stays on the books and the more these storms hit," Feinman said.
Go deeper