Tropical Storm Idalia floods U.S. Southeast coast with historic storm surge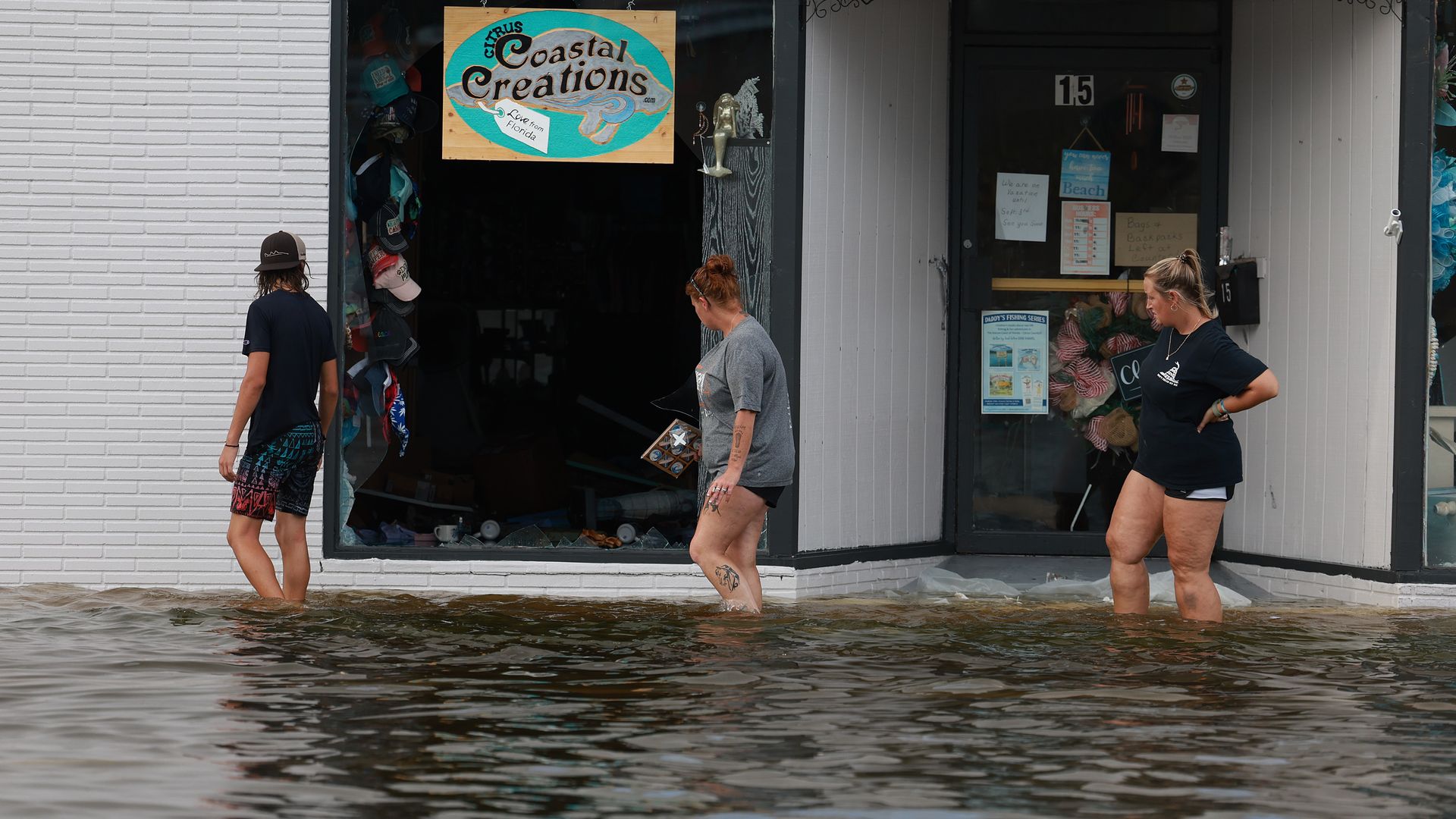 Tropical Storm Idalia was producing "very heavy rains" over North and South Carolina and causing "significant" flooding Wednesday night after earlier making landfall in Florida as a Category 3 hurricane, per the National Hurricane Center.
Threat level: Idalia weakened to a tropical storm about 5pm ET, but the NHC warned it would pummel Southeastern states with extreme weather, damaging winds and heavy rainfall through Thursday, making flash and river flooding likely across the region — and many places have already been inundated.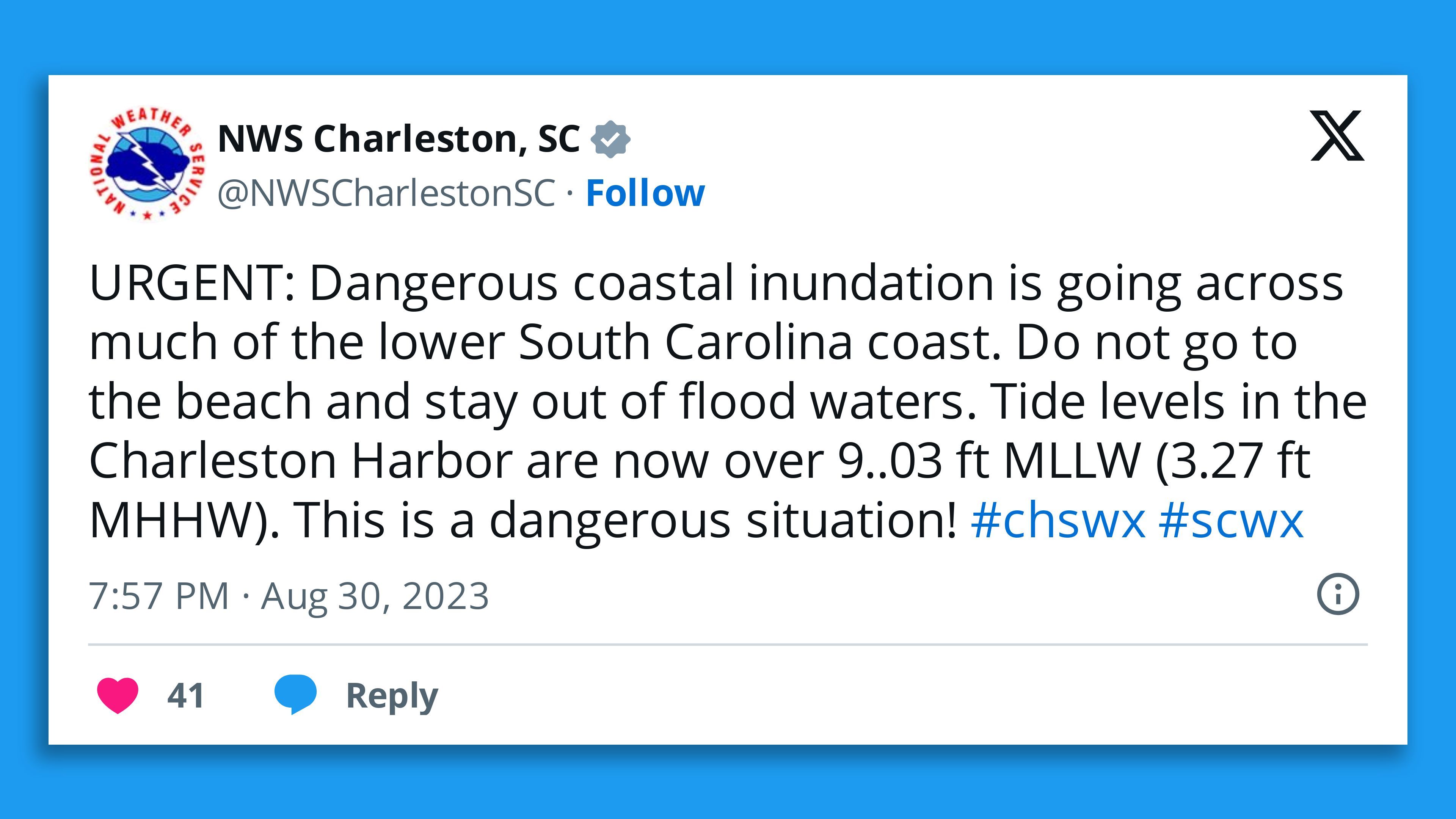 The big picture: The National Weather Service (NWS) warned that parts of Florida, Georgia, South Carolina and North Carolina should see "considerable" flooding and the possibility of multiple tornadoes from Idalia.
There were several reports of tornadoes in the Carolinas Wednesday — including a confirmed one in Goose Creek, S.C., that authorities said flipped a car.
Charleston, S.C., was seeing historic flooding Wednesday evening from a combination of astronomical high tides and a 2-to-3-foot storm surge from Idalia. The city's harbor reached its fifth-highest peak water level on record dating back to 1921.
Idalia has been linked to at least two vehicle crash deaths in Florida and another in Georgia, where authorities told local media a falling tree killed a man who was clearing a blocked roadway.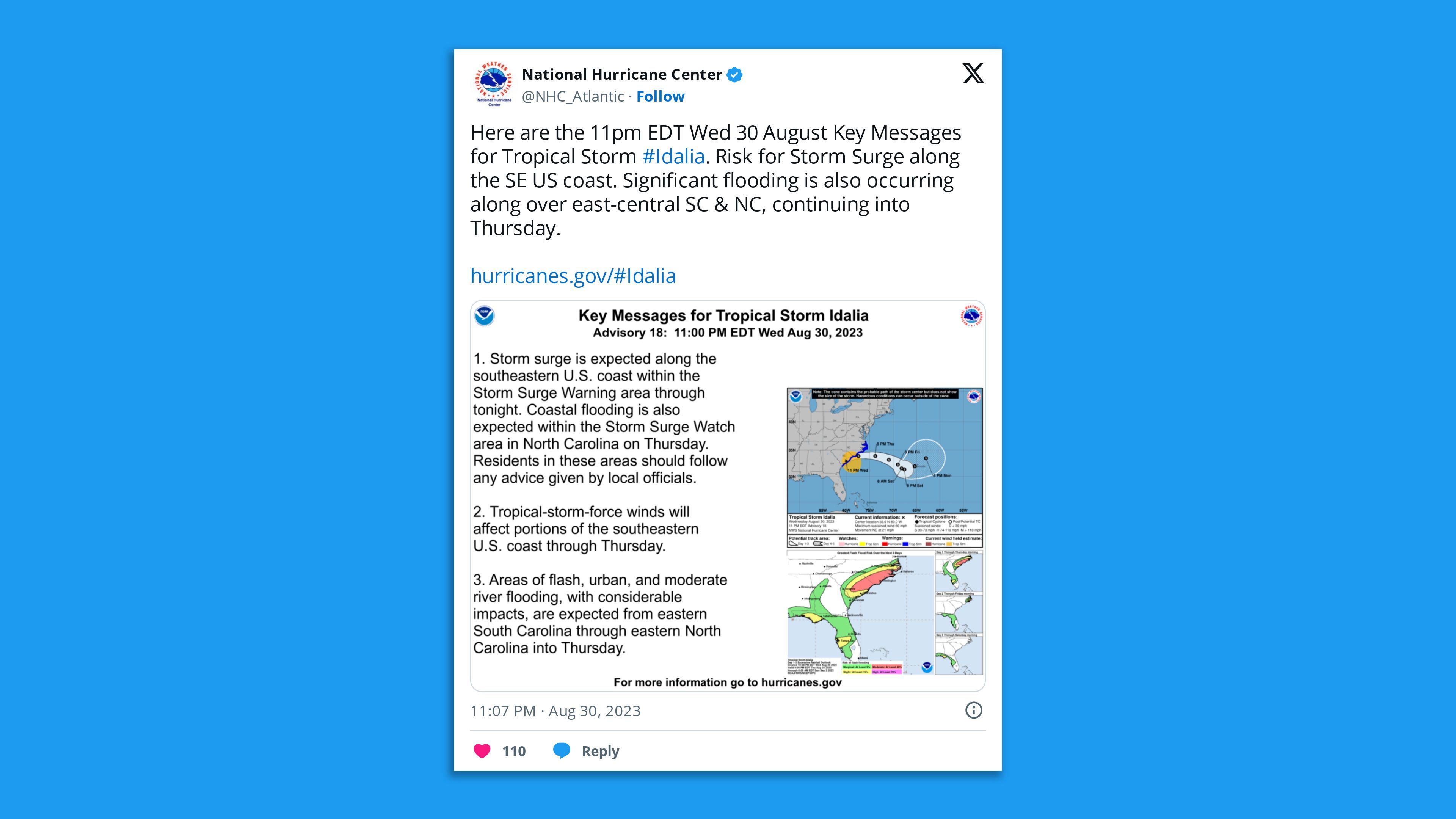 State of play: After Idalia had weakened to a tropical storm, it still was packing maximum sustained winds near 70 mph — the threshold for a Category 1 storm.
The eighth Category 3 or higher storm to hit the Gulf Coast in the past seven years had attained Category 4 intensity with maximum sustained winds of 130 mph. The slight weakening before landfall made no difference in storm impacts, the NHC stated.
Florida Division of Emergency Management officials said the town of Perry had so far suffered the most damage from the storm. Multiple businesses there caught on fire and had collapsed roofs.
There were power outages across affected Florida, including in Madison County, north of Perry, where officials said 99% of customers were without electricity.
By the numbers: Idalia was expected to unleash up to a foot of rainfall from northern Florida through central Georgia and the Carolinas into Thursday.
Over 326,000 customers were without power across Florida, Georgia and the Carolinas due to the storm Thursday morning, according to poweroutage.us.
Idalia forced the cancellation of hundreds of flights within, into or out of Florida and surrounding states on Wednesday, per FlightAware data.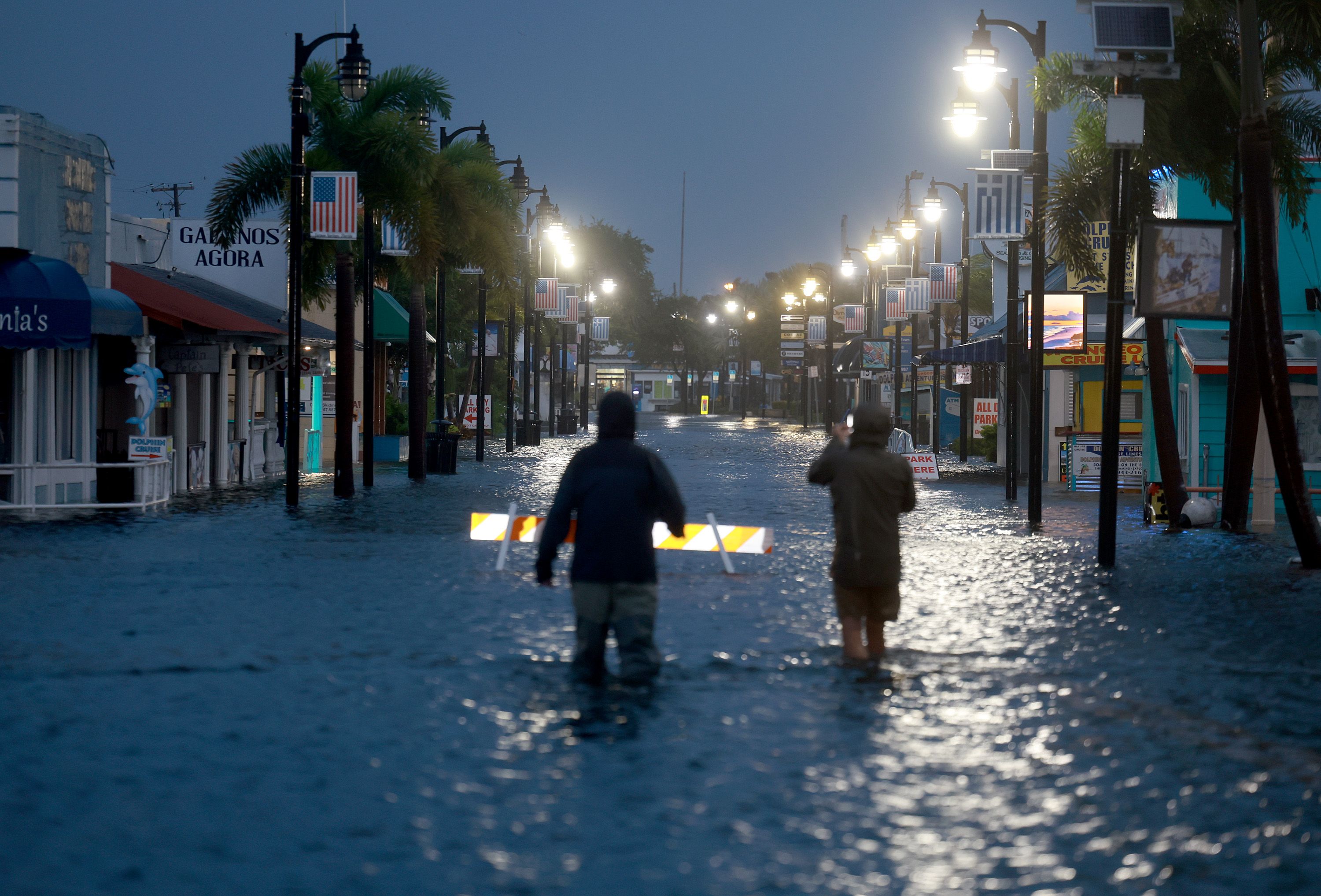 Meanwhile, the NWS told people in Georgia's Lowndes County, which includes the city of Valdosta and Moody Air Force Base, to immediately seek higher ground from "life threatening flash flooding" as up to 8 inches of rain fell in the area.
Rivers in Georgia and the Carolinas could expect to see 1-4 feet of storm surge if the peak surge occurred at high tide, the NHC said in a Thursday morning forecast update.
Background: The NHC said Idalia made landfall Wednesday at about 7:45am ET, near Keaton Beach in Florida's Big Bend area. The storm had rapidly intensified over record-warm Gulf waters.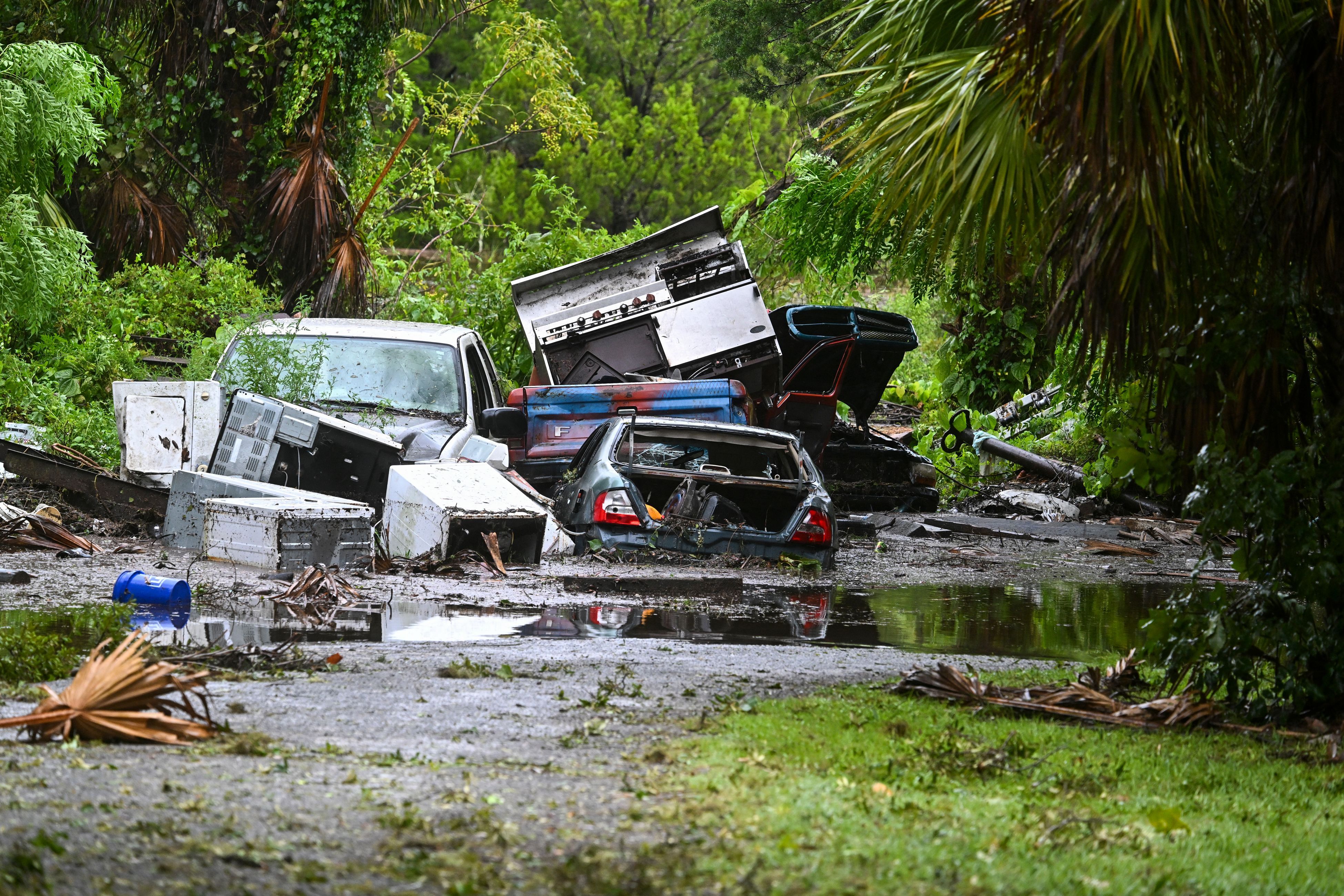 Of note: No major hurricanes have directly hit the region's Apalachee Bay since records began in 1851, per the NWS's Tallahassee office.
The Big Bend region is uniquely susceptible to storm surge flooding due to the shape of the coastline and shallow continental shelf, which forces water to pile up along the shore.
There were reports of significant storm surge spilling inland along the Big Bend coast. Cedar Key experienced around nine feet of surge, which resulted in a historic water level record at a nearby weather station.
Coastal flooding also occurred south to Tampa, where about 5 feet of surge was observed.
Between the lines: The storm intensified rapidly between 5am ET Tuesday and Wednesday, with maximum sustained winds increasing by 55 mph. A 35 mph increase is what's required to meet the definition of rapid intensification.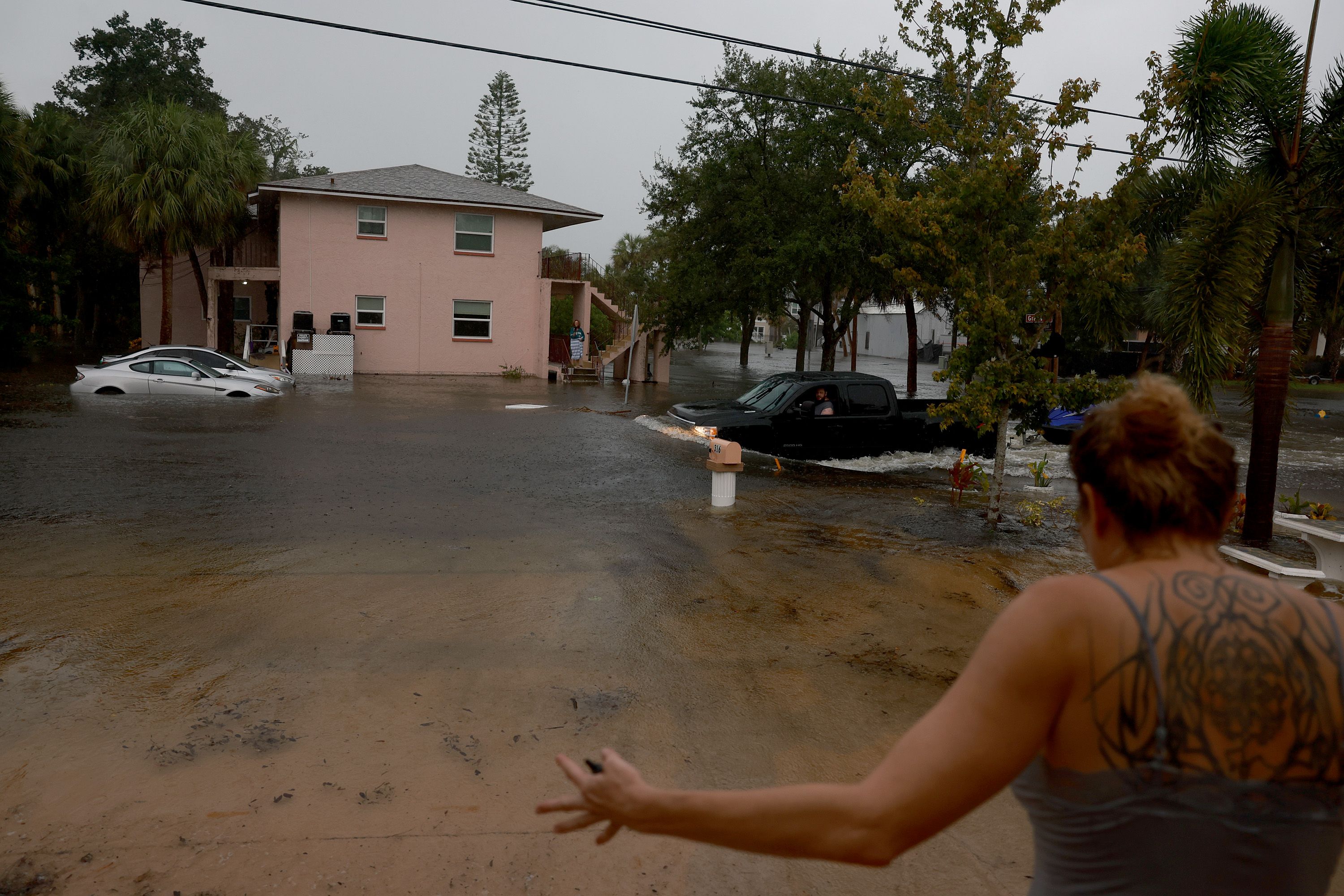 Zoom out: The governors of Georgia, North and South Carolina declared states of emergency due to forecast impacts of the storm in their states.
President Biden this week approved Florida's emergency declaration and pledged assistance with federal disaster relief during a phone call with Gov. Ron DeSantis.
Federal Emergency Management Agency administrator Deanne Criswell said Biden called DeSantis again Wednesday and that the president directed her to travel to Florida and assess the storm damage with DeSantis on Thursday.
Context: Multiple storms have struck Florida along its Gulf coast over the past few years after rapidly intensifying ahead of landfall in a process linked in part to climate change.
Go deeper: Top 5 reasons Idalia stands apart from other storms
Editor's note: This story was updated with new photos and additional information.
Go deeper