Scoop: Inside Tesla's decision to build a $25,000 "global car"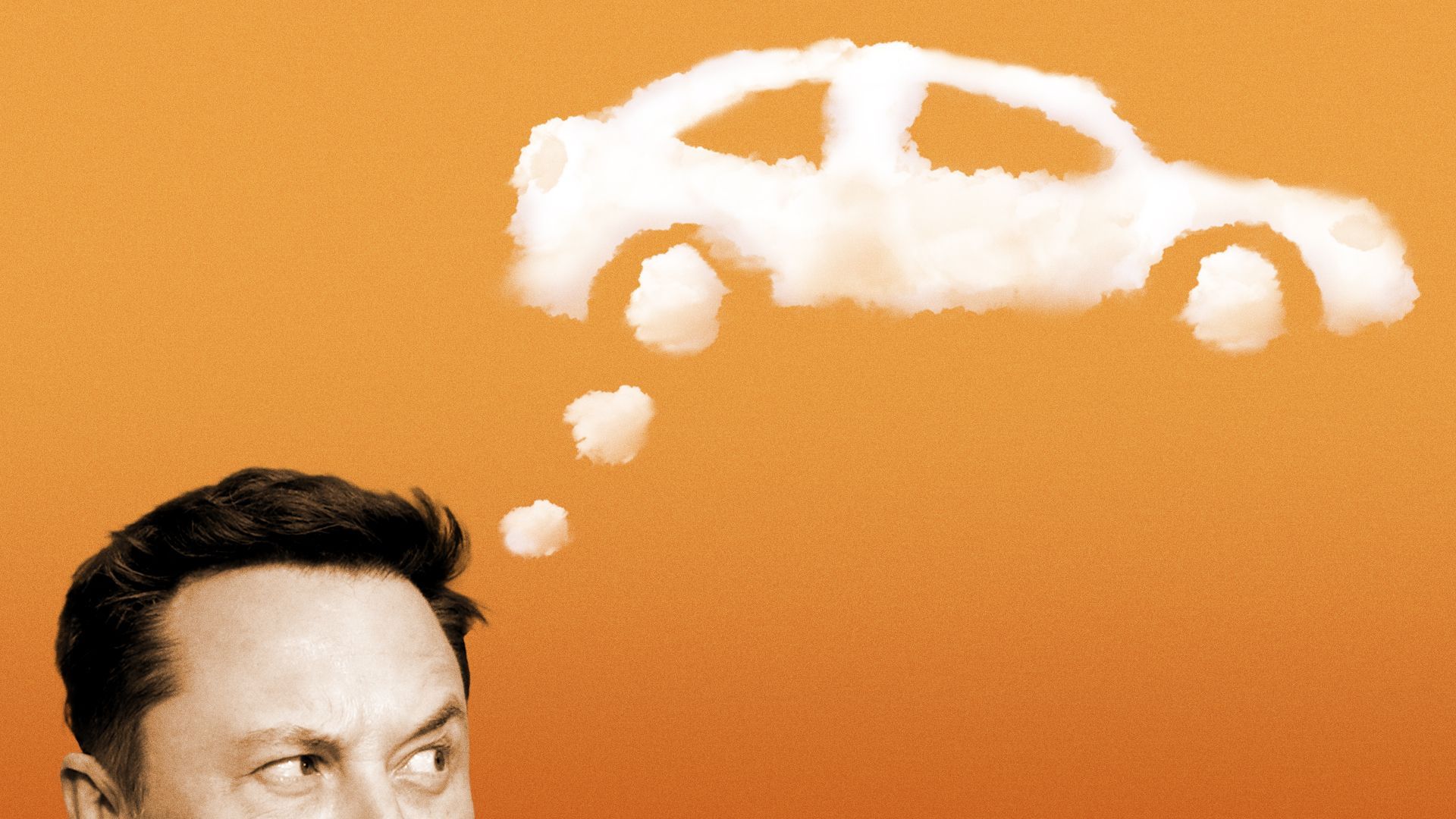 Elon Musk was so obsessed with robotaxis that he repeatedly vetoed his own plan to build a $25,000 electric car in favor of them — until skeptical Tesla executives persuaded him to hedge his bet, Musk biographer Walter Isaacson tells Axios.
The notoriously stubborn Tesla CEO finally relented when aides revealed a plan to build both a robotaxi and an inexpensive small car side by side in a cutting-edge factory, according to an exclusive Axios excerpt from Isaacson's forthcoming book, "Elon Musk," out Tuesday.
Why it matters: A $25,000 electric car would be a game-changer in the auto industry's fight against climate change — especially in the U.S., where consumers are facing high inflation and a lack of affordable options.
Catch up quick: Tesla's Master Plan, first published in 2006, always called for using money made on early models, like the $100,000-plus Roadster and the Model S, to bring down the cost of future vehicles.
The Model 3, promised at $35,000, was supposed to be Tesla's affordable family car. But it debuted in 2017 at $52,000, and today still starts above $40,000 before incentives and tax credits.
Meanwhile, Musk's fascination with self-driving robotaxis kept growing.
He predicted Tesla owners would earn more than $30,000 a year by dispatching their cars to run errands or give driverless rides to others.
Over time, he believed robotaxis would eliminate the need for people to even own cars, he told Isaacson.
In November 2021, Musk gathered his top five lieutenants for dinner in Austin to start brainstorming a basic, high-volume robotaxi.
"There is no amount that we could possibly build that will be enough," Musk said, per Isaacson. "Someday we want to be at 20 million a year."
For nearly a year, they debated whether to play it safe and build the car with a steering wheel and pedals, or make it truly autonomous.
The gamble: Regulators might not approve an autonomous car without traditional controls.
Most of Musk's engineers pushed for the safer, conventional option. They had a more realistic outlook on how long it would take for Tesla's Full Self-Driving (FSD) technology to be ready, Isaacson writes.
"If we go down a path of having no steering wheel, and FSD is not ready, we won't be able to put them on the road," Tesla's longtime chief designer, Franz von Holzhausen, told Musk at a fateful meeting on Aug. 18, 2022.
The designer suggested making a car with a steering wheel and pedals that could be easily removed later.
Musk was adamant, Isaacson writes: "No mirrors, no pedals, no steering wheel. This is me taking responsibility for this decision."
When his deputies still resisted, Musk got into one of his very cold moods.
"Let me be clear," Musk said slowly. "This vehicle must be designed as a clean robotaxi. We're going to take that risk. It's my fault if it f--ks up. But we are not going to design some sort of amphibian frog that's a halfway car. We are all in on autonomy."
The big picture: Musk believed a Tesla robotaxi would be truly revolutionary.
"This is the product that makes Tesla a ten-trillion company," he told Isaacson. "People will be talking about this moment in a hundred years."
But his deputies remained skeptical about the readiness of FSD, and finally found a way to persuade him to cover his bet "in a non-challenging way," Isaacson writes.
Details: At a secretive meeting late one evening in September 2022, von Holzhausen and a few others presented data showing that a small, inexpensive global car was needed to meet Tesla's ambitious 50% annual growth targets.
They convinced Musk that Tesla could build both the $25,000 car and the robotaxi on a "next-generation" engineering platform, using the same assembly lines.
Musk had long believed that Tesla's production system — "the machine that builds the machine" — was even more important to its success than its vehicles.
So he saw the opportunity to design a new high-speed, ultra-automated manufacturing process for both cars.
Though initially unenthusiastic about the $25,000 car, Musk's attitude changed after a design review session in February 2023, when von Holzhausen put models of the robotaxi and the $25,000 car next to each other in the studio.
Both had a futuristic design like the Tesla Cybertruck — an angular, stainless steel pickup truck that had yet to debut.
Musk loved the designs. "When one of these comes around a corner," he said, "people will think they are seeing something from the future."
Go deeper