Tesla's long-shot robotaxi plan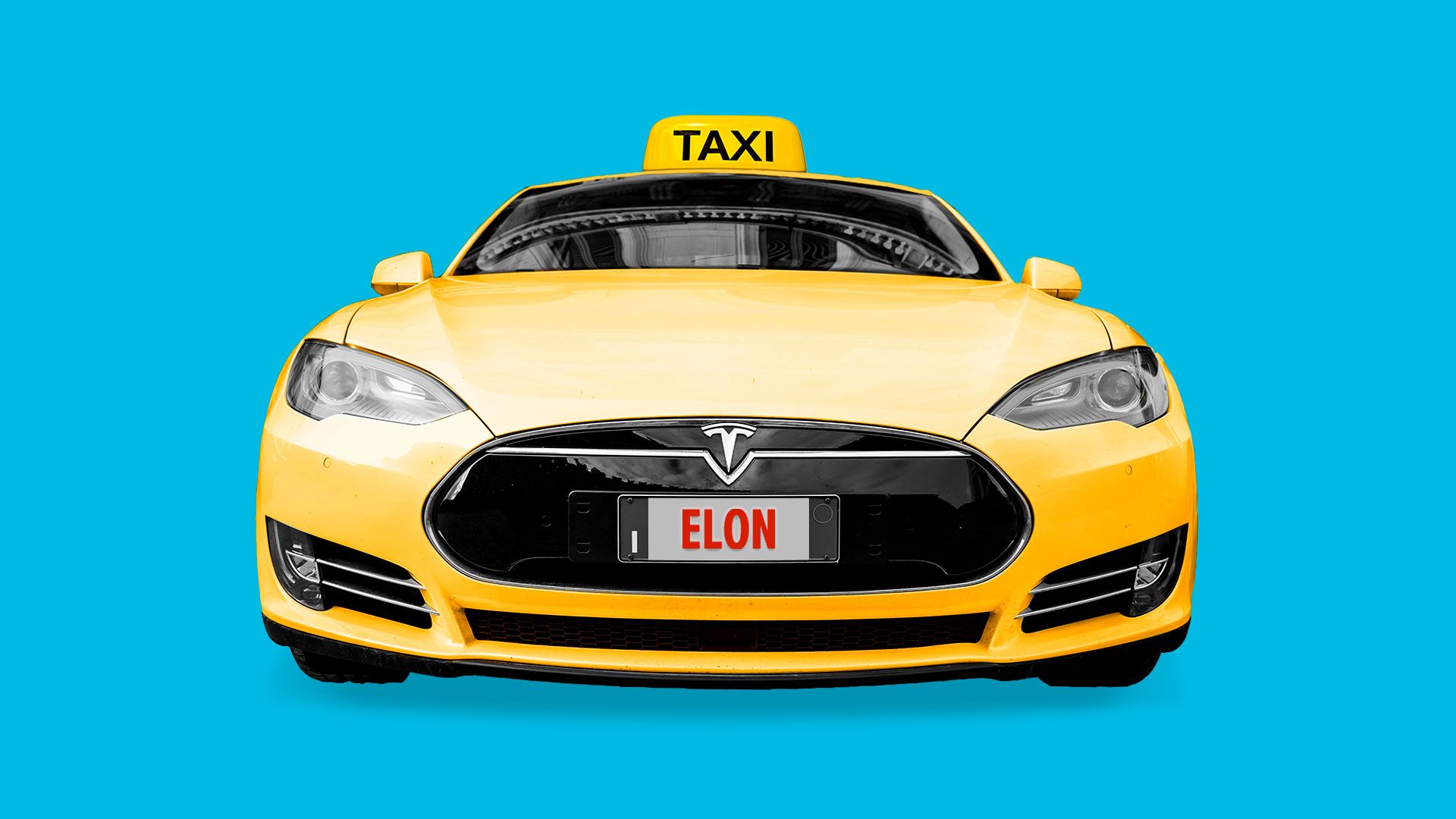 Tesla CEO Elon Musk is banking on a risky new strategy for the electric automaker: a robotaxi service that he argues will transform Tesla into a $500 billion company.
The big picture: Like other AV companies, Musk is fixated on a potential $3 trillion market opportunity for autonomous mobility as a service.
But while most say fully self-driving cars are still a decade away, Musk is telling investors they'll be here by next year and that Tesla will have first mover advantage with a million robotaxis on the road.
Between the lines: Investors are eager to fund his plans — witness last week's fresh $2.7 billion equity and bond deal.
Musk's track record is spotty, though — even he admits to blowing his self-imposed timetables — but in the end, he insists, "I get it done."
Still, his latest idea — for Tesla owners to rent out their cars via a vast Tesla robotaxi network — seems "half baked," as Cowen analyst Jeffrey Osborne put it to CNBC.
Driving the news: Musk touted the Tesla car-sharing network at an investor event on April 22.
Then, according to CNBC and Bloomberg, he doubled down a week later on a private investor call, saying AVs are now the fundamental driver of value for Tesla and making his case for that $500 billion market cap.
How it will work, according to Musk:
Tesla owners can offer their cars for rent on Tesla's car-sharing network.
They could pocket up to $30,000 a year (Tesla would keep 25% to 30% ) and their cars will rise in value — up to $250,000 within 3 years, Musk claims — as more self-driving capabilities are added via software updates.
Tesla would supplement the fleet with company-owned cars as needed.
Yes, but: The economics of the plan seem dubious and there are a host of serious legal, logistical and technology questions that remain unanswered.
Tesla says it made a technological leap by replacing a Nvidia processor with a new proprietary AV computer chip, which will enable self-driving capabilities starting in 2020.
"I feel very confident predicting autonomous robotaxis from Tesla next year. Not everywhere. But we will have regulatory approval somewhere," Musk says.
What they're saying:
The new focus on autonomy could push out the path to profitability even further, Barclays analyst Brian Johnson wrote in a research note Tuesday.
Patient investors will be rewarded, ARK Invest analyst Tasha Keeney tells Axios. "It's not too wild to say the company be worth $500 billion in the next 5 years."
"Let's count how many truly autonomous (no human safety driver) Tesla taxis (public chooses destination & pays) on regular streets (unrestricted human driven cars on the same streets) on December 31, 2020. It will not be a million. My prediction: zero. Count & retweet this then," tweeted robotics pioneer Rodney Brooks.
My thought bubble: Tesla's strategy is far-fetched, but plausible, if, as Osborne says, they are better than GM at manufacturing, better than Nvidia at hardware, better than Google at software, and better than Uber at running a taxi service. That's a lot of ifs.
Go deeper: Teslas are among the most popular cars rented on Turo
Go deeper