Axios Navigate
May 01, 2019
Good morning! Thanks for reading. Please share this newsletter and tell your friends they can subscribe here. If you have tips or feedback, just reply to this email.
1 big thing: How to train an automated vehicle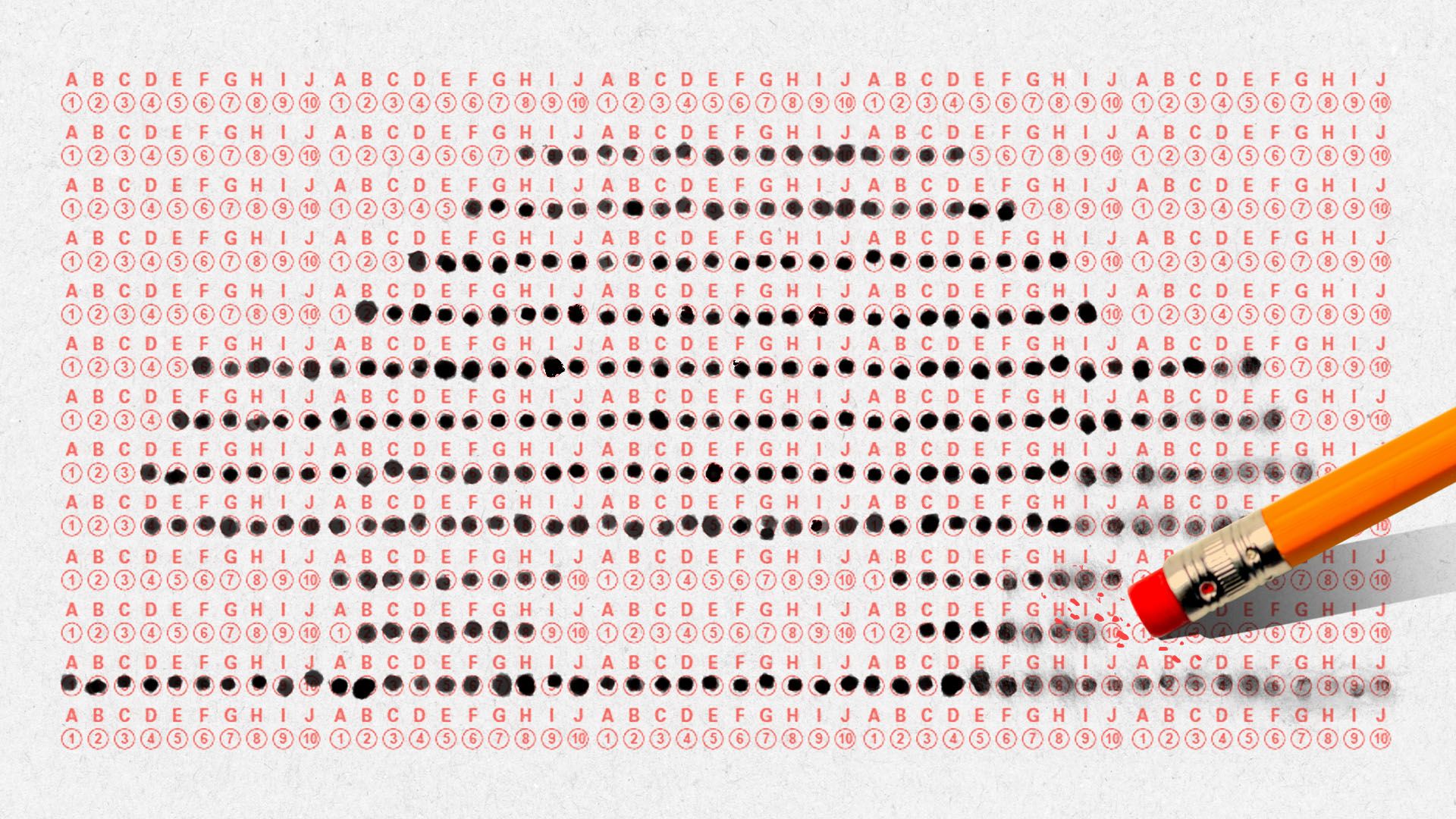 Training a new driver is straightforward — make them practice until they can master basic skills well enough to pass a driver's license exam. But there are no such tests for automated vehicles, leaving it up to AV developers to decide when their technology is safe enough to deploy.
Why it matters: AVs could reduce the number of traffic deaths and increase mobility for those who can't drive, but only if the public trusts them. With no prescribed validation methods — and regulators largely on the sidelines as the technologies are advancing — it's difficult to know how safe is safe enough.
The big picture: "It's kind of the wild, wild west out there," says Consumer Reports' David Friedman, a former acting administrator of the National Highway Traffic Safety Administration.
Even in California, which is a leader in AV policy, manufacturers merely need to certify that they have conducted their own validation tests and are satisfied their vehicles are safe for deployment on public roads.
What's happening: There are basically 3 ways to test automated vehicle technology...
Run computer simulations of every possible scenario.
Perform tests on closed-course loops.
Drive around endlessly on pre-mapped routes.
Most developers use a combination of all three, but their approaches can vary. Some recent examples are...
Aurora Technologies leans heavily on simulation rather than trying to rack up millions of real-world miles in a large test fleet, per a voluntary safety report filed with NHTSA on April 29.
Argo AI, owned by Ford, uses a "continuous testing" process including how it trains its AV safety drivers, according to posted details of its testing process on its website.
Tesla is the outlier — its testing process is heavily dependent on cars already on the road, which the company sees as a huge competitive advantage.
The company pulled back the curtain on its powerful new computer chip at an investor event on April 22, explaining how it collects data from 425,000 customer-owned vehicles to help train its algorithms.
The system learns every time a Tesla driver intervenes with the car's Autopilot system.
Even when Autopilot isn't engaged, the system keeps learning through what Tesla describes as "shadow mode" — computing what the car would have done if Autopilot had been active, and comparing it to what the driver actually did.
Tesla says it can shadow test many millions of miles every day, compared to the much slower rate of companies using safety drivers.
Yes, but: It's not clear if the data captured from Tesla's consumer fleet is better at training its AV system than data collected through more deliberative testing processes by other companies.
What's needed: Several experts tell me there should be an independent, third-party assessment of each company's safety claims.
"Self-driving cars are anything but proven. All we're asking is to get us the data to prove these things deliver real safety benefits before we start using people as human guinea pigs."
— David Friedman
What to watch: A new consortium is working to define safety testing practices to lay the groundwork for formal industry standards. Its first recommendations are expected this summer.
2. Luminar helps put Florida on the lidar map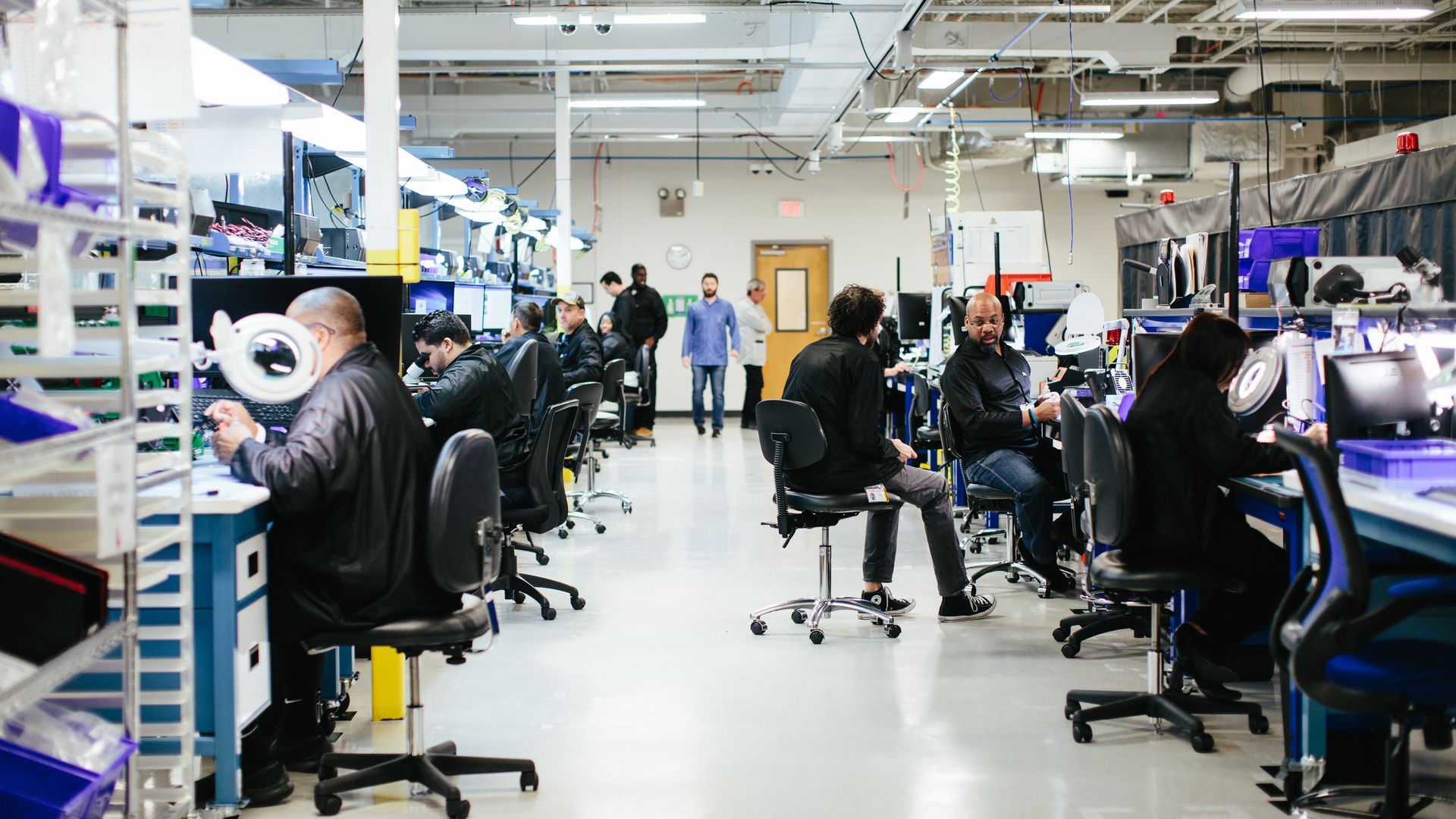 ORLANDO — Luminar, the lidar company trying to build the "eyes" for AVs, plans to turn its central Florida headquarters into a mass-production manufacturing center by the "early 2020s," Luminar co-founder and CTO Jason Eichenholz tells Axios' Kim Hart.
Why it matters: There's plenty of competition in this area, with biggest rival Velodyne announcing a mass-production deal with Nikon last week.
Still, Eichenholz thinks Luminar will have an edge in enabling systems like driverless trucks, robotaxis and driver-out-of-the-loop systems, partly because of its location.
Background: Kim visited Luminar while joining AOL founder-turned-investor Steve Case on his firm's "Rise of the Rest" tour highlighting startups in cities outside of traditional tech hubs that are often overlooked by venture capitalists.
Florida is the 3rd largest state, but only 1.3% of VC funding last year went to companies here.
Eichenholz runs the Orlando facility, where two-thirds of the company's 350 employees are based. His co-founder, Austin Russell, is based in San Francisco.
The big picture: Florida has some of the country's most progressive rules governing AV testing.
But Eichenholz attributes his success in Florida to the laser and sensor expertise in the area, with engineering talent from nearby military bases and defense giants Lockheed Martin and Northrop Grumman.
3. EV charging could be part of infrastructure plan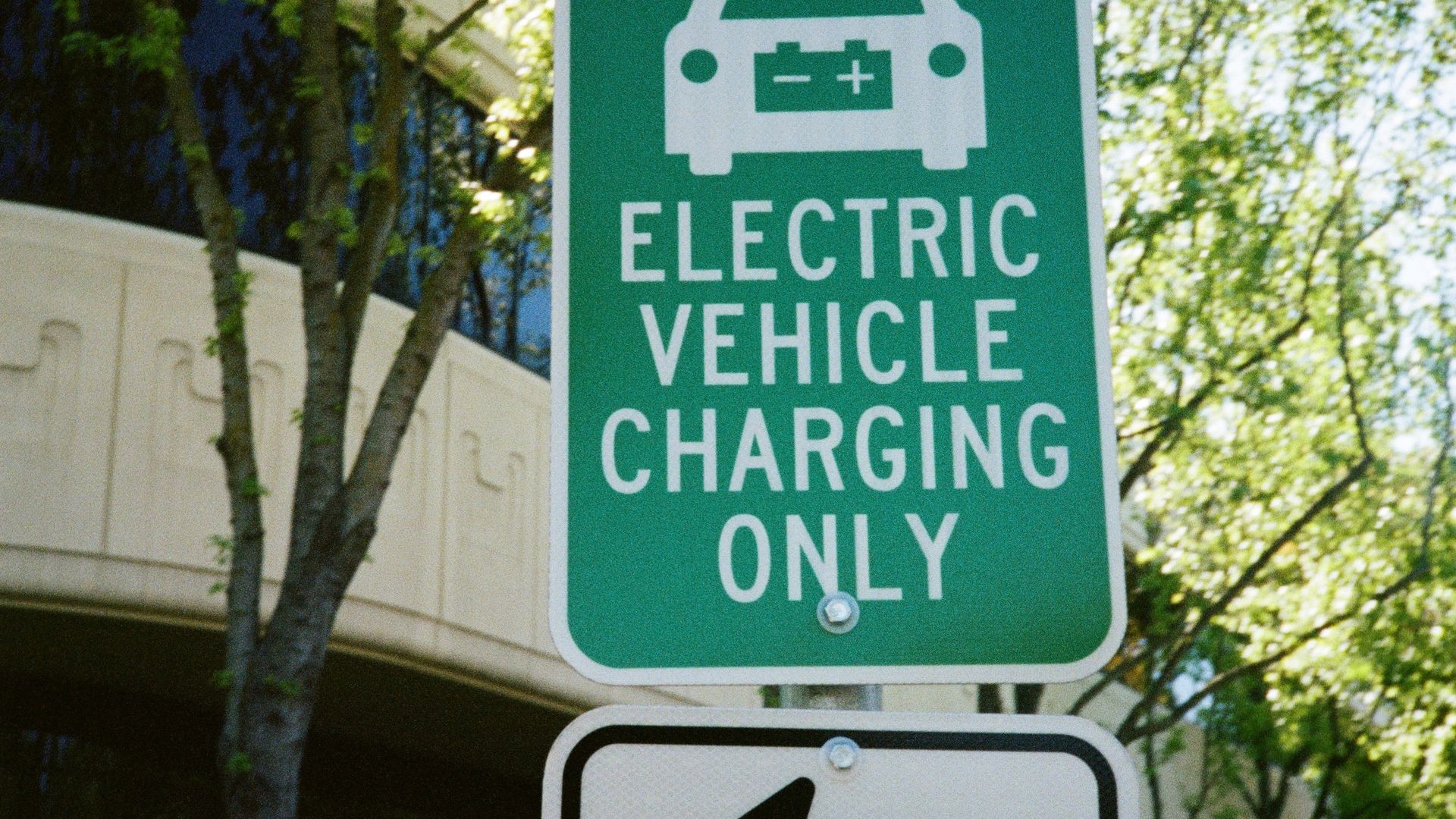 President Trump is open to considering infrastructure spending on electric vehicle charging, Sen. Debbie Stabenow told Bloomberg (subscription).
The big picture: Trump and congressional Democrats agreed they should invest $2 trillion in the nation's roads, bridges and rural broadband in a meeting at the White House yesterday.
EV charging networks would help spur deployment of EVs, as well as AVs since most will likely be electric.
"He said he was open to that. He said he understands why that is needed. He wasn't negative," Stabenow said.
What to watch, per Axios' Marisa Fernandez: House Speaker Nancy Pelosi and Senate Minority Leader Chuck Schumer plan on meeting with the president again in 3 weeks along with Treasury Secretary Steven Mnuchin to discuss funding specifics.
Both parties agreed broadband and clean energy will be included.
4. Driving the conversation
Electric future: L.A. Mayor Eric Garcetti's sweeping plan would phase out gas-fueled cars (Sammy Roth — The Los Angeles Times)
The vision: By the mid-2030s, 80% of the cars will run on electricity or zero-emission fuel, 80% of the electricity will come from renewable sources, and Angelenos will drive 2,000 fewer miles each year than they do now.
AVs are a big part of the plan, by requiring that all shared robotaxis be electric.
Why it matters: If Los Angeles doesn't take aggressive action now, the city will be in big trouble in 50 years, Garcetti says. "This plan gives us a fighting chance."
More on Velodyne's deal: The autonomous car tech that Elon Musk said was "doomed" is calling his bluff (Chris Davies — SlashGear)
Why it matters: By partnering with Nikon to mass-produce cheaper lidar sensors, Velodyne is poised to expand its lead in laser range-finding systems used by every AV developer — except Tesla.
Recap: Tesla's autonomy event: Impressive progress with an unrealistic timeline (Timothy B. Lee — Ars Technica)
My thought bubble: I was off for a week and missed Tesla's big autonomy-focused investor meeting, but Lee offers a great analysis, in case you missed it, too.
5. 1 Jetsons thing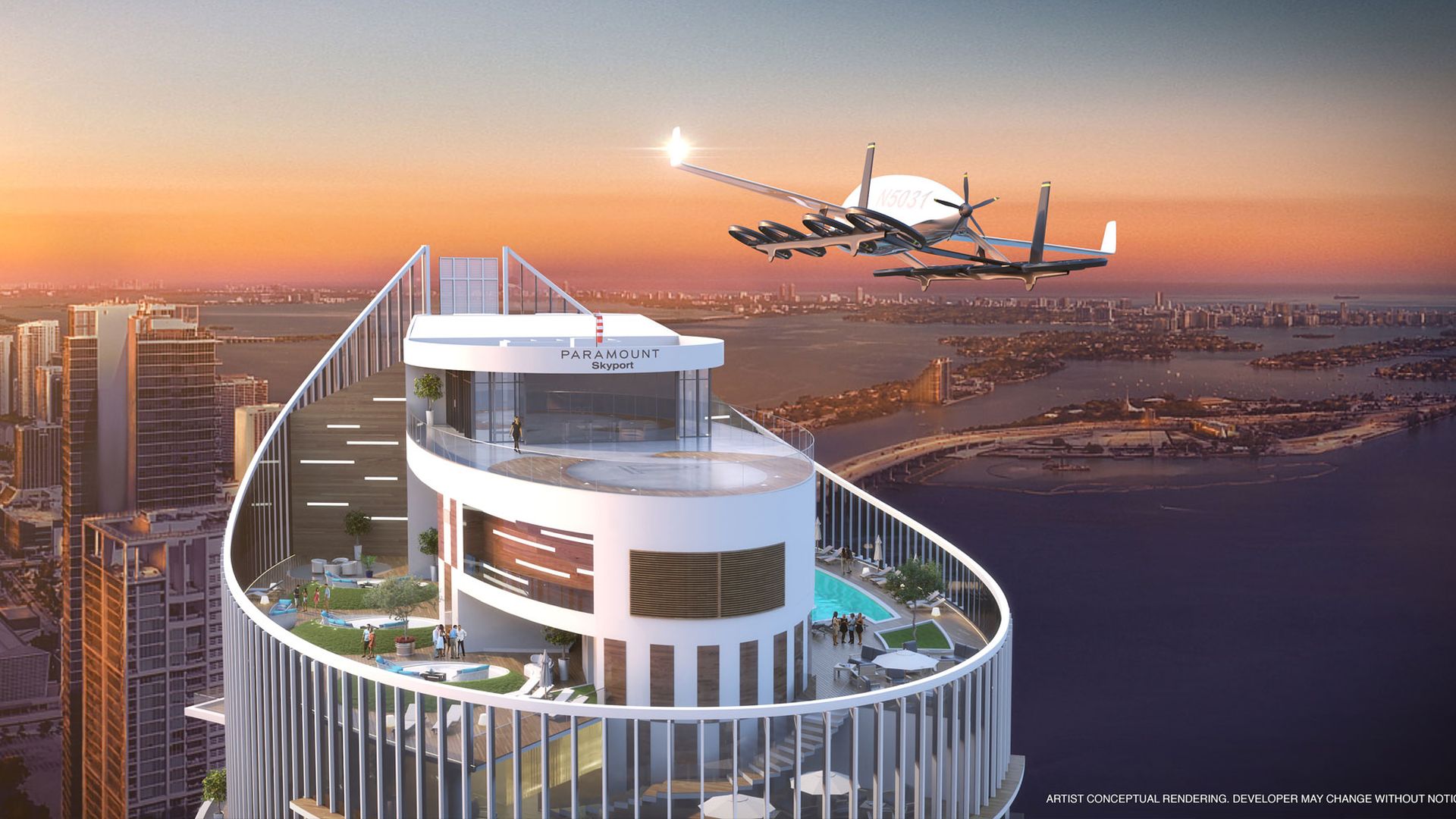 Future residents of the 60-story Paramount Miami World Center won't have to bother with trying to hail a ride at street level. Instead, they can take a glass-enclosed elevator up to the rooftop skyport and be whisked off by a flying car.
Why it matters: South Florida is a prime market for VTOL (vertical take-off and landing) air taxis because of the region's congested highways and affluent population, says Daniel Kodsi, developer of the center.
Flying car technology is inevitable, per Kodsi:
"We are just a few years away from the first flights, which could start in the 2020's, depending on regulatory issues," he says.
To prepare for that future, his firm designed the 60th-floor SkyDeck pool so it can easily be transformed into a SkyPort.
The floor of the swimming pool will rise as shown in this video, draining all the water, and convert itself into a takeoff and landing pad.
Kodsi says he's in talks with several VTOL air vehicle manufacturers.
Context: Helicopter landing pads have adorned buildings for decades. But Kodsi claims the new Miami tower would be the first in the world designed especially for so-called flying cars.
Yes, but: While some advocates predict flying cars will be here within a decade, no one knows whether masses of people want to fly in taxis, or whether the many logistical and regulatory hurdles can be cleared.
Details: The $600 million tower, now under construction, will have 524 high-end apartments including 26 penthouses, with prices ranging from $700,000 to $1.5 million.
The bottom line: With his TV royalties, surely George Jetson could afford to retire there.