Tesla debuts its first electric pickup truck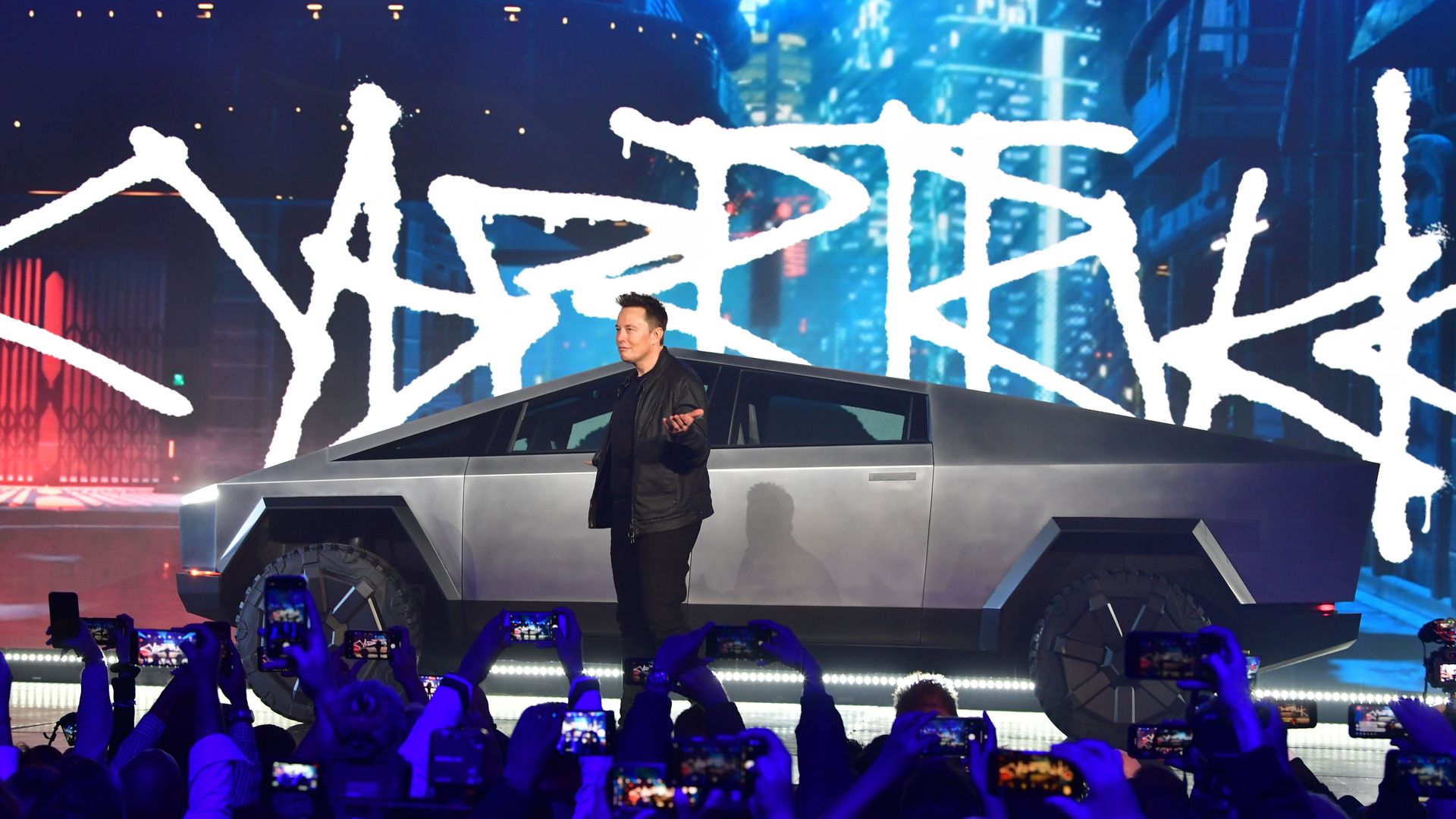 Tesla CEO Elon Musk revealed the car maker's long-promised electric pickup truck, dubbed the "Cybertruck," on Thursday night in Los Angeles, Calif. near Space X's rocket factory.
Why it matters: "With the launch, Tesla is edging into the most profitable corner of the U.S. auto market..." AP writes. Pickup trucks account for one in every six cars sold in the U.S., per the Drive and the category is valued at nearly $80 billion, according to a 2018 Cox Automotive study.
What we know:
The stainless steel alloy truck, Tesla's sixth model since the company's founding in 2003, looks like a "large metallic trapezoid," per CNBC.
Inspired by: Bladerunner and The Spy Who Loved Me.
Battery range: The truck will come in three versions with 250 miles, 300 miles and 500 miles of range.
Price: $39,900 starting price for the 250-mile range version that tows 7,500 pounds. The mid-range Cybertruck adds on $10,000, while the top-range, "tri-motor" variant comes in at $69,900, per CNET.
Towing capacity: Estimated 14,000 pounds.
Payload: 3,500 pounds.
Performance: Musk claims the Cybertruck will reach 0-60 m.p.h. in 2.9 seconds for the top-end version; 1/4 mile in 10.8 seconds
Telsa also debuted an ATV.
The truck has an onboard air compressor and onboard outlets.
What he's saying: "I think the Tesla side of the truck is our best product ever," Musk said before the launch.
The CEO of the electric car company has called the pickup "heart-stopping" and his "personal favorite" of Tesla's vehicles.
"When they say something's 'built tough,' that's what we mean," Musk said, jabbing at Ford's longtime slogan.
Reality check via Axios Ben Geman: Cox Automotive analyst Michelle Krebs said she is doubtful that many current pickup drivers are interested in electric models.
Meanwhile, Ford and General Motors are both working on comparable pickup trucks, and startup Rivian introduced a battery-powered pickup earlier this year.
Our thought bubble, via Axios' Joann Muller: Tesla's truck will find an audience among high-end, tech-savvy buyers, but it's hard to imagine they'll steal many traditional truck customers from Chevy, Ford or Ram. Pickup truck owners are fiercely loyal, and productivity is their primary concern.
Go deeper:
Go deeper