Slack taps AI to help workers catch up from time off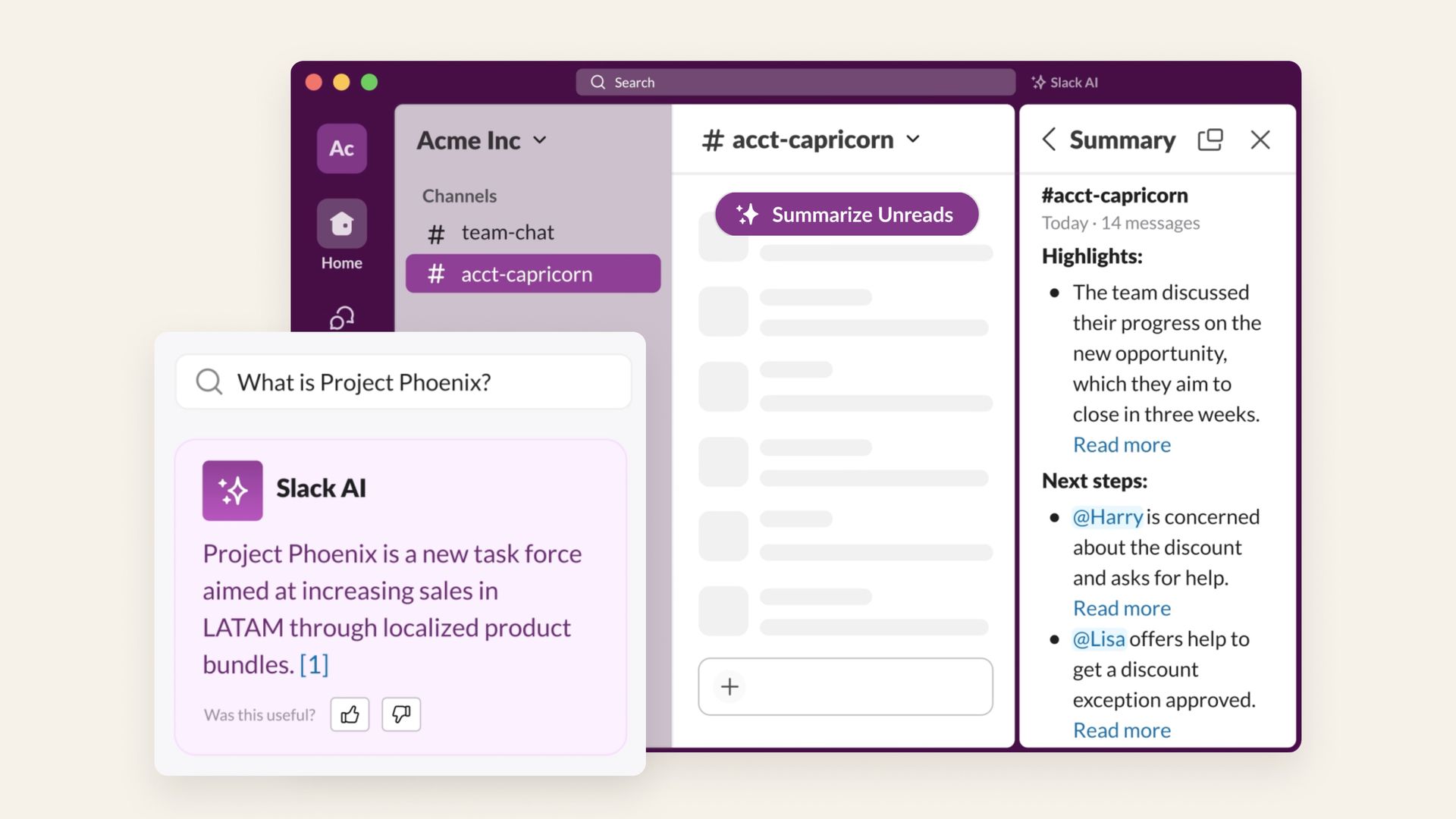 As it looks to integrate AI directly into its main product, Slack decided one of the best places to start is offering people an easier way to catch up when they join a team or return from having taken time off.
Why it matters: As companies rush to add generative AI features to their products, figuring out where the technology is good enough today to be both useful and reliable has become a key strategic choice.
Details: The new features, dubbed Slack AI, use generative AI to get a recap of answers to search queries.
With search, people get not only an AI summary, but also links to the specific posts from which the answers are derived — important because generative AI isn't always known for showing its work, and sometimes makes things up.
The catch-up summaries will be available as a limited pilot this fall.
Slack is also adding more Notion-like list capabilities (also as a limited pilot) as well as expanding the types of automations that workers can do within Slack without having to code (available now).
The big picture: Slack's announcement comes as parent company Salesforce is gearing up for its big Dreamforce conference next week, where AI is expected to take center stage.
What they're saying: Rob Seaman, Slack's senior VP of product, told Axios that the company is also experimenting with using AI to help draft content — and will do that later — but decided to launch these features first because they fill a big need and match what today's AI is good at.
"We decided to focus on these kind of moments that help you get back up to speed when you've either been on PTO, or you're new to something, or you're having a hard time finding something, because those are just kind of home-run utility timesavers," Seaman said.
What's next: In addition to offering help while writing, Slack has a much deeper vision for what an AI assistant could eventually deliver.
"Our goal is to be able to offer an assistant per user that kind of becomes your shadow and can see what you can see," CEO Lidiane Jones told Axios in a recent interview.
Incorporating access to all those private and public channels, however, requires a lot of resources and demands that customers and Slack are very clear on who has access to which information. "We are taking a very cautious approach towards what bots can see," Jones said.
Go deeper