Scoop: Trump privately urged to support Biden's Saudi mega-deal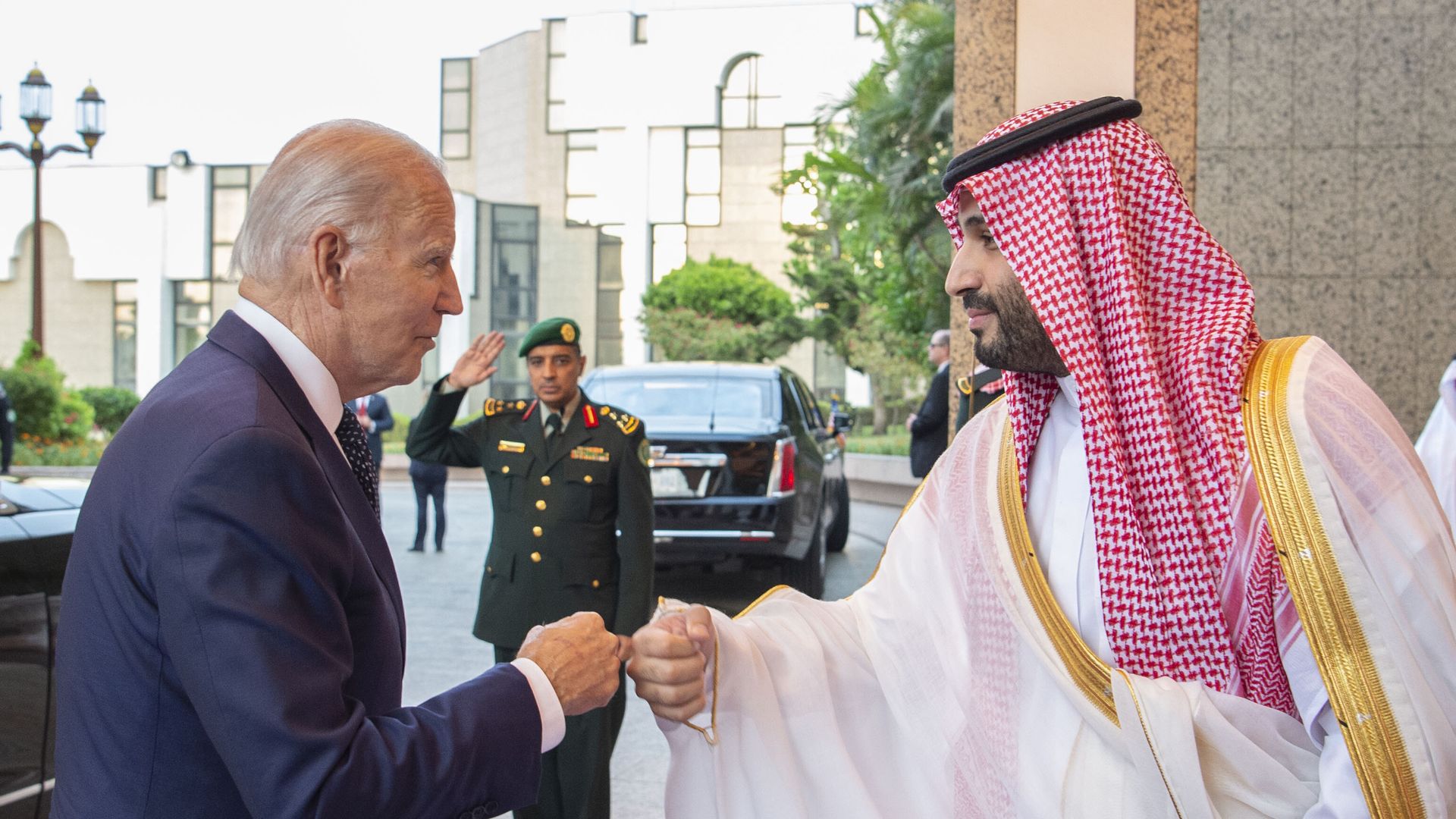 Sen. Lindsey Graham (R-S.C.) told Axios he has urged former President Trump to support the mega-deal President Biden is negotiating with Saudi Arabia, which could pave the way for a historic peace agreement between the kingdom and Israel.
Why it matters: The comprehensive deal could include a U.S.-Saudi defense treaty that would require support from two-thirds of the Senate, where many Democrats hold critical views of both Saudi Crown Prince Mohammed bin Salman (MBS) and Israeli Prime Minister Benjamin Netanyahu.
That could force Biden to rely significantly on Republicans, many of whom oppose his foreign policy but support Israel and the previous Arab normalization agreements known as the Abraham Accords.
Vocal opposition from Trump — who brokered the Abraham Accords and forged a close relationship with Saudi Arabia as president — could deal a serious blow to Biden's chances of attracting Republican support.
What to watch: Biden departs on Thursday for the G20 summit in India, where the White House has not ruled out a meeting with MBS to discuss the mega-deal.
Driving the news: Graham briefed Trump about his talks with MBS after traveling to Saudi Arabia in April, the Republican senator and close Trump ally told Axios in an interview.
"I told President Trump, listen, this is the natural extension of the Abraham Accords and if we can do it, let's do it. It doesn't matter how it gets done, on whose watch it gets done. It'd be a good thing for the stability of the Middle East and our own national security and President Trump deserves his fair share of credit," Graham said.
Graham added that he told Trump it's "the highest sign of flattery" when a president replicates his predecessor's policy, and said Trump appreciated the message.
Trump's spokesperson declined to comment on this story.
The intrigue: Trump's son-in-law Jared Kushner, the chief architect of the Abraham Accords, also urged the former president to support Biden's potential deal with Saudi Arabia, two sources with knowledge of the issue told Axios.
Kushner, who is very close with MBS, told Trump that such an agreement would be a vindication of his policy in the Middle East, the sources said.
Kushner's private equity fund Affinity is backed by $2 billion from Saudi Arabia's sovereign wealth fund and just secured what is believed to be the first Saudi-sponsored investment in an Israeli company.
"Jared Kushner has been very helpful. He had some ideas for the Palestinians (in the context of an Israeli-Saudi deal). I know that he's offered to help, I think the White House sees him as helpful," Graham said.
State of play: U.S. officials have previously told Axios that the Biden administration wants to complete its diplomatic push with Saudi Arabia before the 2024 campaign consumes Biden's agenda.
But several outstanding issues remain, including the potential U.S.-Saudi defense treaty, support for a civilian nuclear program that would include uranium enrichment on Saudi soil, and Israeli concessions to the Palestinians.
U.S. officials notably avoided criticizing the Saudi government Tuesday over its extension of oil production cuts, which could drive up gas prices and damage Biden ahead of the election.
What's next: Graham is planning another trip to Saudi Arabia and Israel in October.
Go deeper