Senior Biden adviser heading to Saudi Arabia to talk mega-deal with Palestinians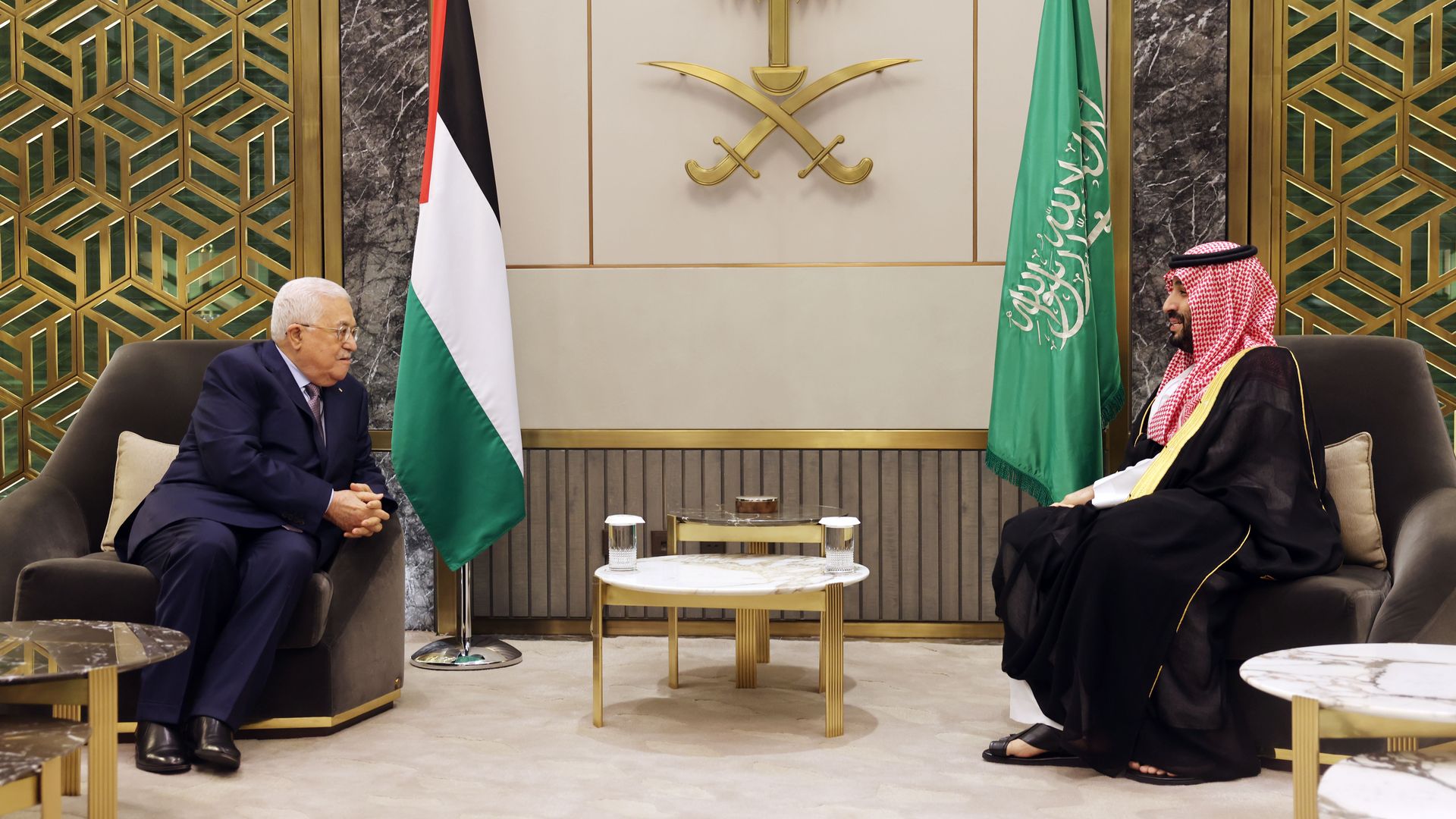 Brett McGurk, President Biden's senior Middle East adviser, is expected to travel to Saudi Arabia this week to meet with senior Palestinian officials and discuss a potential Palestinian component of a possible mega-deal between the U.S., Saudi Arabia and Israel, four U.S. and Palestinian sources familiar with the issue told Axios.
Why it matters: Biden officials believe that if an agreement that includes a Saudi Arabia-Israel peace deal also benefits Palestinians, it will be much easier to persuade enough Democratic senators to support the deal, including the parts that are expected to be less popular like a U.S.-Saudi security agreement or a civilian nuclear energy program in Saudi Arabia.
Many Senate Democrats who will have to vote on parts of any agreement are highly critical of the Saudi or Israeli government or both.
Driving the news: The Biden administration hopes to reach "realistic understandings" with the Palestinians for the Palestinian component of a possible mega-deal, one U.S. source said.
In Saudi Arabia, McGurk is expected to meet with Hussein al-Sheikh, Palestinian President Mahmoud Abbas' deputy, Majed Faraj, the Palestinian intelligence chief, and Majdi Khaldi, Abbas' diplomatic adviser, the sources said.
He will be joined by Barbara Leaf, the State Department's senior diplomat for the Middle East, who met with the Palestinian Authority officials in Amman last week — a meeting one Palestinian source described as tense.
State of play: The Palestinian Authority earlier this year provided Riyadh with a list of what it wants from any mega-deal. It includes Israel giving it more control over certain areas of the occupied West Bank and the reopening of the U.S. consulate in Jerusalem, as Axios previously reported.
During their meeting last week, Palestinian officials told Leaf that it also wants the UN to recognize Palestine as a full member state, according to a Palestinian source.
Leaf responded by making it clear UN recognition wasn't in the cards, disappointing the PA officials, the source said. The State Department did not respond to Axios' request for comment. The White House declined to comment.
The big picture: The Biden administration has made it clear to the Israeli government that it will have to make significant concessions to the Palestinians as part of any deal with Saudi Arabia that includes normalization between the kingdom and Israel.
But the administration faces an uphill battle. Israeli Prime Minister Benjamin Netanyahu has strong reservations about taking any significant steps toward the Palestinians. Doing so would likely anger the extreme-right parties that are part of his coalition and risk bringing down his government.
What to watch: Palestinian officials, while in Saudi Arabia, are also expected to meet with Saudi officials to discuss their deliverable list. McGurk is also expected to meet with Saudi officials.
After leaving Saudi Arabia, Leaf will visit Jordan and meet with King Abdullah, the sources said.
Jordanian officials said the king is concerned that a U.S.-Saudi-Israeli mega-deal could come at the expense of Jordanian interests — mainly when it comes to the Muslim holy sites in Jerusalem.
From Jordan, Leaf will continue to Israel and meet national security adviser Tzachi Hanegbi and other Israeli officials.
Editor's note: This story has been updated with additional details about Leaf's travel.
Go deeper