Scoop: Biden weighs meeting with Saudi Arabia's MBS at G20 to talk mega-deal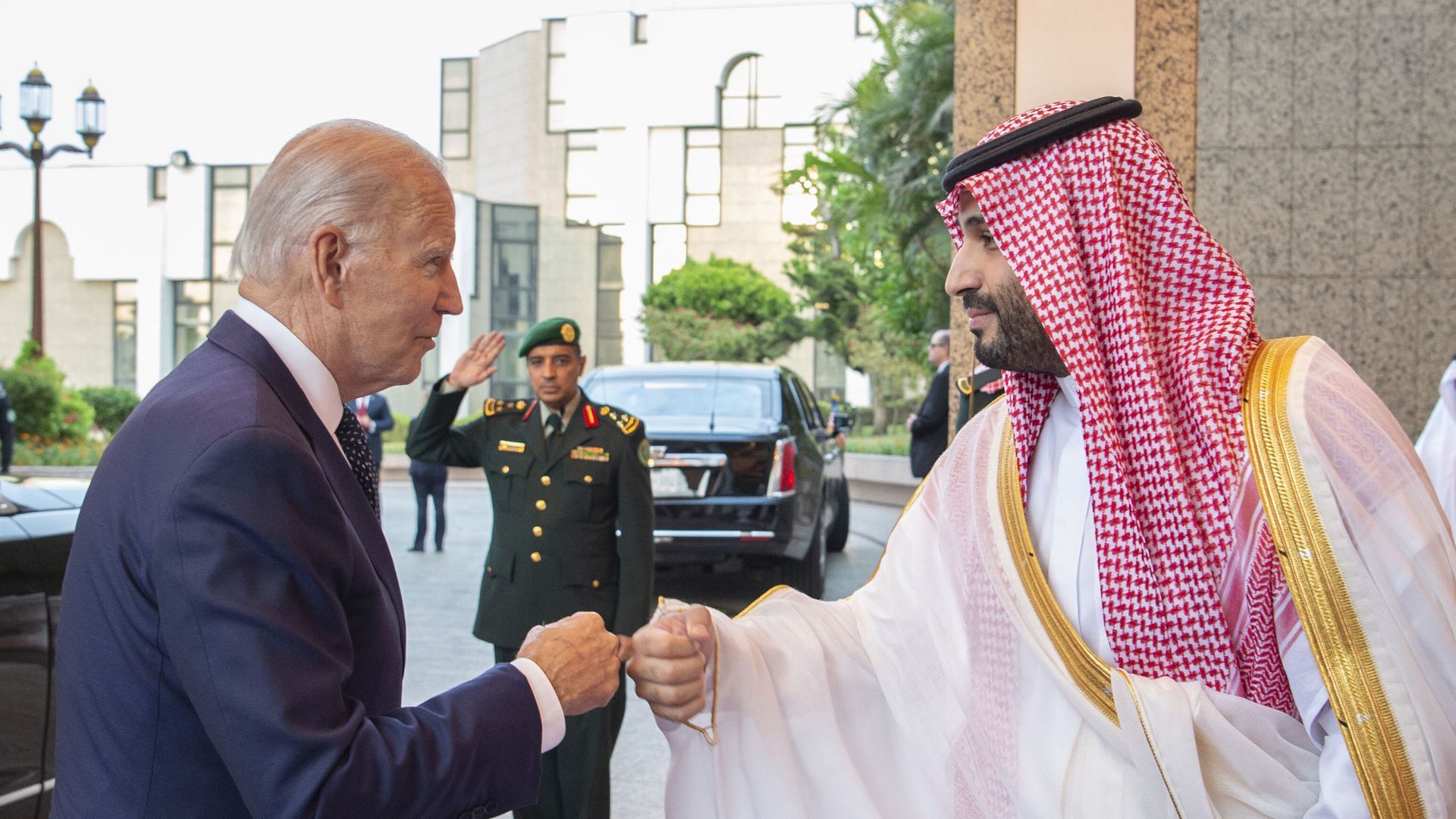 President Biden is considering meeting with Saudi Crown Prince Mohammed bin Salman on the sidelines of next month's G20 summit in New Delhi, four sources with knowledge of the issue told Axios.
Why it matters: A meeting between the two leaders could give a significant push to the talks the White House has been holding with the Saudi government in an effort to reach a mega-deal that could include U.S. security guarantees for Riyadh, as well as a normalization agreement between Saudi Arabia and Israel.
Such a deal would be a historic breakthrough in Middle East peace.
But Biden would likely have to pass at least parts of it through Congress, where many Democrats hold highly critical views of bin Salman, also known as MBS, due to the kingdom's human rights record and the murder of Washington Post columnist Jamal Khashoggi.
State of play: U.S. officials have previously told Axios that the administration wants to try to complete its diplomatic push with Saudi Arabia before the presidential election campaign consumes Biden's agenda.
Several outstanding issues remain, including a possible defense treaty between Washington and Riyadh and possible U.S. support for a civilian nuclear program that would include uranium enrichment on Saudi soil.
Behind the scenes: A source briefed on the issue said U.S. and Saudi officials have been discussing the possibility of a meeting between Biden and MBS during the G20 summit for weeks, even before White House National Security adviser Jake Sullivan's trip to the kingdom in July.
Two other sources with knowledge of the issue said such a meeting is possible, but stressed that it hasn't been finalized yet.
A White House National Security Council spokesperson said there is nothing to announce at this time.
The Saudi Embassy in Washington, D.C., did not respond to a request for comment.
The big picture: Israeli Minister for Strategic Affairs Ron Dermer visited Washington last week and met with Brett McGurk, Biden's Middle East czar, and Amos Hochstein, the president's senior adviser for energy and infrastructure, U.S. and Israeli officials said.
McGurk and Hochstein, who are leading the negotiations with Saudi officials, briefed Dermer about the state of the talks. A U.S. official said the U.S.-Saudi talks are currently focused on bilateral issues and not on the normalization with Israel.
Dermer also met with Secretary of State Tony Blinken and discussed the Saudi normalization issue, according to a U.S. official.
Several hours later, Blinken spoke to the Saudi foreign minister, but the State Department readout of the call didn't say whether the normalization issue was discussed.
Go deeper