There are "still ways to travel" to get Saudi mega-deal, Jake Sullivan says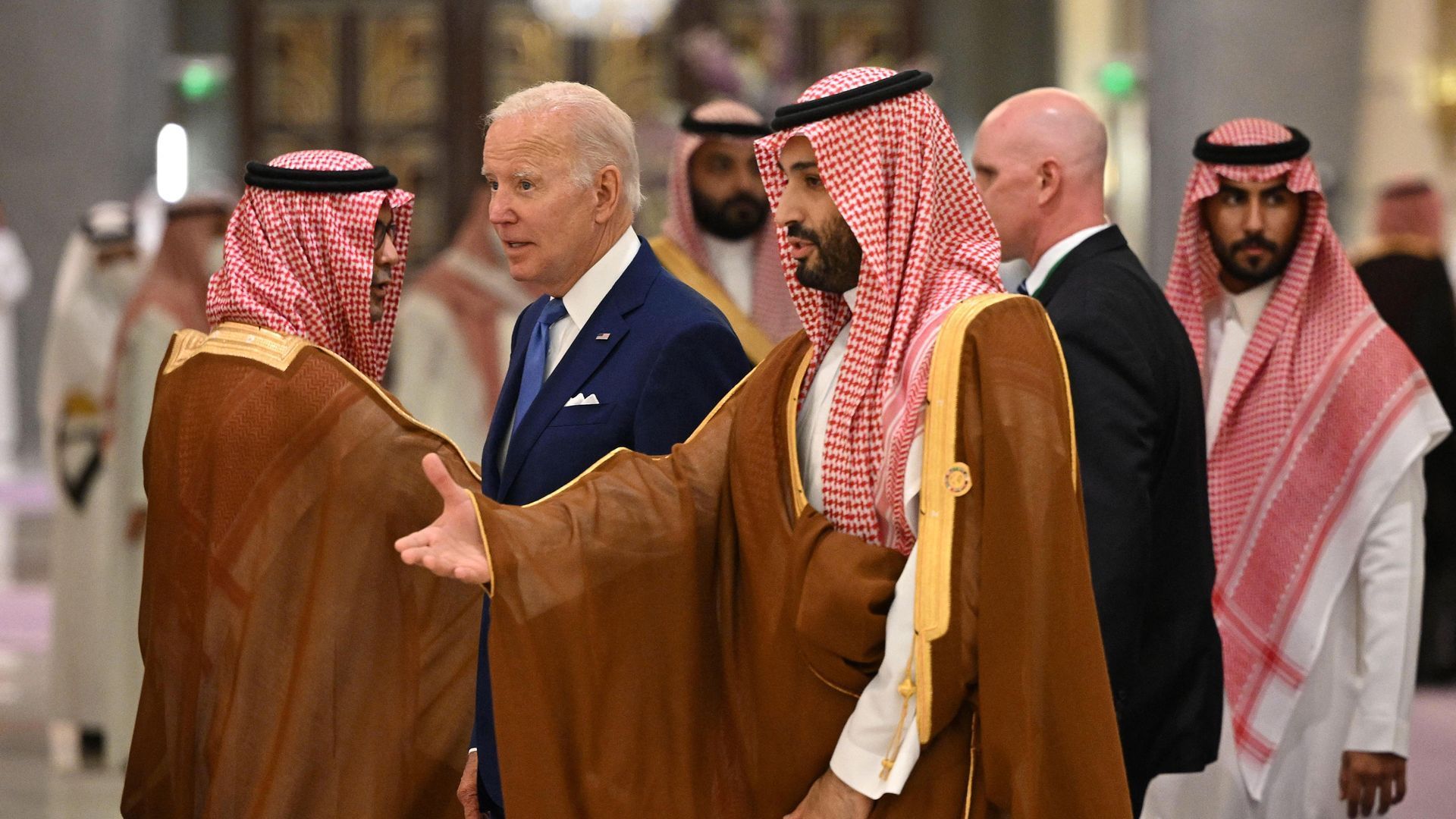 White House national security adviser Jake Sullivan said in a briefing with reporters on Tuesday that "there are still ways to travel" to get a mega-deal with Riyadh that could include a normalization agreement between Saudi Arabia and Israel.
Why it matters: Sullivan's comments appeared to be an attempt to try to lower expectations after a flurry of press reports suggested an agreement could be close.
State of play: U.S. officials have previously told Axios that the administration wants to try to complete its diplomatic push with Saudi Arabia before the presidential election campaign consumes President Biden's agenda.
But several outstanding issues remain, including a possible defense treaty between Washington and Riyadh and possible U.S. support for a civilian nuclear program that would include uranium enrichment on Saudi soil.
What they're saying: Sullivan, who has traveled to Saudi Arabia several times over the last six months, told reporters on Tuesday that he doesn't want to discuss the issue in detail but stressed that the Biden administration is discussing the issue with both Saudi Arabia and Israel.
"For now, it is done in diplomatic channels...and there are still ways to travel...these are highly technical issues," he said, adding that there was no imminent announcement on a deal expected.
Sullivan stressed that the Biden administration plans to ask the International Atomic Energy Agency for its opinion on a possible civilian nuclear program in Saudi Arabia that includes uranium enrichment.
"Peace between Israel and Saudi Arabia would be a big deal," Sullivan also said, adding that a normalization agreement would be in the interest of the U.S. because it would create a more stable Middle East in which U.S. allies and partners could work together.
The big picture: Any deal that includes normalization between Israel and Saudi Arabia would be a historic breakthrough in Middle East peace.
But Biden would likely have to pass at least parts of it through Congress, where many Democrats hold highly critical views of bin Salman, also known as MBS, due to the kingdom's human rights record and the murder of Washington Post columnist Jamal Khashoggi.
What to watch: Sullivan declined to comment on whether Biden is considering a meeting with Saudi Crown Prince Mohammed bin Salman at the G20 in New Delhi next month as Axios reported earlier this week.
Such a meeting, if it happened, could give a significant push to the talks.
Go deeper