Climate disasters are fueling the rise of "doomsday" seed vaults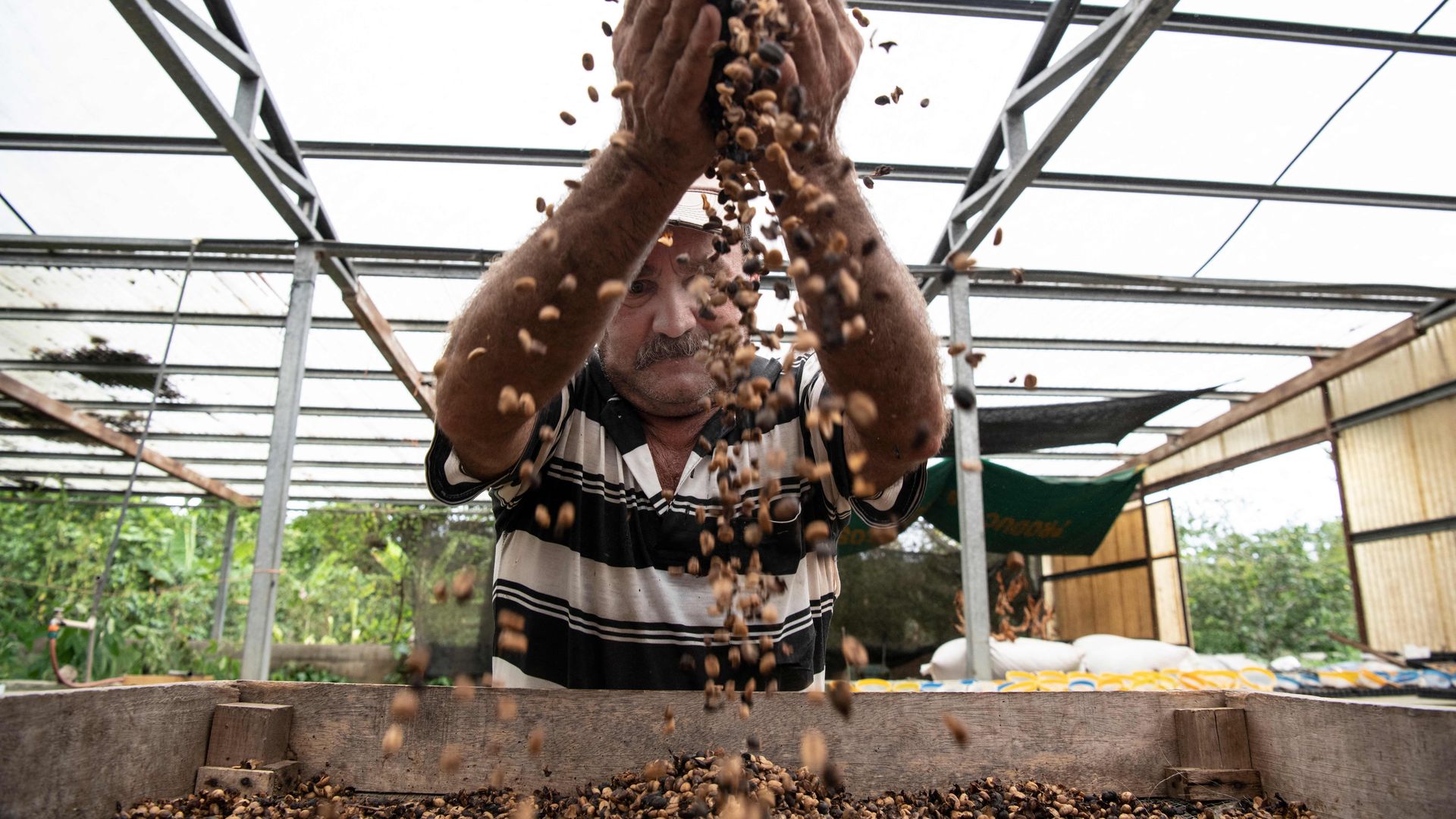 "Doomsday" seed vaults are becoming an increasingly popular tool in the race to insure global crop and agricultural production against the damaging impacts of climate change.
Why it matters: In an era of simultaneous climate disasters, long-term solutions that bolster the future of food supply are gaining momentum among governments, scientists and small-scale farmers.
The goal is to make sure crops that might get wiped out in one region can be revived somewhere else.
Catch up quick: One prominent example is the Svalbard Global Seed Vault — a "doomsday" reserve buried deep within a Norwegian mountain storing over 1.2 million duplicates of seed samples.
The intrigue: From a facility in northern Colorado to a rural park in the Andes, there are similar "doomsday" stores, where scientists are assembling backup copies of crops, scattered across the globe.
Some, like Russia's Vavilov Research Institute of Plant Industry, are active repositories that have been around for over a century. Others, like Colombia's Future Seeds gene bank, were established just last year.
What they're saying: "Crops are the foundation of the global food system," U.S. Special Envoy for Global Food Security Cary Fowler — dubbed the "father" of Svalbard — told Axios in an email.
He noted that protecting and investing in crops is critical to building resilience in the face of continued shocks from conflict and extreme weather.
"Simply by investing in seeds, we can sustainably increase productivity and nutrition and insure the future against heat, drought, pests, and diseases," said Fowler.
Zoom in: There are more than 1,700 gene banks with food crop collections worldwide, or storage sites for genes that are parts of living things, such as seeds.
Meanwhile: The USDA maintains 20 gene banks nationwide through a system that curates more than 600,000 unique samples of plant genetic resources, representing over 15,000 species.
State of play: Gayle Volk, plant physiologist at the USDA's National Laboratory for Genetic Resources Preservation, told Axios banks like these provide the genetic diversity that researchers need to improve and develop new cultivars, or varieties that have been cultivated for specific traits.
"Plant genetic resources are important to all of humanity because they are the building blocks of our food supply," said Volk. "We need to have this reservoir of genetic resources for the future."
Yes, but: Seed saving is not just a federally-funded, enterprise initiative, but stems from an ancient Indigenous practice that centers on community.
"The answers are in the farmers' hands," said Betty Fermin, co-director of the Global Movements Program at the nonprofit WhyHunger. "They're making sure they have seeds that are better quality, and better able to resist plant diseases and pests, and give better yields."
Her team is working with a farmers forum in Zimbabwe building long-term recovery methods for local seed storage following the impacts of Tropical Cyclone Freddy on agricultural production across swaths of Southern Africa earlier this year.
The initiative belongs to what she describes as an increasing trend of small farmers expanding their own seed repositories to better adapt to climate extremes.
Of note: There's an unmistakable need for more seed banks, according to Gabriel Campbell, director of the Rae Selling Berry Seed Bank and Plant Conservation Program at Portland State University.
He noted there are "so few" seed banks for agricultural crops and native plants on the West Coast that even people in Nevada and Montana have reached out to their Oregon-based program to try to bank with them.
With 25,000 collections representing more than 500 seed species, they're a smaller operation focusing on rare, endangered and native plants of the Pacific Northwest — and trying to preserve the seeds of species most vulnerable to climate change.
"We're very much just trying to collect what we can, oftentimes before entire ecosystems disappear," said Campbell.
Between the lines: Climate extremes are not only powering the spread of plant diseases, but also driving yield declines and water scarcity in major producing regions, which exacerbates global food insecurity.
The bottom line: "Climate change is definitely making seed banks more important," said Campbell. "There are a lot of plants out there, that if we don't do anything to help them, then their fate is pretty much sealed."
Go deeper