When plants get sick, we do too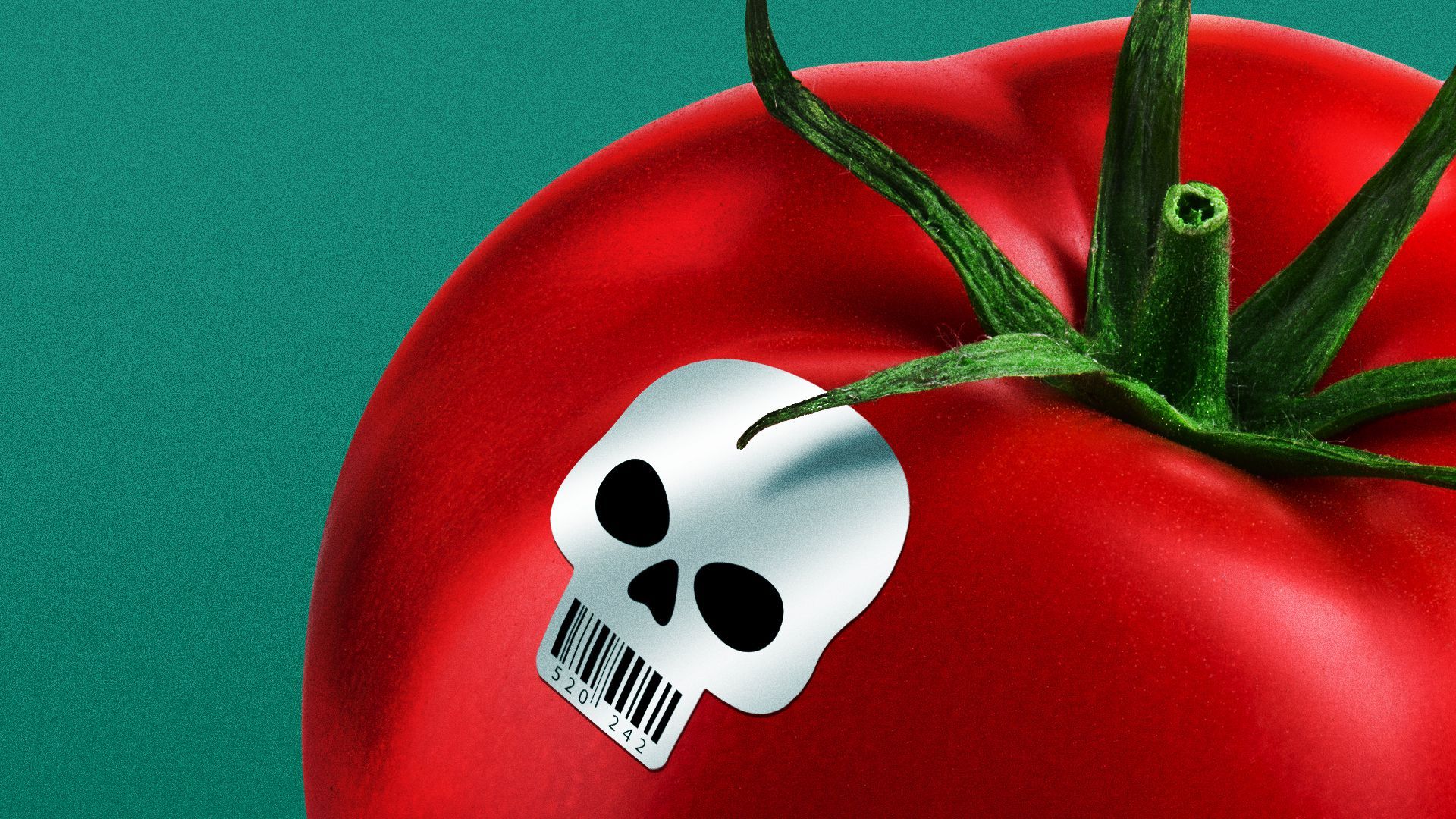 Declining plant health could mean increased food prices for already constrained American consumers, experts tell Axios.
Driving the news: It might not be obvious why the health of plants is a contributing factor to food shortages in developed countries. But there's a direct connection — when they're diseased, there's less food to go around, and food prices rise accordingly.
A heady cocktail of climate impacts mixed with conservation failures is contributing to the problem.
What they're saying: "Plant health can impact our food supply, our food security," Tim Widmer, a national program leader for plant health in the crop production and protection program at the USDA's Agricultural Research Service, tells Axios.
If enough staple crops are devoured by insects or become diseased, Widmer says U.S. consumer food prices — which are already substantially higher than average — could climb in response.
"Now with climate change, that too, is putting an extra pressure on our food supply, in terms of plant health."
How it works: Warming temperatures fueled by climate change are increasing the risk of plant pathogens and pests spreading into new ecosystems.
The intrigue: The relationship between crop production and food security in developing countries has been well established, but the impacts on wealthier nations, where food insecurity is more of a social problem, have been less clear.
The U.S. isn't "immune" to the impacts of declining food production, per the CDC.
According to the agency, food insecurity rises as the cost of food increases, and so do rates of micronutrient malnutrition, which occurs when healthy foods are inaccessible or people go hungry.
"Here in the U.S., I think we have taken food for granted, because we've always had a good supply," says Widmer, noting that the COVID pandemic exposed supply chain vulnerabilities, such as nationwide grocery shortages.
What we're watching: A 2022 report by the Environmental Defense Fund forecasts that under a moderate emissions scenario, the U.S. will see "significant climate burdens" on crop production in the Midwest as soon as 2030.
The report looks at projected changes in seasonal temperatures, but does not assess the impacts of pests and diseases, which are responsible for anywhere between 20% to 40% of losses to global crop production, according to the Food and Agriculture Organization of the United Nations.
Of note: "There are diseases out there that we know that if they would come into the U.S., that we would have some serious issues," says Widmer.
A fast-acting fungal disease known as "wheat blast" — which under certain conditions can cause yield loss up to 100% — is one example.
Wheat is the principal food grain produced in the U.S., according to the USDA's Economic Research Service.
The key to avoiding diseases like wheat blast is through exclusion, or keeping them from entering a place, which gets harder to do when you consider corresponding climate impacts, Widmer says.
But, but, but: While some insect species pose significant threats to agricultural crops, others help boost plant growth.
Shawan Chowdhury, conservation biologist at the German Centre for Integrative Biodiversity Research, tells Axios in an email that insects are a major source of pollinators — so if insect populations decline it will hamper crop yields.
"If there are not enough insects, many other species will decline too due to food scarcity," says Chowdhury.
And a 2022 study published in the journal Environmental Health Perspectives found that insect population declines, brought about because of climate change and expansion of agriculture, has led to inadequate pollination, resulting in 3%-5% fruit, vegetable and nut production being lost worldwide.
Researchers also linked the impact of crop declines on healthy food production to roughly 500,000 annual nutrition-related early deaths.
The bottom line: "Plants get sick too," USDA's Widmer tells Axios. "If we can have healthy plants, we can have a healthy environment, and a healthy human and animal population."
Go deeper