Idalia fallout: Florida's manatees at risk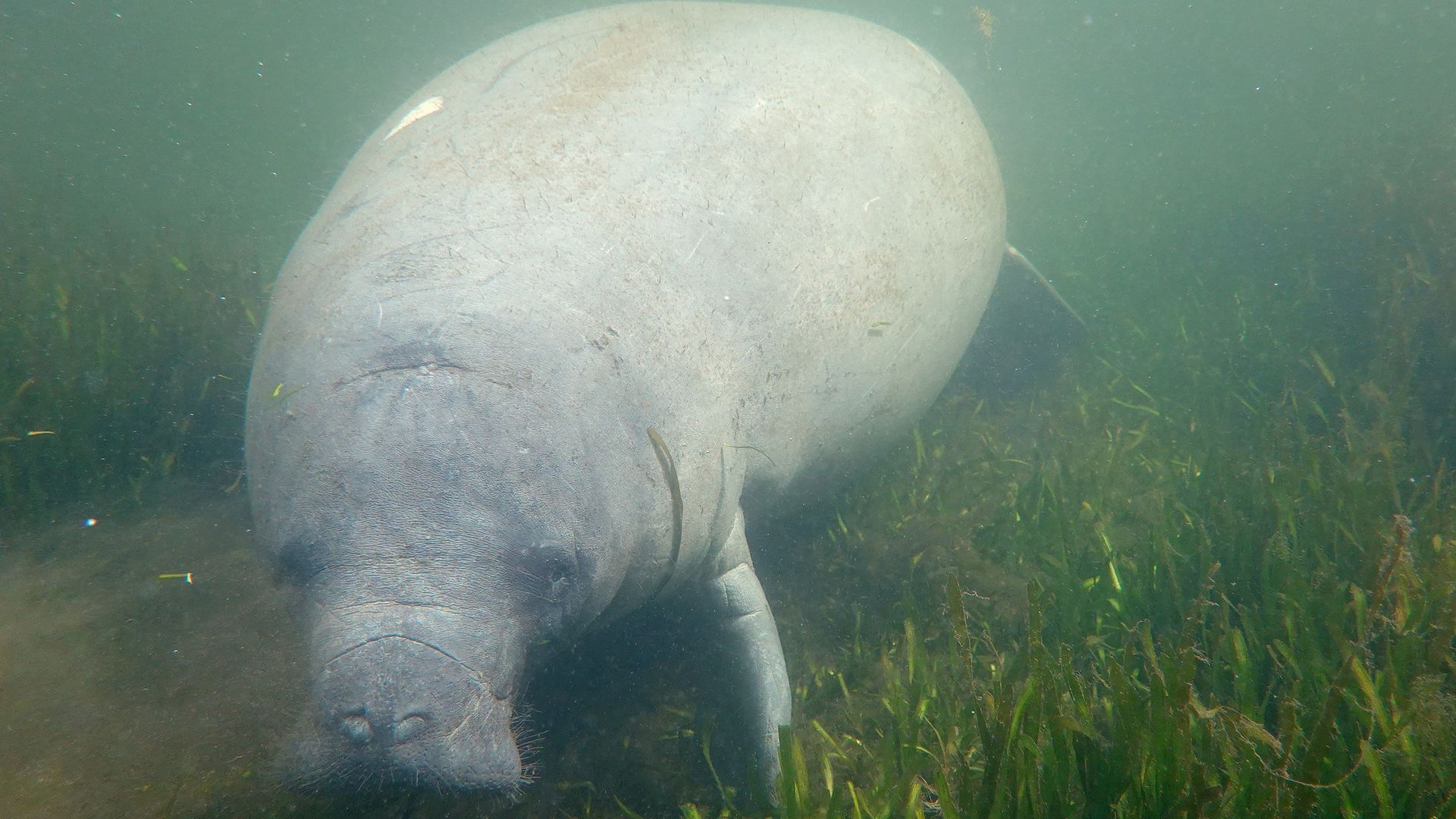 Many Florida manatees may be at risk after Hurricane Idalia slammed the state's Big Bend region as a Category 3 hurricane on Wednesday, conservancy groups have warned.
Why it matters: Before Idalia hit Florida, experts were "cautiously optimistic" the manatees were recovering from a major recent die-off event, during which 25% of the entire manatee population perished since 2020.
State of play: For years, manatees, which are considered one of Florida's keystone species, have been stressed by several different threats, some of which are linked to human-caused climate change,
They are vulnerable to boat strikes, unusual water-temperature fluctuations, storms intensified by climate change and starvation and malnutrition from the degradation of their aquatic ecosystem.
The federal government downlisted the Florida manatee's status under the Endangered Species Act from "endangered" to "threatened" in 2017, but conservancy groups have argued that they should still be listed as endangered because of abnormal mortality rates in recent years.
A general population survey by the Florida Fish and Wildlife Conservation Commission in 2019 estimated that there were 5,700 manatees alive that year.
How it works: Hurricanes primarily harm manatees through storm surge. High levels of water can carry them inland, where they can become stranded as the tide recedes and die.
The animals can also be injured or killed from colliding with debris in the storm waters or fatally swept out to the cold ocean waters, while calves can be separated from their mothers.
Hurricane Ian in 2022, for example, directly killed at least eight manatees, though the storm's aftereffects may have contributed to the deaths of hundreds more by damaging their food sources.
Of note: Hurricanes may increase the severity of algae blooms that cause "red tide," which can prevent the growth of seagrasses that manatees desperately need to survive through winter.
How exactly the storms are linked to red tide is still not fully understood, but some researchers have hypothesized that the massive amounts of rainfall, storm surge and flooding associated with them may wash nutrient-rich pollutants that the algae feed on into streams and rivers.
What they're saying: "Stranded, injured, or dead manatees, as well as lone manatee calves, should be immediately reported to the Florida Fish and Wildlife Conservation Commission (FWC)," Patrick Rose, an aquatic biologist and the executive director of Save the Manatee Club said in a statement on Thursday.
Cora Berchem, the organization's director of multimedia and a manatee research associate, said on Thursday that FWC has received reports of manatees getting into areas that they usually can't access in the Crystal River area, as well as in the city of Largo.
"Most likely there will be more sightings coming in over the next days as people are just now able to go back out and safely access areas that have been affected by the hurricane," Berchem added.
She said if someone does find a manatee in distress, they should stay close to it without further disturbing it while calling FWC and shouldn't try to move or relocate it themselves.
The big picture: Manatees aren't the only animals affected by extreme storms.
Fish, turtles and shellfish beds are greatly affected by rough undercurrents and changes in water temperature and salinity, according to the National Oceanic and Atmospheric Administration.
The fall migration period coincides with the peak of hurricane season, so birds, especially those flying down the Atlantic Flyway, often become trapped in storms or blown off course by many miles.
The storms can significantly alter bird habitats, which may harm some species but may benefit others.
Storm surge stripping a seaside area bare of vegetation may be detrimental for birds that nest in coastal plants, but the cleared beach may be beneficial for other types of birds that nest directly on the sand, according to the National Audubon Society.
Go deeper: Giant oak tree brought hit Florida Gov. DeSantis' mansion, first lady says
Go deeper