Suspension of president-elect's party imperils Guatemala transition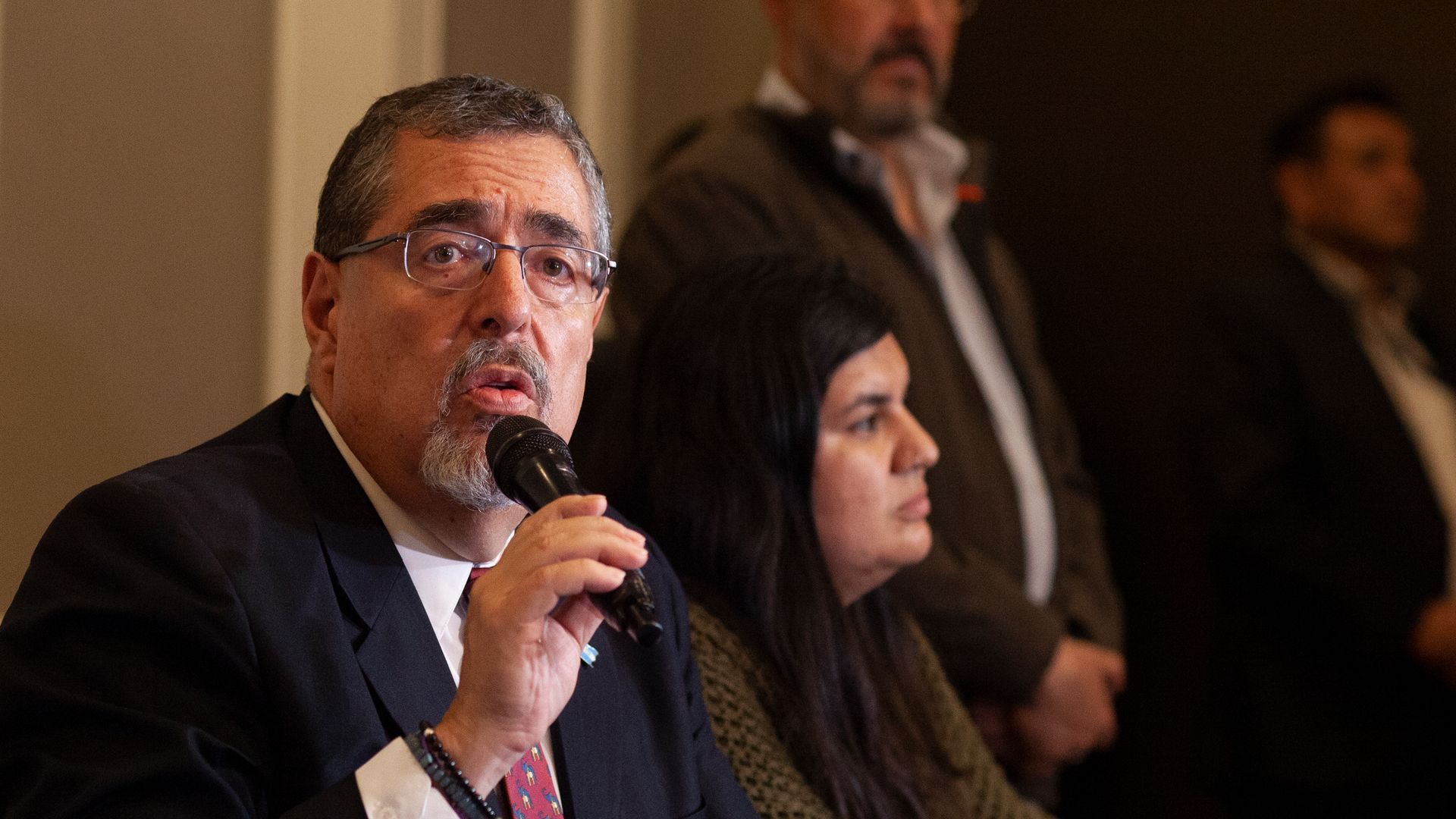 Guatemalans are facing an uncertain government transition despite the certification this week of President-elect Bernardo Arévalo's electoral win.
Driving the news: The Guatemalan Congress on Wednesday declared lawmakers from Arévalo's party, the progressive Movimiento Semilla, as political independents after the country's electoral registry on Monday suspended the party's registration — the same day Arévalo's victory was certified.
That means both current Semilla lawmakers and those who will take office in January cannot caucus or participate in committees. The party was set to be the third-largest in Congress in January, when 23 of its members are scheduled to take office.
Background: Semilla's suspension was in response to unproven claims that it falsified the signatures needed to register as a party, which Semilla denies. The party has filed an appeal, saying the suspension is unfounded.
Guatemala's electoral law doesn't allow authorities to suspend political parties during an electoral period, which in Guatemala ends on Oct. 31.
International observers have denounced what they call "arbitrary legal and procedural actions" and the U.S. characterize as "anti-democratic behavior."
The big picture: Arévalo is scheduled to be inaugurated on Jan. 14, but the suspension of his party is likely to throw a wrench in his efforts to govern. Arévalo ran on an anti-corruption platform.
The various actions against Semilla "mostly neutralize (Arévalo) once — or if — he starts his presidency," says Pamela Ruiz, analyst for Central America at the think-tank Crisis Group.
Ruiz says she expects the current Guatemalan government and Attorney General Consuelo Porras, who has been banned from the U.S. over corruption allegations, to take more legal actions against Arévalo and Semilla, but adds that it's unclear what the goal is.
Of note: Last week, the Inter-American Commission on Human Rights asked for precautionary security measures for Arévalo and the vice president-elect Karin Herrera, saying they face a "serious, urgent risk" and have received at least two specific death threats.
What to watch: The Organization of American States is scheduled to meet Friday to discuss the situation. Guatemala's electoral court is set to meet in the coming days to review the registry's decision to suspend Semilla. The registry is an agency within the electoral court, meaning the court has final say.
Outgoing President Alejandro Giammattei appeared to try to calm the waters in response to the OAS meeting and international criticisms.
He invited "elected authorities" — never mentioning Arévalo's name — to an "orderly transition" meeting scheduled for Monday.
The bottom line: Ruiz says that "all these maneuvers are putting at risk what's left of the electoral process but also democracy in the country," especially by undermining the public's trust in institutions that are supposed to be autonomous.
She adds it's likely "a huge miscalculation and underestimation of how Guatemalan citizens could potentially respond," pointing to mass protests or strikes.
Subscribe to Axios Latino to get vital news about Latinos and Latin America, delivered to your inbox on Tuesdays and Thursdays.
Go deeper