Guatemala President-elect Arévalo faces bumpy road to inauguration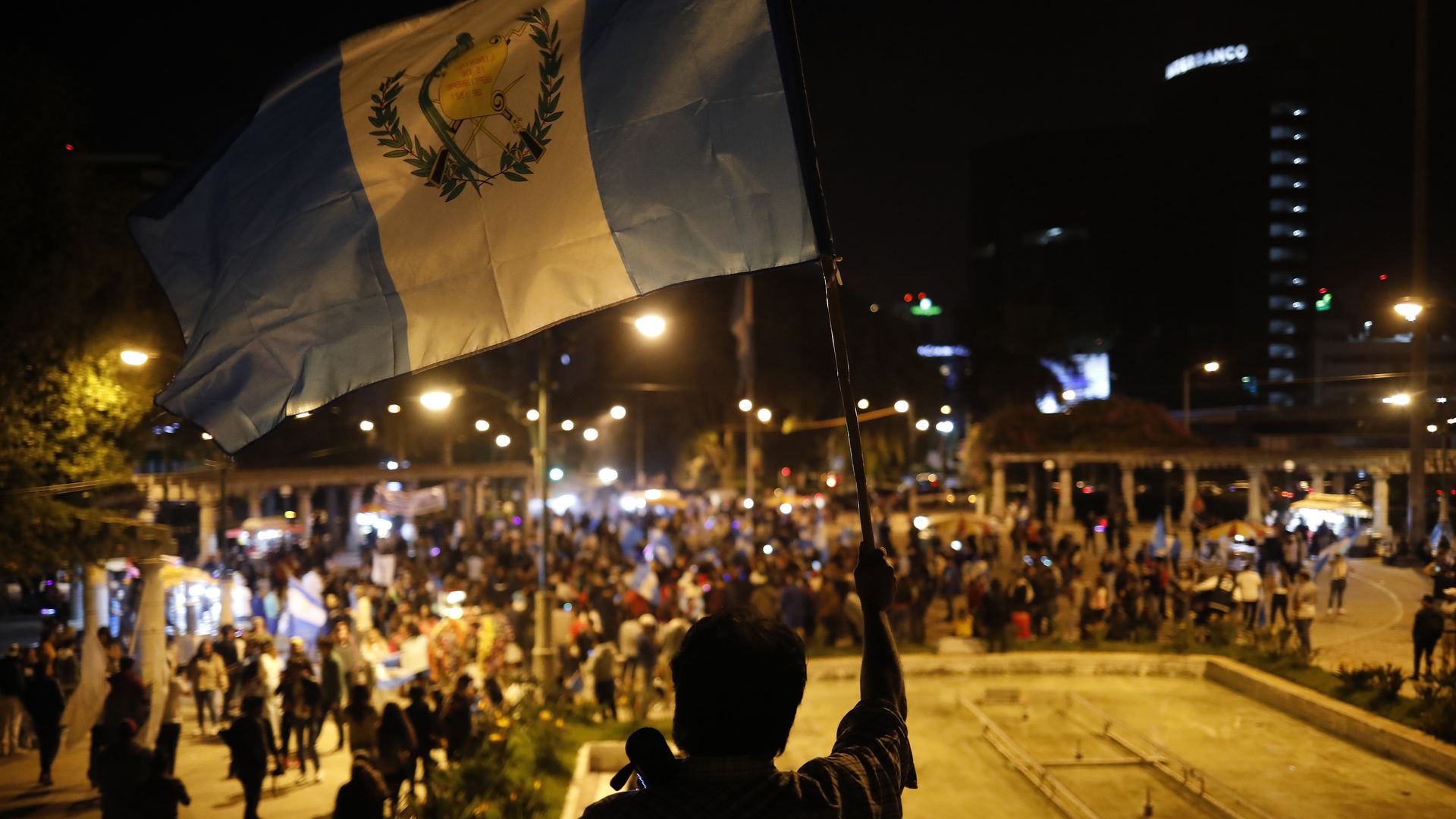 Guatemalans overwhelmingly elected a new president last weekend, but the road to Bernardo Arévalo's inauguration in January promises to be bumpy due to legal challenges.
The big picture: U.S. officials and leaders from other countries have already congratulated Arévalo on his victory, but his rival candidate has remained silent — and the current Guatemalan government has been accused of undermining his campaign to the point that some are warning a Jan. 6-like event could take place there.
Political strife would add to factors, including rampant poverty and pervasive corruption, that force many Guatemalans to leave their country for the U.S.
State of play: Arévalo, a former diplomat who ran on an anticorruption campaign, won 58% of the votes in last Sunday's presidential runoff, according to the electoral authorities' preliminary count.
But the certification of that count, and confirmation of Arévalo's win with the progressive party Movimiento Semilla, is facing legal actions from the attorney general's office and from the rival party, National Unity of Hope.
The attorney general claimed Semilla should lose its party registration for allegedly falsifying the signatures needed from voters to get it — an allegation Semilla denies.
The attorney general's office yesterday also said it's investigating electoral judges for "not fulfilling their duties." Earlier this week, it went before the Supreme Court to demand a credential review of the thousands of citizen volunteers who ran the polling stations and counted the ballots, suggesting without proof there was fraud.
Arévalo's rival in the runoff, former first lady Sandra Torres who won 37% of votes with National Unity of Hope, has yet to speak publicly or acknowledge the results.
The lawyer of National Unity of Hope told local media the party is waiting for the Supreme Court to respond to petitions the party filed.
Between the lines: Several high-ranking members of the attorney general's office, including director Consuelo Porras, are barred from traveling to the U.S. as part of sanctions against officials in Central America deemed "antidemocratic or corrupt."
Technically, the AG's office has no power over party registrations, as that falls to electoral authorities. But its ongoing investigation is seen by experts as an attempt to undermine Semilla and its government before it starts.
What they're saying: International electoral observers and Guatemalans have said "attempts to overturn" could continue in the months before the January inauguration.
"It will be a long period from here to January 14," Jordán Rodas, the former prosecutor for human rights, told Axios Latino in a late July interview.
"There could be obstruction of documents, maneuvers affecting the budget he'll have … and we can't rule out a phenomenon like the January (Congress) stormings in the U.S. and in Brazil."
Arévalo himself, however, has said he believes any actions against the vote's results will not succeed because Guatemalans are "fed up, speaking up and not letting this happen."
Background: Arévalo describes himself as a social democrat. In the 1990s, he was vice minister of Foreign Affairs and ambassador to Spain. He later worked at nonprofits.
He returned to politics as a lawmaker with Semilla, a party established after mass anti-government protests in 2015.
He is the son of Juan José Arévalo, one of the last two democratic presidents of Guatemala before a 1954 U.S.-backed military coup led to the country's civil war.
During Arévalo Sr.'s government, Guatemala began having social security and labor laws. Aside from his anticorruption platform, the younger Arévalo has pledged to honor that legacy.
The bottom line: Even if Arévalo's victory is confirmed, he will have an uphill climb in government as Semilla will not have a majority in Congress.
Go deeper