Yang urges Biden to break precedent and debate RFK Jr.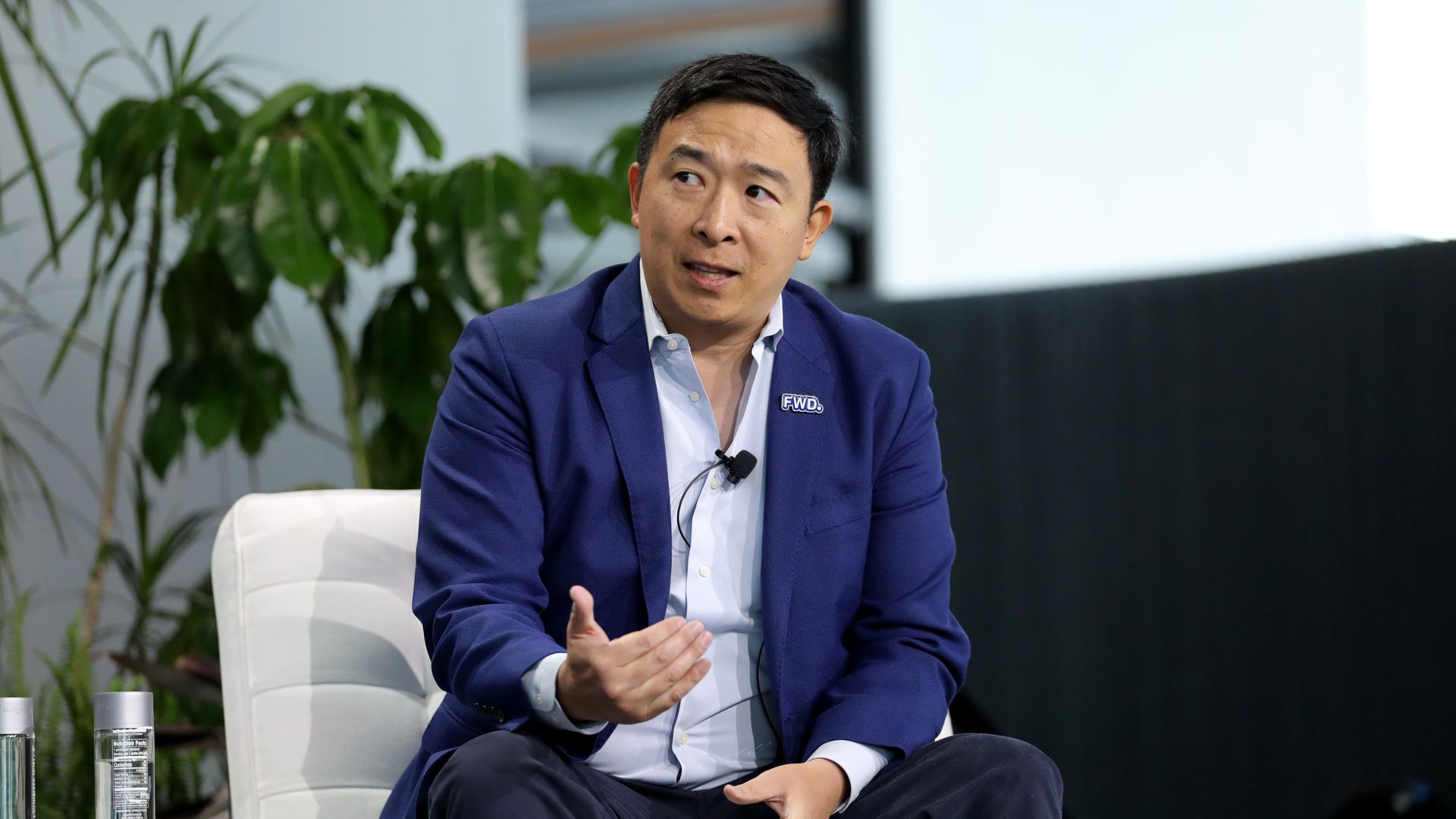 Former Democratic presidential candidate Andrew Yang wants President Biden to debate Robert F. Kennedy Jr..
Why it matters: "If you don't debate RFK Jr., then he has a stronger case to say, look, I didn't get a fair shake so I'm going to run in the general," Yang — whose book, "The Last Election," is set to come out on Sept. 12 — told Axios.
"The problem is that the DNC and Joe do not want Joe debating RFK Jr. or anyone else, and it's a real problem."
"I've come out and said, I think that people should be running in a more competitive environment against Joe, even though he is the sitting president because I think that that would be a positive thing."
Biden has indicated that he won't do primary debates, keeping with a longstanding pattern for incumbent presidents.
"Whereas if you do debate him, and then you win, then it's harder for him to have a legitimate cause."
Yang noted polling showing that most Americans aren't excited about a potential rematch between former President Trump and Biden, warning that "you can easily foresee that someone is going to try and fill that vacuum."
"In the absence of that kind of debate, then you're going to have some candidates with a legitimate grievance," he said.
The big picture: Yang, 48, launched the Forward Party in 2021 after leaving the Democratic Party. The Forward Party advocates for elections reforms such as ranked-choice voting and open, nonpartisan primaries, and other changes to give Americans an alternative to the two major parties.
Yang ran for president in 2020 as a Democrat, building a strong grassroots fundraising operation with his warnings about automation and his proposal for a $1,000 monthly universal basic income.
He unsuccessfully ran for New York City mayor in 2021 to succeed Bill de Blasio.
Yang's forthcoming book, co-authored by writer Steven Marche, is a fiction political thriller set on the campaign trail.
Between the lines: Yang's Forward Party is not putting forward a presidential candidate in 2024, per his party's website.
The former tech entrepreneur did not comment explicitly on a potential independent No Labels presidential bid, but he said that spending money "on an alternative or safety valve is perfectly prudent."
"The concern that arises is whether that safety valve wouldn't be used in a productive way."
What's next: Yang predicted that the 2024 presidential election will be remembered as "the AI presidential cycle" — and he warned that today's leaders are already behind the curve.
"When it comes to technology, just think about how our government responded to the advent of social media."
"And if we have anywhere close to the same approach with AI, it's going to be nearly impossible to put the genie back in the bottle."
Go deeper