"Tennessee Three" Democrat Justin Jones silenced by Republicans for day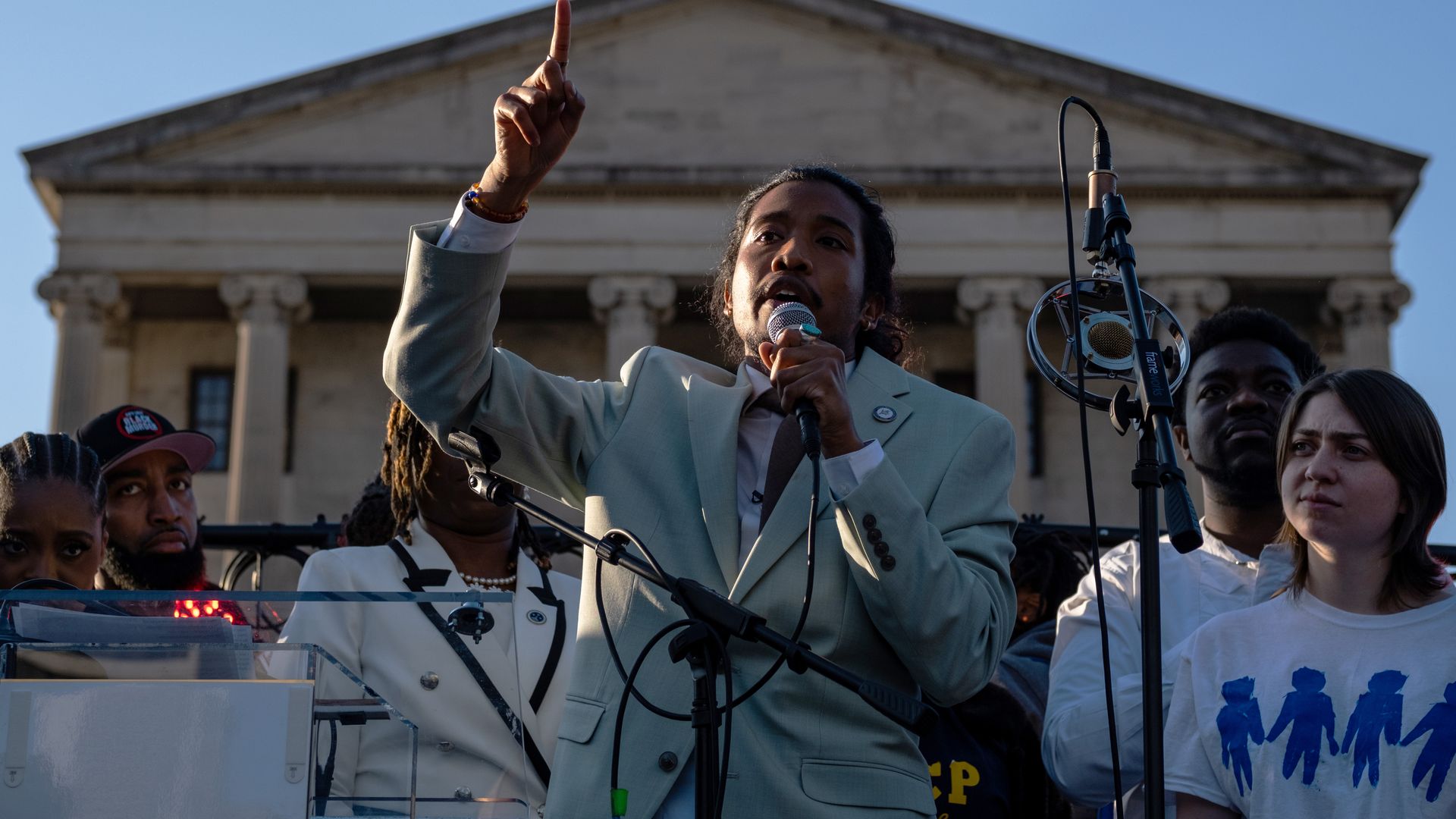 Republicans in the Tennessee House voted Monday to temporarily silence state Rep. Justin Jones after House Speaker Cameron Sexton said he had spoken out of order twice.
The disciplinary vote, which prohibited Jones (D-Nashville) from participating in floor debate for the rest of the day, outraged both the Democratic caucus as well as gallery onlookers.
Democratic lawmakers stormed out of the chamber as the audience erupted into protest chants and shouting.
Why it matters: Jones, a member of the "Tennessee Three," gained national attention this spring after the same Republican majority voted to expel him for leading protest chants for gun control from the House floor.
State of play: Jones regained his seat in a special election. The majority enacted the new disciplinary rules during the special session on public safety in an attempt to preserve "decorum."
But the decision to discipline him Monday led to furious pushback.
What happened: Sexton gaveled Jones out of order after he spoke against a Republican bill that would have allowed for more law enforcement in schools, per the AP.
Jones began advocating for other policies he said would better serve public safety. Sexton rebuked him for going off topic for the second time in a day.
After the vote to silence Jones, some in the crowd chanted "fascists," "racists" and "vote them out," the AP reported.
What he's saying: "The House is out of order under Cameron Sexton's leadership," Jones said, per the Tennessean. "This is very disheartening, this is very troubling. This is a step toward authoritarianism, and we should all be troubled by this."
In a tweet, House Republicans criticized Democrats as "only interested in making demands, name-calling and photo ops."
"The House of Representatives is a place for serious legislators to do the business of the people. It requires acting like an adult. You don't walk out when you're in the wrong."
Of note: Earlier in the day Monday, Jones announced plans to ask for a vote of no confidence against Sexton.
What's next: Under the House rules, Jones should be able to participate in debate Tuesday. But Republicans could silence Jones for longer if the House votes to discipline the freshman lawmaker again.
Lawmakers are still able to vote on legislation while silenced.
Editor's note: This story has been updated to include a statement from Tennessee House Republicans.
Go deeper