Labor shortages plague high-stakes industries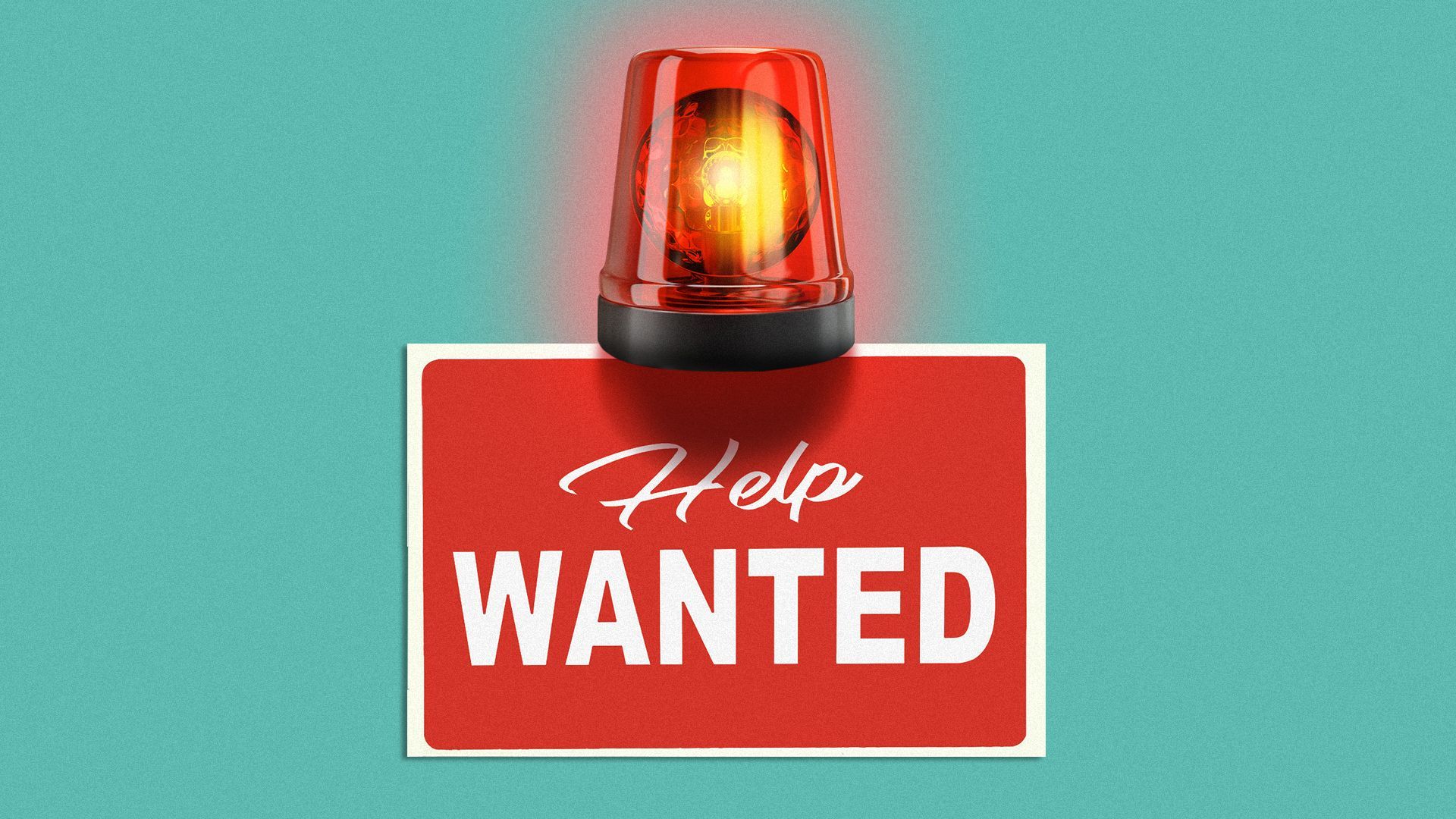 Labor shortages are plaguing high-stakes sectors like law enforcement, health care and aviation.
Why it matters: Understaffing in some industries can have dire consequences for public health and safety — for example, a shortage of air traffic controllers has led to increase in near-miss airplane collisions, the New York Times recently reported.
At the same time, a lack of available workers in AI and manufacturing threatens to slow productivity and growth in areas where the U.S. is otherwise poised for huge leaps forward.
That's a problem not just for companies in those sectors, but for the broader economy.
Zoom in: Parents are feeling the labor squeeze from multiple fronts as they try to take care of their kids.
Schools across the country are understaffed, without enough teachers, bus drivers, or social workers.
The child care industry is also dealing with a shortage of available workers. Parents often either can't find care or can't afford it, which can cause them to stay on the sidelines of the labor force — making the worker shortage that much worse.
Police departments are also struggling to hire.
So are prisons — 21% of correctional officer positions were unstaffed in federal prisons, according to a March report. A staffing shortage throughout the Bureau of Prisons is increasing incidents of violence and leading to more health issues for prisoners.
How it works: Americans are getting older, and there are fewer younger people of working age. Add to that a tight labor market — unemployment in the U.S. is very low — and there simply aren't enough workers in the U.S. to meet demand.
Some of these high-stakes shortages are about wages. Government jobs, like teaching and law enforcement, typically can't raise pay high enough to compete with better-paying private sector jobs.
Some of them are about working conditions: Employers trying to fill in-person, high-stress roles are competing with jobs that offer more flexibility, including remote options.
And some of them are about skills: There are only so many people with a ton of expertise creating AI programs, for example. That's the problem in nursing, too.
What we're watching: For workers, this isn't a crisis. A tight labor market means higher pay, better benefits and more congenial employers.
UPS likely wouldn't have given such a generous contract to its unionized workforce — with some drivers earning $170,000 a year — if not for the tight labor market.
Plenty of employers have figured out ways to adjust to this new normal — particularly in industries like retail and restaurants.
They've raised pay significantly, are relying more on automation (think self-checkouts gaining popularity), or cut their hours, or have made it work with some combination of those tactics.
But not every sector can take these steps. A lot of employers can raise wages and attract what workers are available, but the sectors facing these high-stakes shortages don't necessarily have that option.
The bottom line: Absent a surge in immigration, a surprise flood of sidelined women into the workforce, or a recession that drives down demand for employees, demographic changes mean that labor shortages will likely stick around.
Go deeper