Bus driver shortage causes back-to-school chaos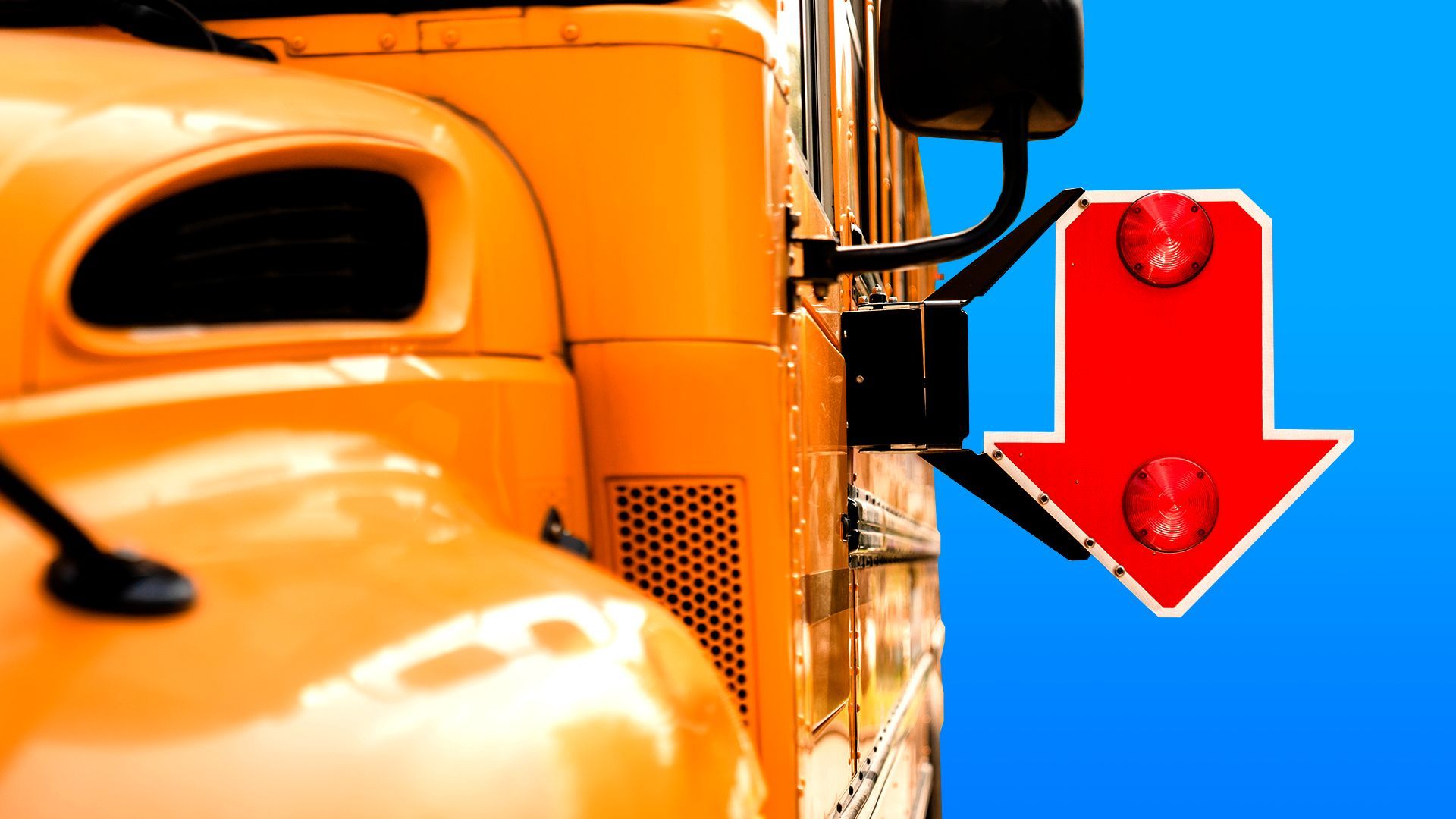 A shortage of bus drivers has made the return to school a logistical nightmare in some school districts across the U.S.
The big picture: All 50 states have seen at least "one instance of a major school bus driver shortage" so far this year, per a USA TODAY analysis.
School districts in states ranging from Kentucky, Illinois and Florida, among others, are being forced to rethink their transportation plans.
The lack of bus driver shortage isn't the only labor shortage making the return to school challenging for districts as a teacher shortage has left thousands of vacancies across the country.
Driving the news: Kentucky's Jefferson County attempted to alter bus routes and stagger start times to cope with the driver shortage, but was forced to cancel several days of classes after students were left stranded, AP reported.
Jefferson County is the largest school system in Kentucky, representing at least 96,000 students.
In a recent video, the district's superintendent Marty Pollio apologized to students, families, school bus drivers and school personnel, calling the mishap a "transportation disaster."
By the numbers: A new survey from HopSkipDrive, a ride service for kids, found that 92% of school leaders reported that bus driver shortages constrained their operations, up from 88% in last year's report and 78% in 2021.
Among over 220 U.S. school leaders and staff sampled in the report, the primary reasons cited for the shortage were "issues recruiting new bus drivers" and "drivers retiring."
Other explanations included "driver pay," "losing drivers to private industry" and "COVID-19 concerns."
What they're saying: "There's been a challenge recruiting new drivers for years and years, and we had a massive group of drivers leave the industry due to the pandemic," Joanna McFarland, HopSkipDrive's CEO and co-founder, told Axios.
Molly McGee-Hewitt, CEO and executive director of the National Association for Pupil Transportation, pointed to a shift among drivers who had driven part-time in years past.
"Because people were working split and limited shifts, many of them weren't eligible for benefits in their school district, or they were eligible for a limited amount of benefits, and so people needed more hours," McGee-Hewitt told Axios.
School bus drivers earned an average annual wage of $42,400, according to May 2022 estimates from the U.S. Bureau of Labor Statistics, but that estimate assumes they work full-time, which is not always the reality.
What to watch: The lack of bus driver shortage isn't the only labor shortage making the return to school challenging for districts.
Axios' Erica Pandey reports a dire teacher shortage has left "tens of thousands of teacher vacancies" across the country.
Go deeper