Critics drill Big Oil over new carbon technology moves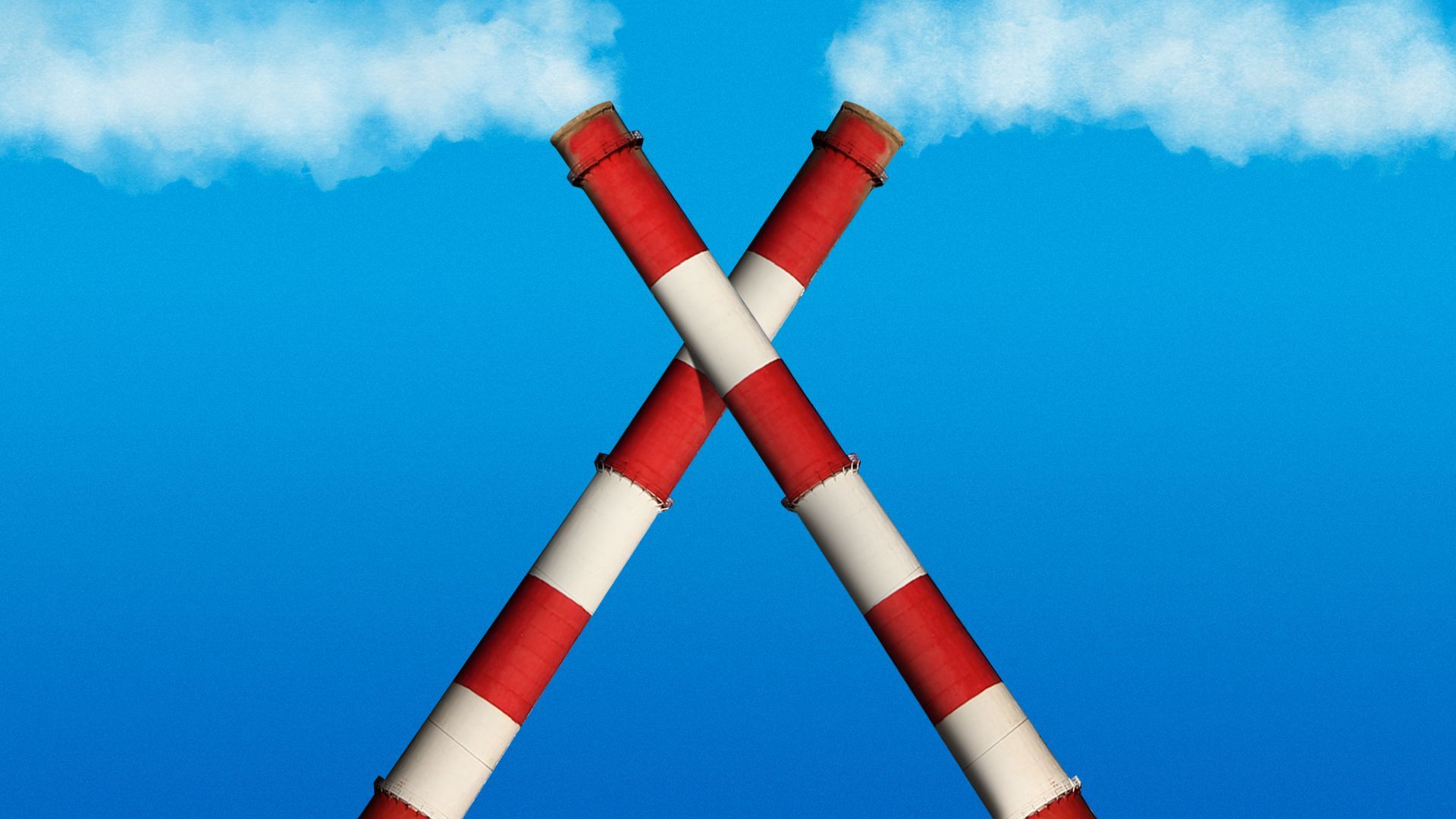 A multi-billion dollar federal spending commitment, a big corporate deal and one oil executive's provocative comment are fueling skirmishes about the promise and peril of nascent technology to draw carbon out of the air.
Why it matters: Where the debate leads may shape the future of the direct air capture (DAC) industry, and the ability of countries to meet climate goals.
Driving the news: The discussions are taking place at a time when, for the first time, large sums of money are starting to flow into the DAC industry.
A policymaking window may be open for a short time that could ensure new technologies maximize environmental benefits while averting environmental risks to communities or paradoxically leading to emissions increases.
Zoom in: One of the main threads of the conversations has been sparked by the oil giant Occidental's $1.1 billion purchase of the DAC firm Carbon Engineering last week.
This move has raised key questions around the potential role for oil and gas in the DAC business.
The technology is meant to draw down excess carbon from the atmosphere. If Oxy, or other oil and gas companies, use it as a means of enhancing oil recovery — which involves pumping CO2 into the ground to get more oil out — that would be counterproductive, DAC proponents fear.
An Oxy spokesperson told Axios via email they do not plan to use DAC under the deal for such purposes.
Using direct air capture for long-term carbon storage could help reduce excess CO2 in the air, with some caveats, according to Erin Burns, executive director of Carbon180, a nonprofit group focused on carbon removal.
Oxy has positioned itself to eventually offer customers ways to reduce their carbon footprint through the production of what it calls "net zero oil." To that end, the company is spending more in the DAC space than many of its counterparts.
Yes, but: Oxy's intentions have been called into question by a quote that has been making the rounds from its CEO, Vicki Hollub, in which she seemed to say the quiet part out loud. By using direct air capture, the oil and gas industry can continue producing more fossil fuels for another 80 years.
Critics of big oil and gas have pounced on that statement, using it to question the viability of DAC technology, and arguing for more federal funding of renewables instead.
The big picture: Burns told Axios the Oxy deal, plus the unprecedented federal funding, are sparking difficult but necessary debates about the role of certain actors in DAC — and carbon removal more broadly.
She said the few prominent DAC companies have known these questions were coming regarding whether or not they would engage with oil and gas companies, or work on enhanced oil recovery activities, for example.
"Those are going to be major questions for them that they've already been thinking about," Burns said.
What they're saying: "One of the concerns that we have is that folks are going to try and use this as an offset for continued fossil fuel production, when largely the role of carbon removal is to address legacy emissions," Burns said.
"And we are seeing oil companies talk about this being a way to offset continued oil production. That's concerning."
What's next: The burgeoning DAC community has yet to grapple with making sure that oil and gas players that want to enter the DAC space do so mainly to siphon excess carbon dioxide from the air and store it, rather than as a way to boost new fossil fuel production or to sell credits that extend high fossil fuel production rates, Burns and her colleagues said.
The bottom line: It may take new legislative policies or policies in other forms to ensure DAC doesn't become yet another form of industry greenwashing.
Go deeper