Electricity companies face calamity as climate warms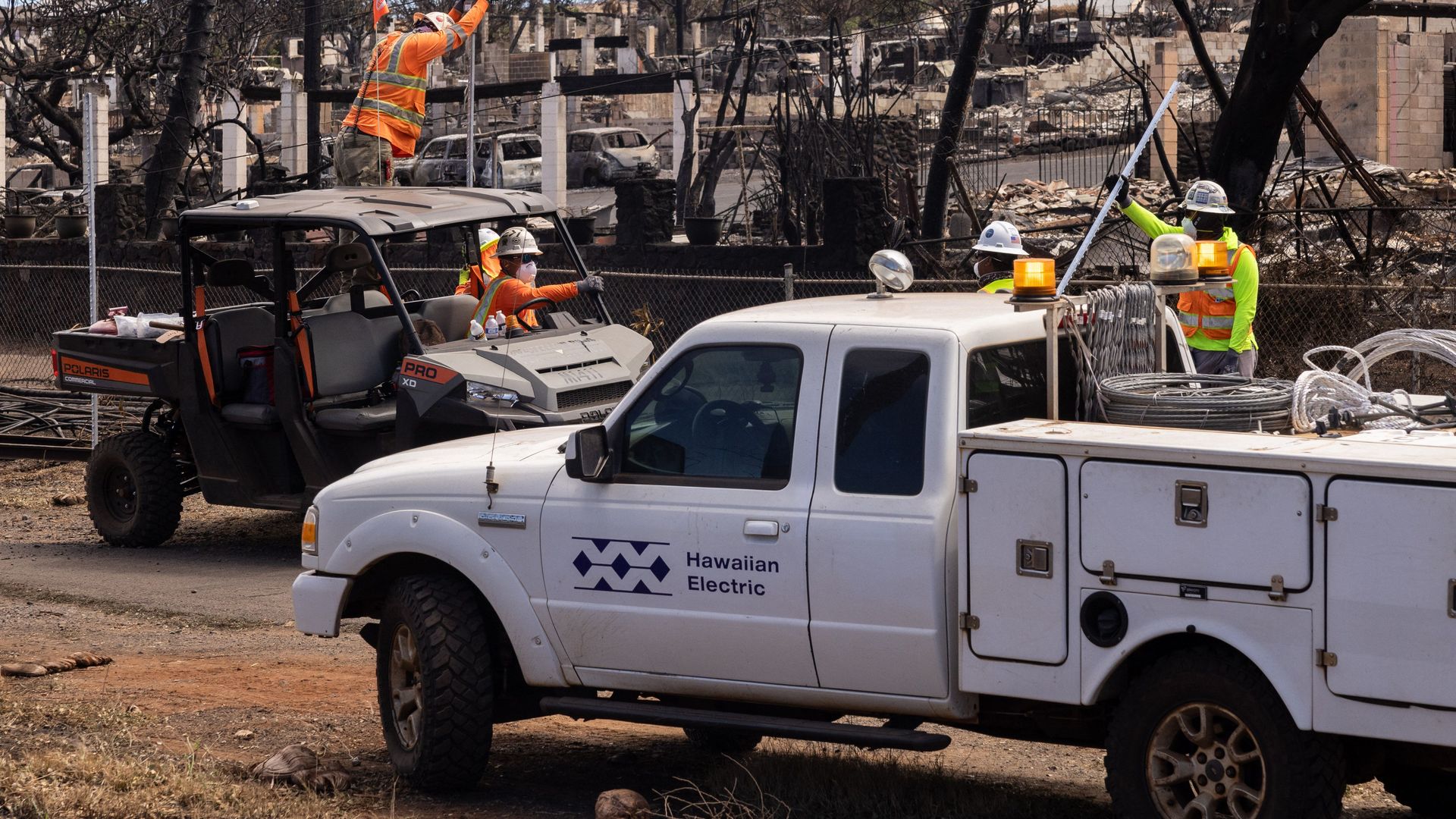 Power companies and grid operators increasingly risk financial calamity from natural disasters, with challenges intensified by operational hurdles, soaring costs and the effects of climate change.
Why it matters: The utility industry was once thought of as virtually impervious to financial disaster — a surefire investment bound to deliver steady returns.
Yet tragedies like the deadly Maui wildfires have cast a spotlight on whether power companies are doing enough to protect the public. They also face growing risks from a warming climate that's creating unpredictable weather.
Driving the news: At least 110 people are dead in Maui, an estimated 1,300 are missing and more than 2,200 structures have been destroyed or damaged.
The big picture: A warming climate, plus decades of underinvestment in the electrical grid, is thrusting utilities into turbulent territory:
HEI suddenly faces lawsuits over accusations that its downed power lines triggered the cataclysmic wildfires that destroyed the town of Lahaina.
Several Texas power companies — including the state's oldest and largest electricity cooperative, Brazos Electric Cooperative — filed for bankruptcy protection after a ruthless winter storm pummeled Texas in early 2021.
California utility giant PG&E filed for bankruptcy protection in 2019, after one of its nearly century-old transmission lines sparked the Camp Fire that killed some 85 people.
Be smart: It's not yet clear what caused the Maui wildfires, but the mere threat of a class-action lawsuit against HEI has already undermined the utility's financial position.
HEI's stock has lost more than half of its value since the wildfires swept across the island.
S&P Global Ratings on Tuesday downgraded the utility's credit rating to junk status, saying the lawsuits "increased the risk of a material deterioration" in the company's finances and the disappearance a "significant segment" of the company's customers.
Hawaiian Electric has already initiated discussions with restructuring advisers to consider its options, The Wall Street Journal reported. A spokesman for the company did not respond to an Axios request seeking comment.
"The severity of these wildfires demonstrate higher wildfire risk for the company than previously contemplated," S&P Global Ratings reported.
Between the lines: For utilities, the heightened risk of sudden financial disaster raises the urgency of increased capital investment, University of Texas at Austin grid expert Joshua Rhodes tells Axios.
"Our grid was built for the climate of the last century, but we're in a different one now," Rhodes says.
"We've essentially been coasting on the grid of the 1960s for the past 50 years, and no one has really noticed because it's been fine — out of sight, out of mind. But everything has a shelf life," he adds.
Zoom out: In addition to wildfire risks, power companies are grappling with the worsening possibility of flooding, including from storm surges and sea level rise.
In addition to outdated and insufficient transmission lines that are a fire risk, the average coal plant is more than 40 years old. The average natural gas plant is nearly 40 and the average hydroelectric facility is 60 to 70, Rhodes says.
Even though states like Hawai'i are investing heavily in renewable energy sources such as solar and wind, "a lot of the things that make our electricity are old," Rhodes says.
Flashback: Back in 2020, former Department of Energy chief risk officer John MacWilliams testified before Congress, warning of potential risks as demands on the grid rise.
"If customers are going to continue to demand the near 100% reliability of electricity service that they are accustomed to, large infrastructure investment will be required to reduce the damage caused by wildfires, sea level rise, and other climate-related events, and to make the electric grid and related assets more intelligent and more resilient," he said.
💭 Our thought bubble: None of this speaks to the parallel need to ramp up investment in the grid to handle increased demand such as the emergence of electric vehicles.
The bottom line: "We are under invested by probably a few trillions of dollars," Rhodes says.
Go deeper