Buffalo mass shooting survivors sue YouTube and Reddit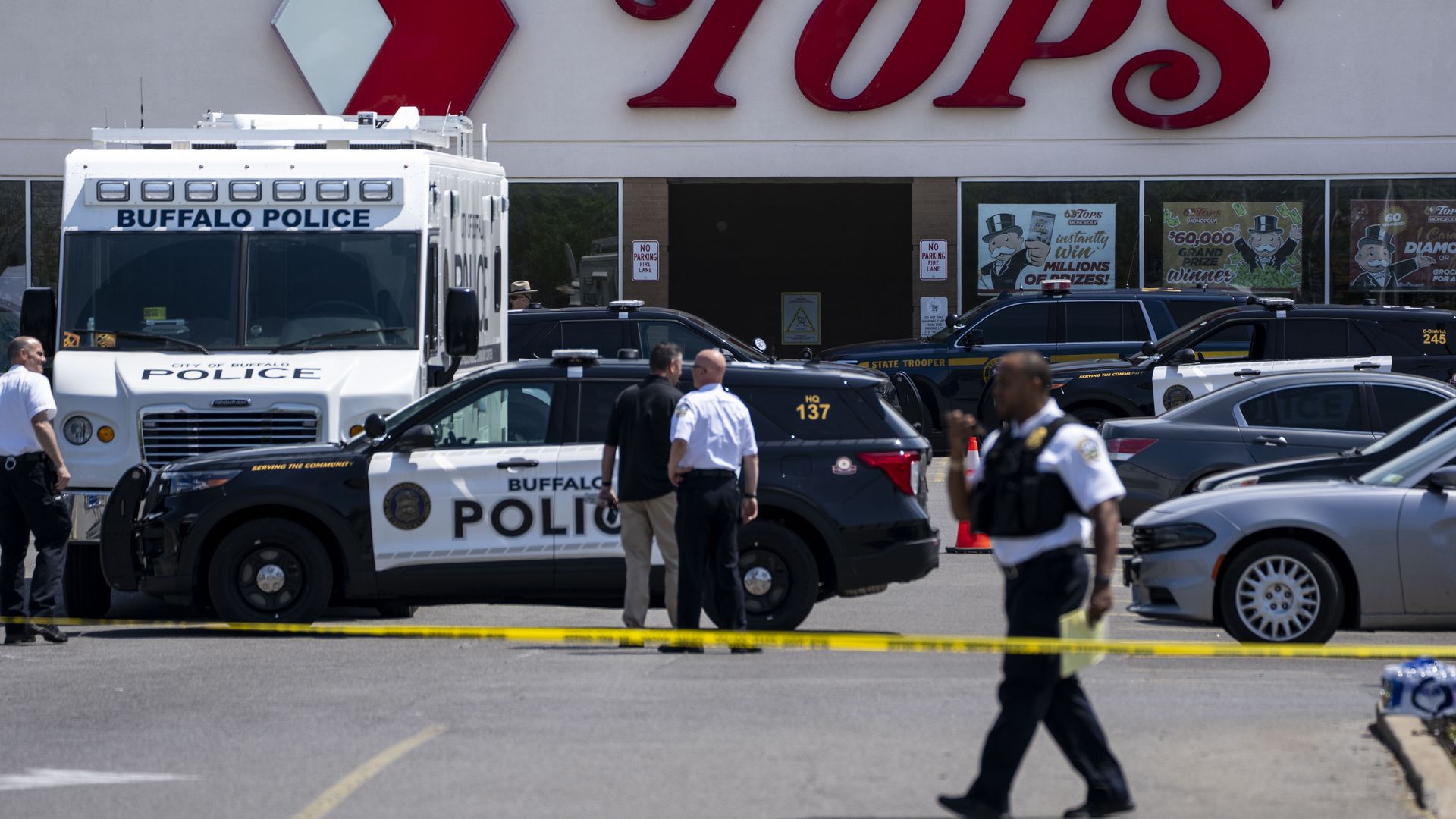 Family members of victims and survivors of the 2022 mass shooting in Buffalo, New York, announced Wednesday that they have filed two lawsuits against YouTube, Reddit and several gun-related companies.
State of play: Authorities said the mass shooting at Tops supermarket in a predominantly Black neighborhood was a racially motivated hate crime and a state report found the shooter was "radicalized" online — both points the lawsuits note, as they accuse the defendants of helping enable the white gunman to kill 10 Black people.
Details: The lawsuits were filed on behalf of victims' families and 17 survivors of the shooting by Everytown Law and civil rights lawyers from the firms Bonner & Bonner and Ryder Law, and also name YouTube's parent companies Alphabet Inc. and Google.
In addition to the social media companies, a body armor manufacturer, a large-capacity magazine producer and a New York gun store are named as defendants in the lawsuits.
The suits allege the social media companies contributed to the shooter's radicalization, while the gun and gun accessory companies provided him the means to carry out the attack.
The shooter's parents are also named for allegedly disregarding warning signs from the shooter, allowing him to amass guns and combat gear in their home and for not using New York state's Red Flag law to disarm him.
The big picture: Peyton Gendron was sentenced to life in state prison without parole in February after pleading guilty to state charges, including one count of domestic terrorism motivated by hate.
What they're saying: "The violent actions of a white supremacist who targeted my community ripped my mother away from me, and her nine grandchildren," said Wayne Jones, son of 65-year-old Celestine Chaney, who was killed in the shooting.
"This racist attack could have been prevented; numerous companies and individuals had the power to stop it from happening. My only hope is that this lawsuit can raise awareness and hold them accountable so that another gunman can't inflict the same kind of terror and incalculable damage."
Meanwhile, a spokesperson for YouTube said in an emailed statement that the company had "deepest sympathies" for those affected by the shooting.
"Through the years, YouTube has invested in technology, teams, and policies to identify and remove extremist content," the spokesperson added. "We regularly work with law enforcement, other platforms, and civil society to share intelligence and best practices."
Representatives for Reddit did not immediately respond to Axios' request for comment.
Go deeper