Buffalo mass shooter formally sentenced to life in prison without parole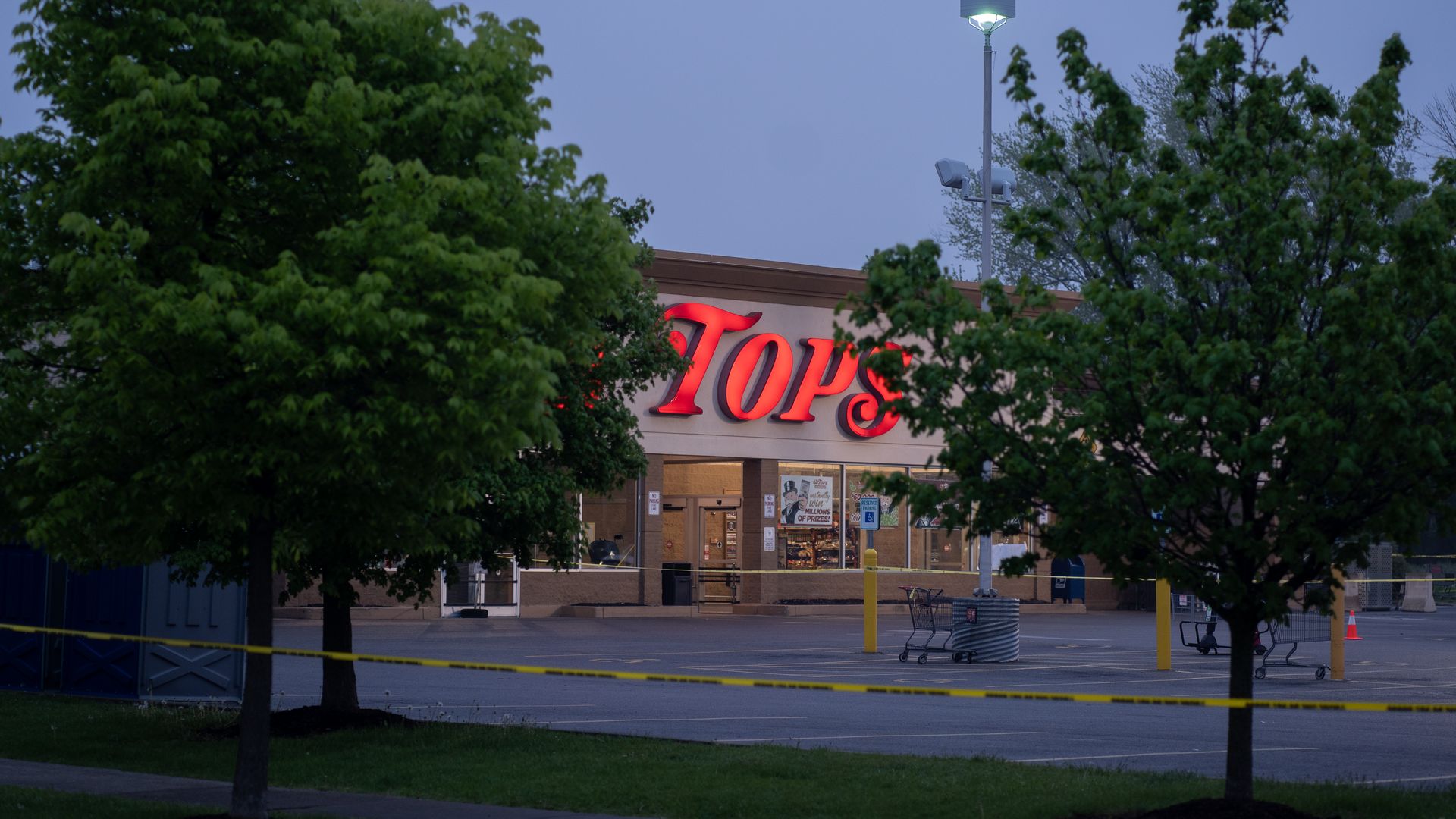 The white gunman charged with killing 10 Black people in the 2022 "racially motivated" mass shooting in Buffalo, New York, was sentenced to life in state prison on Wednesday.
Driving the news: Peyton Gendron, now 19, in November pleaded guilty to state charges, including one count of domestic terrorism motivated by hate, and will have no chance for parole.
What to watch: Gendron still faces 27 felony charges in federal court, including multiple counts of hate crimes that resulted in death. He has pleaded not guilty.
Details: Before he was sentenced Wednesday, Gendron made a formal statement of apology to the families of the victims. Attorneys for the families told the Buffalo News ahead of the sentencing that any apology from Gendron would be intended to dissuade the Justice Department from pursuing the death penalty in federal court.
While Barbara Massey Mapps, sister of 72-year-old victim Katherine Massey, was giving her impact statement, an unidentified man charged toward Gendron in the courtroom before being stopped by police officers.
Gendron was rushed out of the room by officers, and the proceeding was briefly halted.
Context: Gendron was indicted in state court on 25 counts that included 10 first-degree murder charges and three counts of attempted murder as a hate crime. The domestic terrorism count carries mandatory life without parole — no maximum or minimum.
What they're saying: "There is no place for you or your ignorant, hateful and evil ideologies in a civilized society," Erie County Court Judge Susan Eagan said before sentencing Gendron.
"There can be no mercy for you, no understanding, no second chances. The damage you have caused is too great, and the people you have hurt are too valuable to this community. You will never see the light of day as a free man ever again," Eagan added.
The judge said Gendron's actions, and other hateful acts also motivated by white supremacy, "are a reckoning for us as a nation." She attributed the acts to past and present systemic discriminatory practices against people of color.
Simone Crawley, a granddaughter of 86-year-old victim Ruth Whitfield, said in a victim impact statement: "Our grandmother went to buy seeds for her garden on May 14, 2022."
"She may not have been able to plant those seeds, but the seeds she planted throughout her life are abundant," Crawley said to Gendron.
"We find strength in knowing that her legacy will outlive you," she added. "Even with all of the heartache you have caused, you have failed to break our family's spirit. You thought you broke us, but you awoke us."
NAACP President and CEO Derrick Johnson said in a statement on Wednesday that he hoped the victims could find "some comfort in the fact that this white supremacist will spend the rest of his life behind bars."
Don't forget: Authorities say that Gendron, who was 18 at the time of the shooting, drove over 200 miles to attack people in the predominantly Black neighborhood in Buffalo. Eleven of the 13 people he shot were Black.
He used a semiautomatic rifle that carried a racial epithet and the number 14, a white supremacist numeric symbol, as an inscription.
"Gendron's motive for the mass shooting was to prevent Black people from replacing white people and eliminating the white race, and to inspire others to commit similar attacks," prosecutors in the U.S. Attorney's Office for the Western District of New York wrote in a June court filing.
Go deeper: The racist conspiracy theory cited by the Buffalo shooter
Editor's note: This story has been updated with additional details.
Go deeper