Biden to broker crisis hotline with Japan, South Korea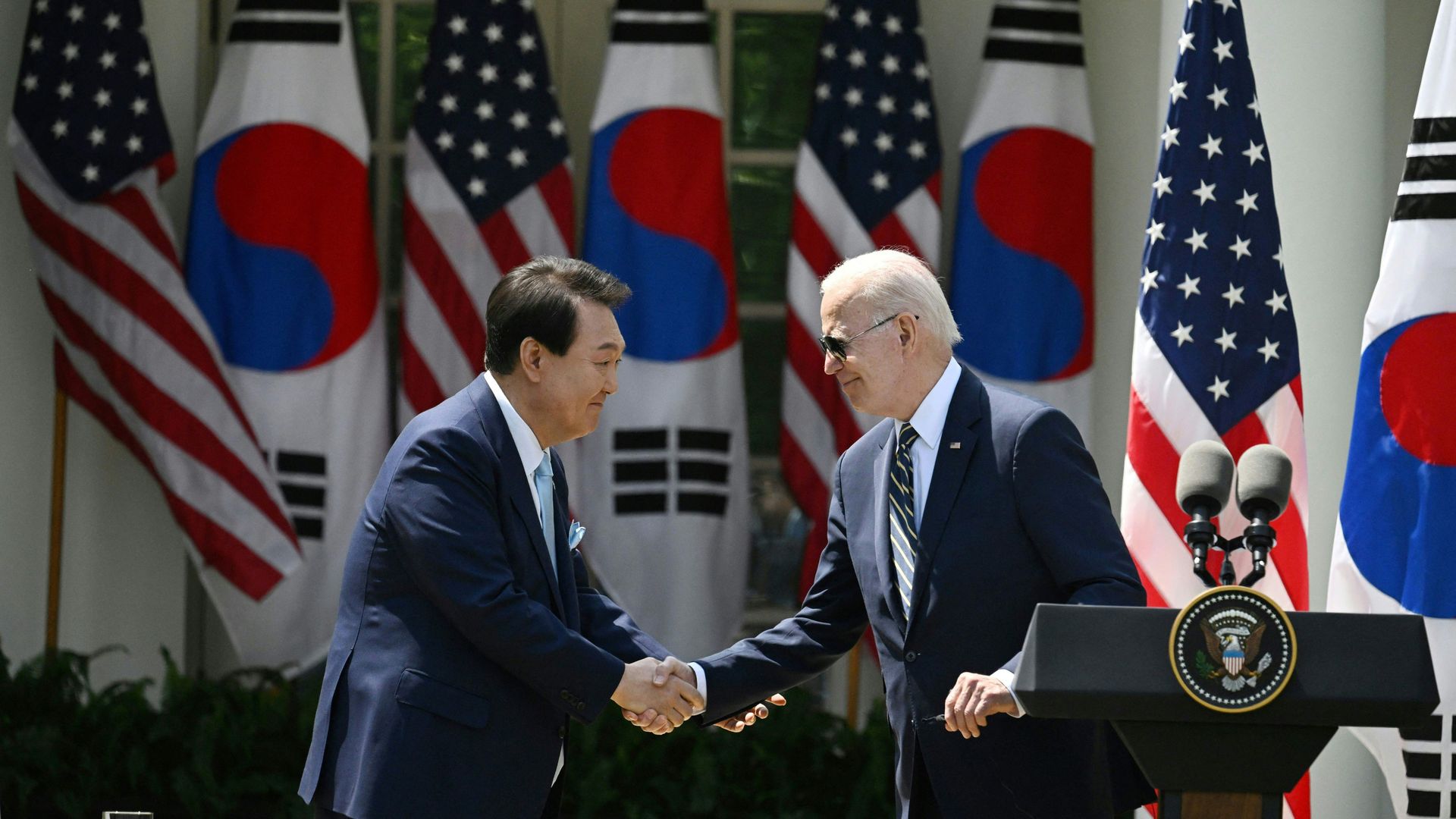 President Biden will host Japan's prime minister and South Korea's president this week for his first-ever leaders summit at Camp David, with plans to announce joint military exercises — and a possible new crisis hotline between the three allies.
Why it matters: Friday's summit is designed to send a loud and clear message to China and North Korea that the allies are fortifying their military and economic ties, according to people familiar with the matter.
The summit also will allow Biden to play the role of international statesman on a domestic stage, as he runs a Rose Garden re-election campaign that uses the trappings of the presidency to emphasize his leadership.
Driving the news: The summit is the result of months of U.S. diplomacy, as officials have tried to persuade Japan and South Korea to look beyond their complicated past and toward a united future.
Biden, Japan Prime Minister Fumio Kishida and South Korea President Yoon Suk Yeol are preparing to announce the "Camp David Principles," a new set of protocols to govern their relationship.
"The symbolism of meeting at Camp David cannot be overstated," a senior administration official told Axios.
"There is no question because of their rapprochement, we are able to do way more," the official said.
Along with closer military cooperation, they will discuss ways to coordinate more closely on political matters, with the possible announcement of a new three-way hotline — and the duty to consult with each other in a crisis.
Zoom out: From the beginning of his presidency, Biden has worked to strengthen alliances in the Indo-Pacific — and around the globe — as a way to counter China's ambitions.
One of his first virtual summits was with the so-called Quad, where the leaders of the U.S., Japan, Australia and India gathered to discuss their collective security interests.
In September 2021, the U.S. and the U.K. announced a plan to help Australia deploy nuclear-power submarines to challenge China's territorial claims in the region.
China and North Korea have been increasing their military pressure on their neighbors, with China using training exercises to probe Taiwan's territorial boundaries and North Korea conducting missile tests.
Zoom in: Bringing South Korea and Japan closer together has been central to Biden's regional approach to China.
Besides scheduling training exercises, the three parties are aiming to establish a regular summit between their national security advisers and improve their early warning data-sharing on North Korean missile launches.
Go deeper: In the first two-and-a-half years of his presidency, Biden has adopted a hawkish posture toward Beijing, extending all of former President Trump's China tariffs and announcing new restrictions himself.
Last week, Biden announced new limits on U.S. investment in China's technology industry, another indication that his administration is guarding against potential threats from Beijing.
But he also downplayed China's economic prowess and told donors in Utah that its economy is a "ticking time bomb" while suggesting that Communist Party leaders were "bad folks."
Go deeper