Florida eyes "classical" education agenda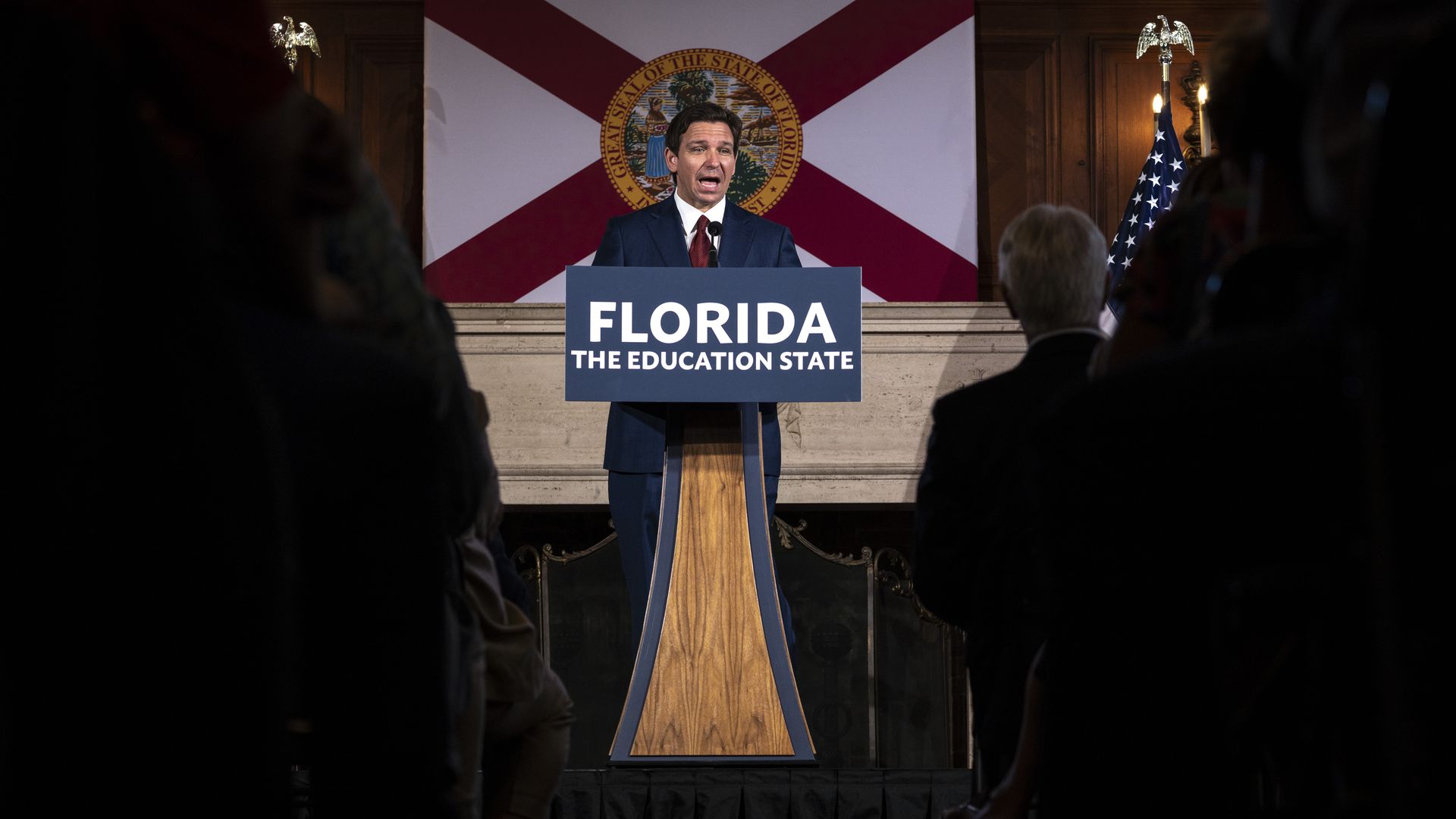 Florida could become the first state to offer a conservative-backed "classical" exam in lieu of the SAT and ACT for public college admissions.
Why it matters: The state's education measures have been a Republican bellwether nationally — driven by Gov. Ron DeSantis (R), who is seeking the Republican nomination in the 2024 presidential election.
The classical education model — not to be confused with "classics" or "classical humanities" — focuses on a return to "core values" and the "centrality of the Western tradition." It's gained recent momentum in Florida charter schools and private Christian schools.
The Classical Learning Test launched in 2015 and is used by homeschooling families and co-op groups, according to its website. Over 200 colleges and universities, many religious, accept its scores.
The test contains three sections: verbal reasoning, grammar and writing, and quantitative reasoning.
State of play: The Florida Board of Governors is expected to vote on the Classical Learning Test on Aug. 30, Altony Lee III, a spokesperson for the board, told Axios.
If adopted by the board, universities could start accepting classical test scores for the 2023-24 admissions cycle, Lee said.
In May, DeSantis signed a bill into law that allowed students to use classical test scores to determine eligibility for a statewide college scholarship program.
DeSantis and the Florida Department of Education did not respond to requests for comment.
Critics say that the emphasis on Western civilization in classical education centers white Europe and America as most important, per the Tampa Bay Times.
So-called "classical education is really a wolf in sheep's clothing," said Julian Vasquez Heilig, a professor of educational leadership, research and technology at Western Michigan University.
"Really what it's about is using selective Western thinkers to foment a specific moral ideology," he added.
The intrigue: Classical education is largely pioneered by Hillsdale College, a small, Christian, classical liberal arts college in Michigan. This school has helped DeSantis reshape Florida education, the Miami Herald reported.
Five schools in Florida are "member schools" of Hillsdale College — more than in any other state, according to its website.
They receive curriculum, consultation and training; others are designated as "candidate member" or "curriculum" schools.
Hillsdale influenced the state's decision to reject math textbooks that delved into critical race theory and social emotional learning.
"In studying the origins of our country and its history, in all of its triumphs and tragedies, students acquire a mature love for America," the Hillsdale website said.
Zoom out: The Florida Board of Education in July backed new standards for teaching Black history, including slavery.
Earlier this year, the College Board revised its curriculum for Advanced Placement African American history after criticism from DeSantis — a move that drew significant backlash.
The head of the College Board said at the time the changes were not made for political reasons.
DeSantis has ultimately sought alternatives to College Board products, such as the Classical Learning Test.
The College Board initially said Advanced Placement Psychology was "effectively banned" in Florida, after the state deemed teaching sexual orientation and gender identity content illegal, but then reversed the decision on Friday.
"We hope now that Florida teachers will be able to teach the full course, including content on gender and sexual orientation, without fear of punishment," the College Board said in a statement.
DeSantis last year signed the so-called "Don't Say Gay" bill into law, banning classroom instruction on gender identity and sexual orientation from kindergarten through 3rd grade.
Go deeper: The Republican war on colleges
Go deeper