DeSantis signs bill banning DEI degrees at Florida colleges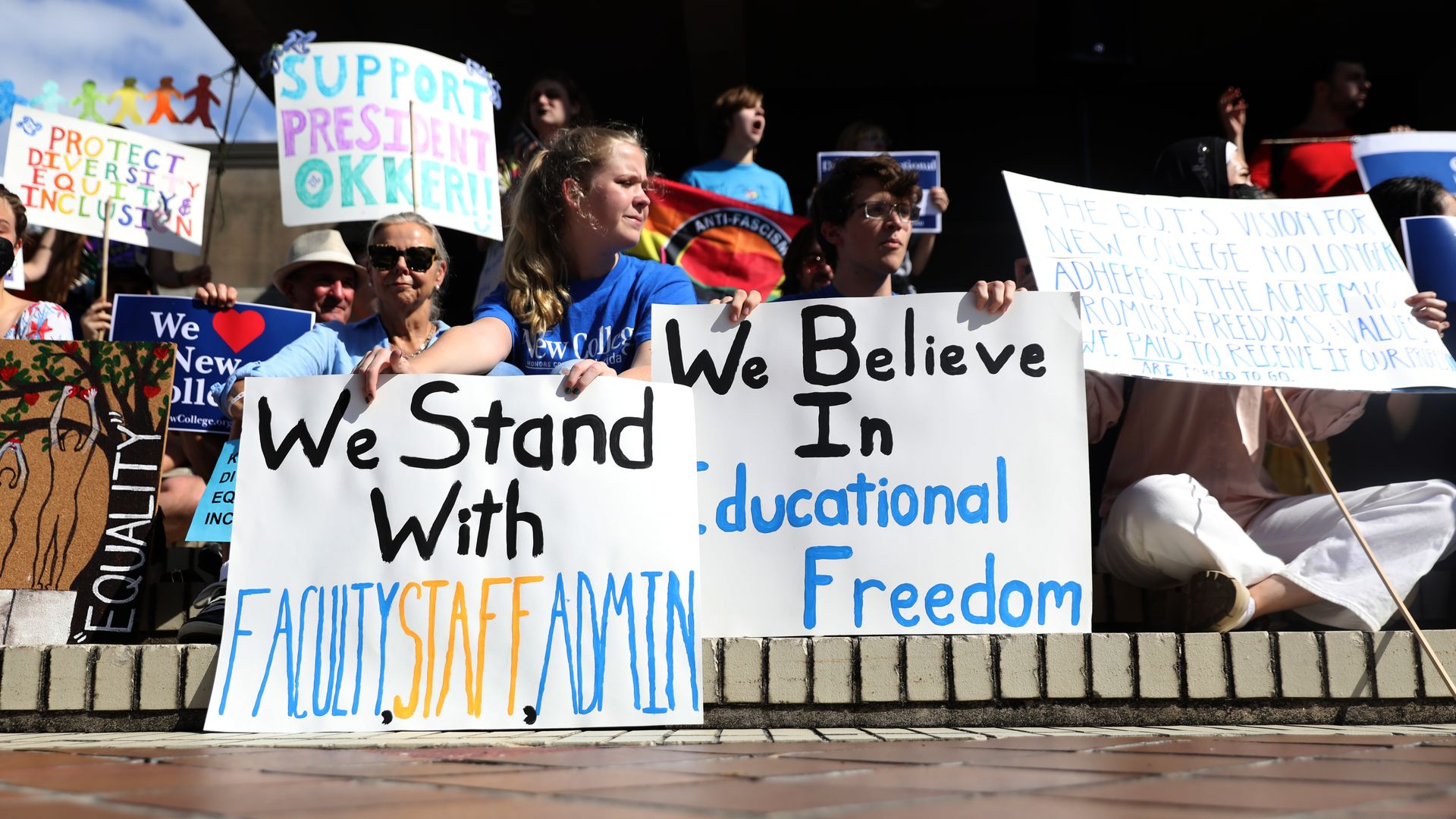 Gov. Ron DeSantis signed legislation Monday defunding diversity, equity and inclusion (DEI) programs at Florida's public colleges and allowing the state to remove programs, majors and minors that teach "identity politics."
Why it matters: DeSantis' signing of SB 266 and HB 931 marks the latest escalation in a yearslong effort to regulate how race and gender are addressed in educational institutions across the state.
DEI programs intend to foster an inclusive culture across college campuses where all members, regardless of their race or sexual orientation, can succeed. But state Republicans allege the initiatives are being used to silence people.
Driving the news: DeSantis signed the bills at New College of Florida, a liberal arts school in Sarasota, where he overhauled the board of trustees to transform the college into a conservative institution.
The Republican governor proposed many of the laws' provisions in February, claiming that such teachings "suppress free thought." The measures build upon the "Stop W.O.K.E. ACT," which curtails teaching about race.
Details: SB 266 prohibits the state's colleges and universities from spending any state or federal dollars on programs and campus activities that advocate for DEI policies or social activism.
The restriction, however, carves out an exception for campus activities required for "compliance with federal laws or regulations" and retaining institutional accreditation.
It also creates a mechanism for the state to review college courses, majors and minors, and remove ones with lessons "based on theories that systemic racism, sexism, oppression, and privilege" are inherent in the U.S.
The other measure, HB 931, bars Florida's higher education institutions from requiring students, faculty or staff to sign statements in support of DEI in order to be admitted or hired.
What they're saying: "If you want to do things like gender ideology, go to Berkeley," DeSantis said at Monday's press conference, where a group gathered outside to protest. "But for us, with our tax dollars, we want to focus on the classical mission of what a university is supposed to be."
"What this does is reorient our universities back to their traditional mission and part of that traditional mission is to treat people as individuals, not to try to divvy them up based on any type of superficial characteristics," he added.
The other side: "Florida's universities should be places open to the free exchange of ideas," Adam Steinbaugh, an attorney at the nonprofit Foundation for Individual Rights and Expression, said in a statement.
"When lawmakers start voting ideas off the table, no idea is safe from censorship."
Between the lines: The Florida Legislature watered-down the higher education reform bill to remove explicit references to banning majors and minors in topics like critical race theory and gender studies.
But the governor's office maintains that the legislation — albeit more ambiguous — would still allow the state to ban such courses.
David Grimes, of the state House Democratic office, told Axios DeSantis is weaponizing statutory ambiguity in a manner consistent with how his administration handled the law critics dubbed "Don't Say Gay."
"The language in Section 1 allowing the Board of Governors to review and disapprove of programs they don't like will get DeSantis to the same place as the original language that the Legislature rejected."
What's ahead: The laws will take effect July 1.
Editor's note: This story has been updated to add context, details about the new laws and comments.
Go deeper