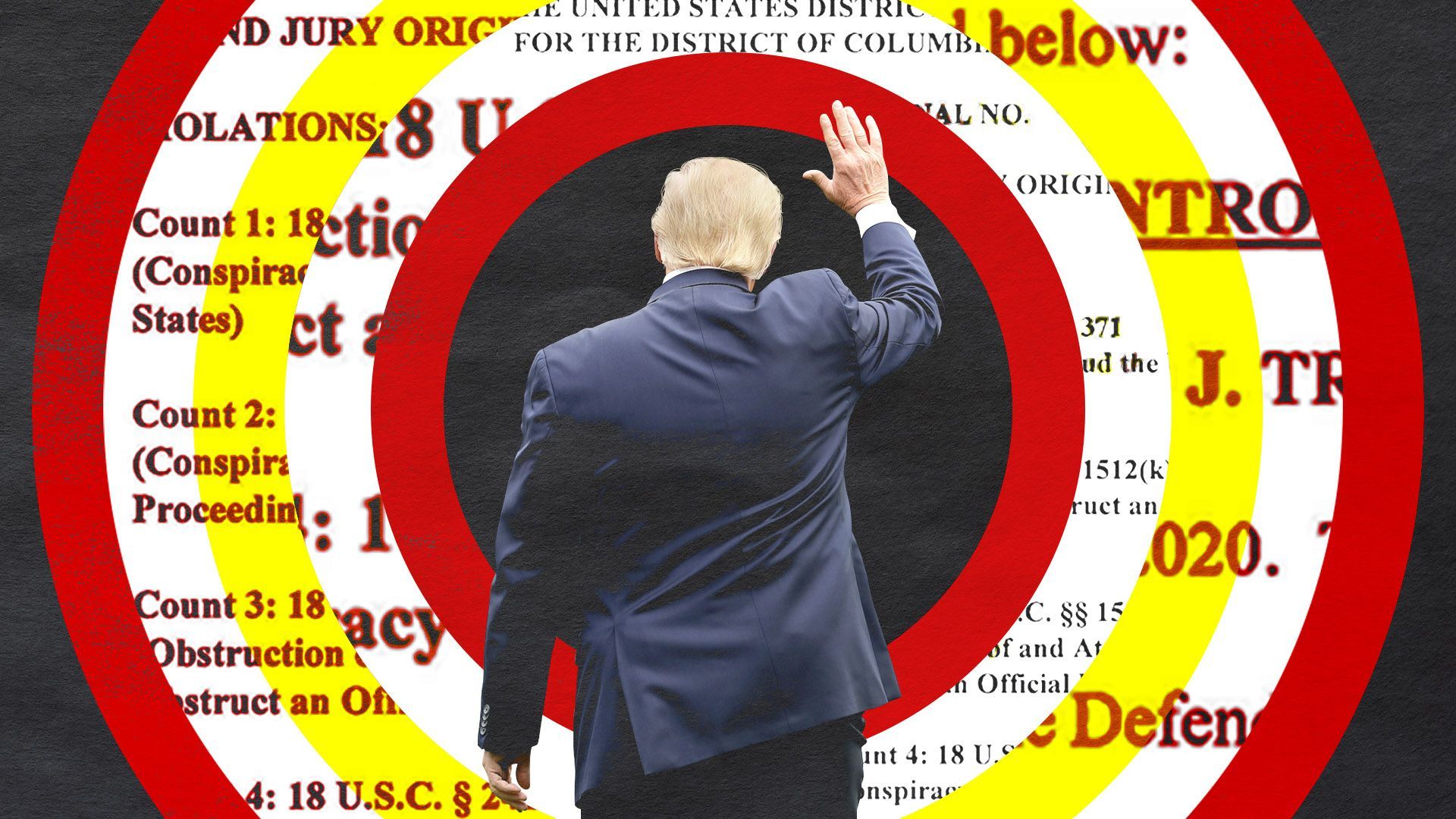 Top Trump officials privately concede some of the charges against him are damning, dangerous and provable.
Why it matters: If Trump is likely to lose in court in even one of his three — probably soon to be four — criminal prosecutions, he may turn to unprecedented, extraordinary measures for a way out.
What's happening: Trump appears to be working on three escape hatches to keep himself out of prison.
Delay trials until after the 2024 election, hoping he'll be president again and able to pardon himself.
Count on friendly judges to steer things in his favor.
Frame every defeat as political vendetta — and trust the Supreme Court will overturn any guilty verdicts.
Zoom in: Delays are the first order of business for Trump's legal team.
In Fort Pierce, Florida, where Trump's classified documents trial is set for May 2024, the former president's legal team is preparing to unleash a flurry of motions and challenges to slow-walk the court's "rocket docket."
The role of classified information — paired with a Trump-appointed judge, Aileen Cannon — is expected to cause delays as the parties fight over what evidence the jury will be permitted to see.
In Washington, Trump's lawyers have vowed to "re-litigate every single issue in the 2020 election" in a bid to prolong the discovery process and push the trial until after the 2024 election.
But Judge Tanya Chutkan, known for her tough treatment of Jan. 6 defendants, may not have much tolerance for stall tactics.
In New York, where Trump is scheduled to go on trial in March, Manhattan District Attorney Alvin Bragg is relying on an untested legal theory by charging state felonies related to federal campaign finance violations. There's a chance that a New York judge would toss the charges, though a federal judge was unimpressed with the Trump team's argument on that issue earlier this month.
Threat level: If Trump is reelected, he has signaled he will eviscerate the post-Watergate norm of Justice Department independence — allowing him to demand that the department drop the federal charges against him, if they're still pending.
If all else fails, some Trump allies say, the former president would appeal any convictions to the Supreme Court.
Whether that's actually feasible would ultimately depend on what he's convicted of, in which jurisdictions. It's a staunchly conservative court with three Trump-appointed justices. But appealing a criminal conviction all the way to the Supreme Court is designed to be extremely difficult.
Reality check: Everything will need to go right for Trump to avoid a conviction in three — possibly four — courthouses in the next 15 months.
Between the lines: Even if Trump wins and pardons himself — which no president has ever tried — that wouldn't protect him from a state conviction in New York or Georgia.
Editor's note: This story has been corrected to note the location of Trump's classified documents trial is in Fort Pierce, Florida, not Miami. It has also been updated to include a federal judge's ruling pertaining to the Manhattan DA's case earlier this month.
Go deeper