New RSV shots could give parents peace of mind — or confuse them more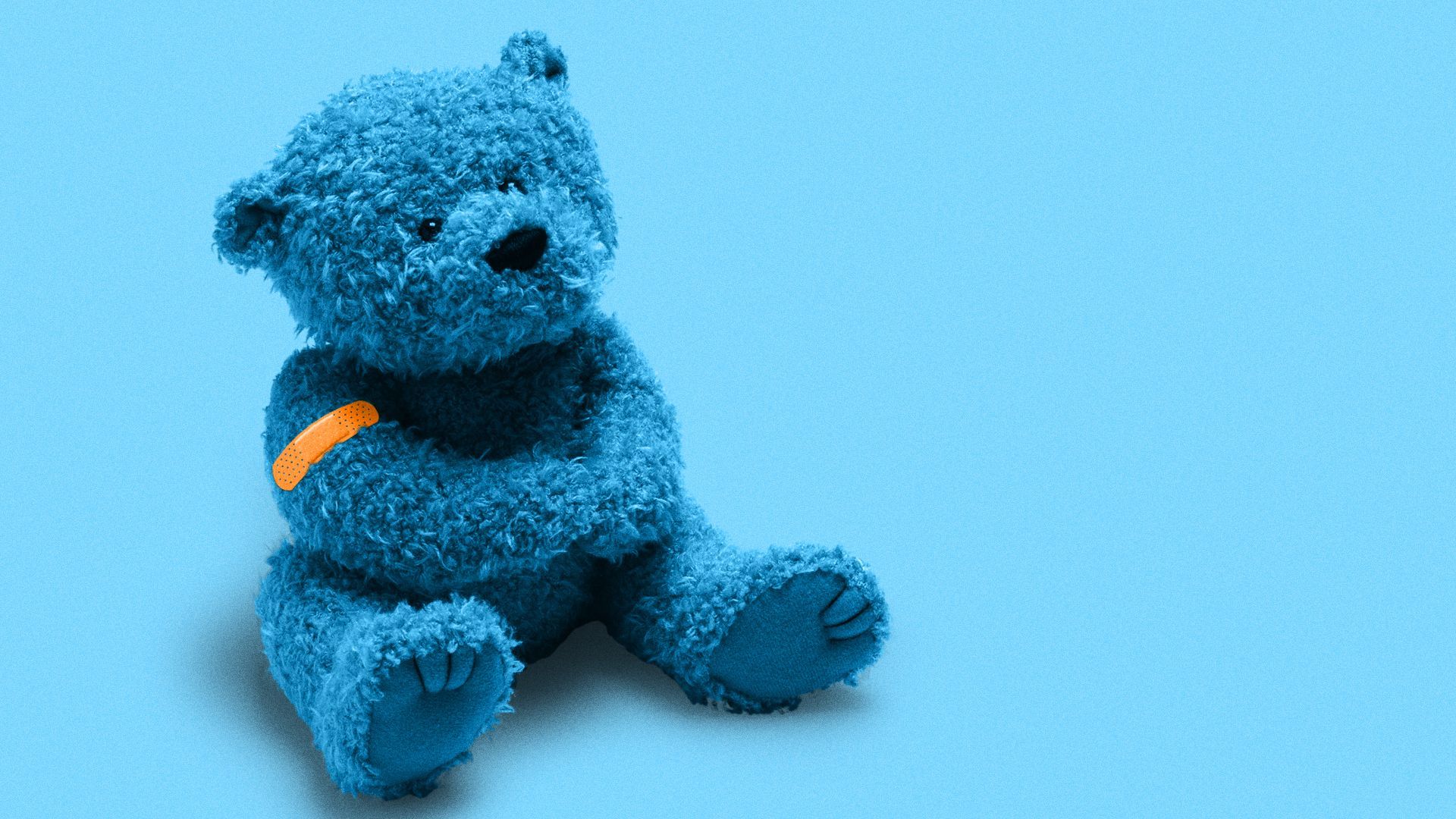 The arrival of two shots that protect infants against respiratory syncytial virus could give parents some peace of mind from the leading cause of hospitalization of U.S. children under the age of 1.
The big picture: For decades, the biotech world has been working — and pediatricians have been eagerly waiting — for protection against RSV.
The virus is considered the second leading cause of death worldwide during the first year of a child's life, with infants six months and younger at greater risk of becoming severely ill.
Last fall's "tripledemic" of respiratory diseases began with an early wave of RSV that overwhelmed pediatric hospitals and demonstrated the risks for infants and toddlers.
The availability of two shots "is potentially a huge, huge, huge benefit for both families and the health care system," Michael Chang, a pediatric infectious diseases specialist at Memorial Hermann Children's Hospital in Houston, told Axios.
Driving the news: The CDC on Thursday decided to recommend administering the monoclonal antibody Beyfortus from Sanofi and AstraZeneca to protect infants against RSV. That means the $495 shot will be the first in the U.S. to protect all infants from RSV.
The antibody was also added to the Vaccines for Children Program to ensure that uninsured kids can access the shot for free. And the shot can be included in Affordable Care Act coverage requirements, per the agency.
That would come on top of another RSV shot called palivizumab from MedImmune that's already on the market, but only administered to young children deemed at high risk.
Yes, but: Widespread uptake of the shots depends on parents embracing the treatment and understanding the risks of RSV.
In an Alliance for Patient Access survey of pediatric providers, nearly all of them said parents needed more overall information about the virus.
CDC survey data presented at Thursday's advisory committee meeting showed a third of respondents thought their infant would "definitely or probably" get a case of RSV within a year, and 70% said they would "definitely or probably" get an injection for the baby if it's shown to be safe and effective.
But parents may find the discussion around Beyfortus confusing. "It's not really a traditional vaccine, but we're going to go ahead and cover it under the children's vaccine program. There's a lot of confusion around, 'What do you even call this drug?'" Chang said.
Experts also warn about the importance of strong public health communication, worried that vaccine hesitancy connected with COVID-19 vaccines could still seep into public perceptions of other shots.
"I suspect it's going to be a relatively heavy lift to explain this and the difference between a vaccine and a monoclonal antibody," said Sarah Schaffer DeRoo, a pediatrician at Children's National Hospital in Washington, D.C.
"There will be some families that really don't care and they'll accept it if the doctor recommends it, and there will be others who will have a lot of questions about what this means," she said.
Others might be swayed by FDA approval and a CDC recommendation, according to a CDC and University of Iowa joint survey presented at Thursday's committee meeting.
"Ultimately, we're going to have to see how the new CDC director and her idea of improving communication and transparency and reaching out to communities goes," Chang said. "I hope we get some really great messaging and clear planning around what to do when these different steps roll out."
What to know: The Sanofi-AstraZeneca antibody treatment is delivered via a single intramuscular shot like many vaccines. But unlike a vaccine, it doesn't prime the immune system to guard against the virus long-term — instead, it's meant to provide short-term protection just through RSV season.
Infants born during RSV season will likely get the shot before they are discharged from the hospital, Chang said.
Other infants younger than eight months would get the shot from their pediatrician, likely with other childhood vaccinations, he said. They will not be available at pharmacies.
One good thing, Chang said: "As soon as you get it, essentially you have these elevated antibodies for RSV and you're basically protected. For the other vaccines for like flu and COVID, you have to wait like two weeks until your immune system revs up."
What to watch: A key advisory committee to the FDA recommended the agency approve Pfizer's RSV vaccine — which was approved for use in older adults in May — be OK'd for pregnant women, to create neutralizing antibodies that can be transferred to infants in the womb.
An FDA decision is expected later this month and if approved, it would also head to the CDC for a final sign-off. There are also RSV vaccine candidates in the pipeline.
The arrival of more options could affect the uptake of the antibody in the future, Chang said.
"If a mom gets maternal RSV vaccine, then she has a very different decision to discuss with her health care provider about whether her child needs [Beyfortus] or not," he said.
Go deeper