Trump's "delusion" defense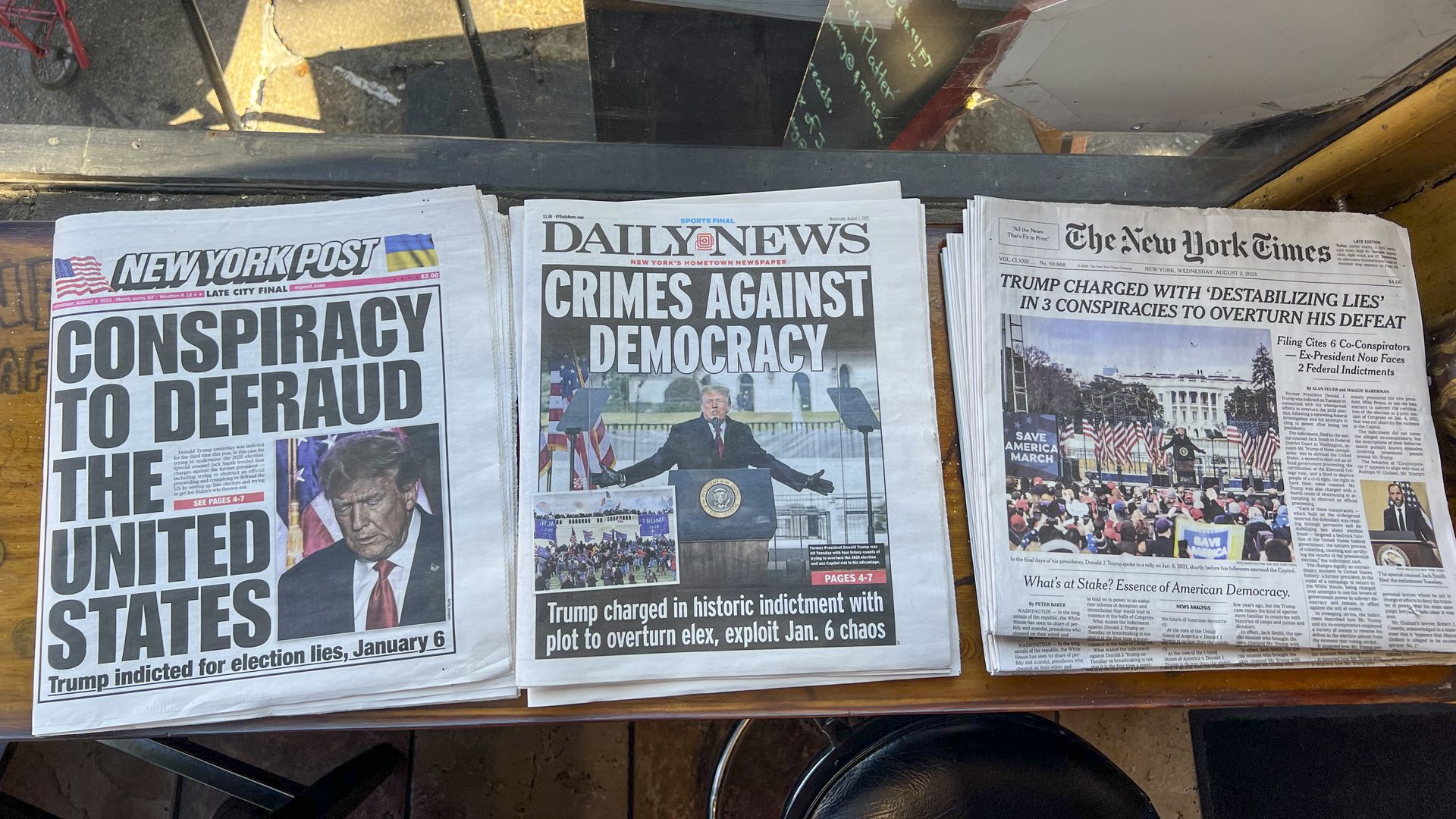 Former President Trump's legal team is teasing a risky defense to his historic third indictment: that Trump genuinely believed his own lies about election fraud — despite being told by dozens of his closest advisers, allies and agencies that they were baseless.
Why it matters: If they proceed to trial, Trump's lawyers effectively could be asking a jury to believe that the former president was delusional — undermining special counsel Jack Smith's core thesis that Trump "knowingly" sought to defraud the country.
The gambit could prove successful in court, where an already unfurling debate over the First Amendment is expected to play a starring role.
Politically, however, the "delusion defense" would force Republicans into the uncomfortable position of defending a candidate who can't be trusted to distinguish reality from conspiracy — and who now wants to be president again.
Driving the news: The indictment details many occasions in which top officials and lawyers explained to Trump that his theories — ranging from dead people voting to machines altering votes to foreign interference — were baseless.
As official campaign staffers grew frustrated, Trump increasingly began listening to conspiracy theorists such as Sidney Powell, whose attorneys said in response to a 2021 defamation lawsuit that "no reasonable person" would believe her bizarre claims were "truly statements of fact."
"I'll obviously hustle to help on all fronts, but it's tough to own any of this when it's all just conspiracy sh*t beamed down from the mothership," a senior campaign official — who repeatedly told Trump his claims were untrue — wrote in an email on Dec. 8, 2020.
Even Trump, the indictment alleges, privately acknowledged in December that Powell's claims about voting machine conspiracies sounded "crazy."
What they're saying: "I would like [prosecutors] to try to prove beyond a reasonable doubt that Donald Trump believed that these allegations were false," Trump attorney John Lauro said on Fox News last night.
"No sitting president has ever been criminally charged for his views, for taking a position," he added.
What to watch: Citing the subpoena power that Trump's lawyers will be entitled to in the discovery process, Lauro pledged to "re-litigate every single issue in the 2020 election."
In other words, the Trump team may use his criminal trial to once again try to prove there was election fraud — and thereby de-fang Smith's charges.
Remember: More than 60 election lawsuits brought by Trump and his allies were tossed out of court in the weeks after the election.
The bottom line: The House Jan. 6 committee hearings last summer gave Republicans a taste of the coming spectacle in federal court. The subsequent defeat of Trump-backed election deniers in the midterms likely has GOP leaders once again bracing for impact.
Go deeper