Pfizer signals future cuts amid waning COVID demand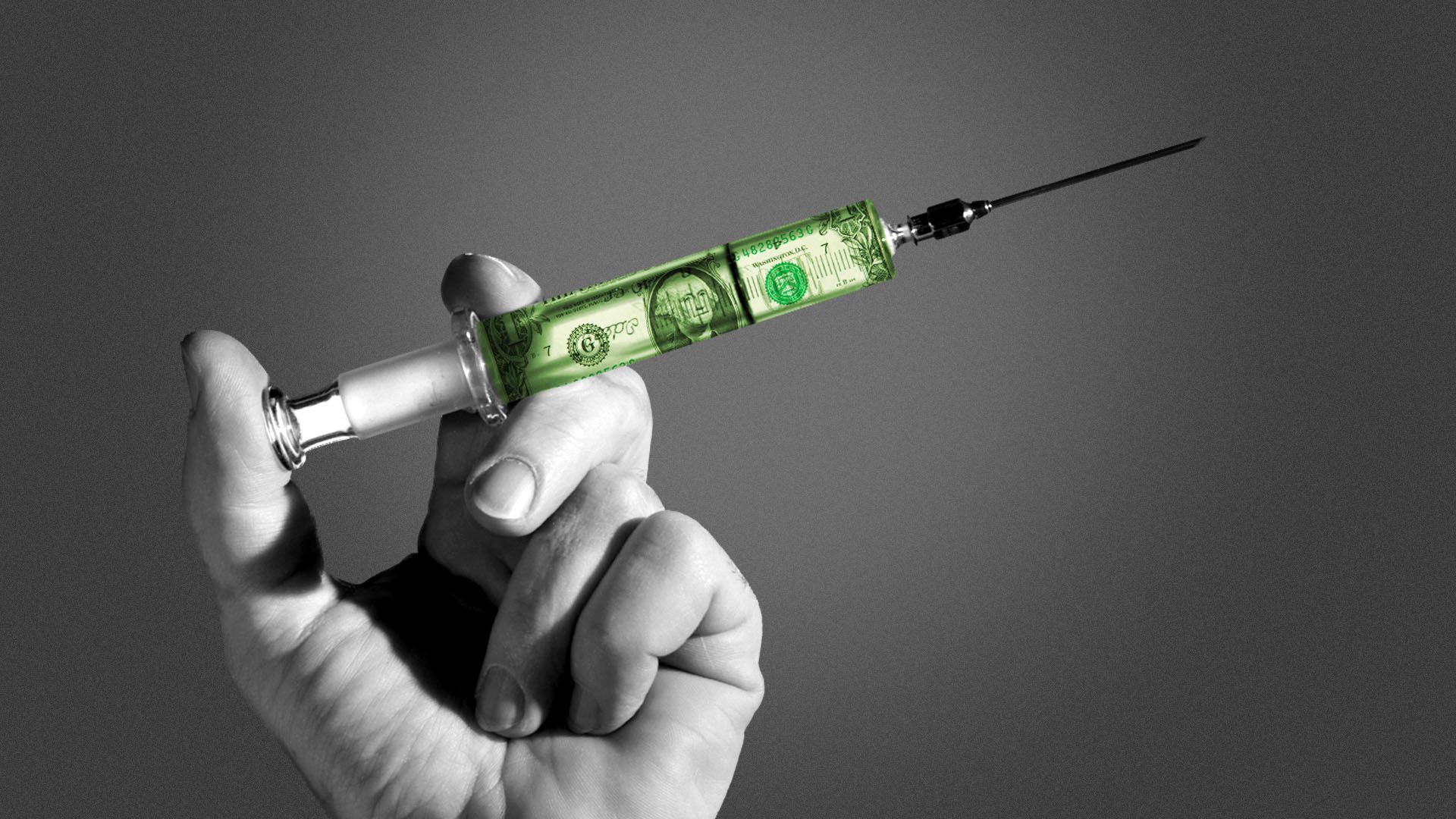 Pfizer says it's eyeing possible cost-cutting measures to manage potential losses from low uptake of its COVID-19 vaccine and antibody treatment — a sign of how the market for COVID products has weakened, even as hospitalizations and cases tick up again.
Why it matters: The pharmaceutical giant's disclosure on a quarterly earnings call Tuesday reflects both the public's apathy for booster shots and declining support from governments for its COVID products.
It may also call into question the demand for producing more effective COVID treatments and vaccines as we continue to live with the virus.
Driving the news: Pfizer has sustained disappointing demand for its COVID products so far this year and says it will make cuts if that continues.
For instance, the company projected in January that 100 million doses of COVID vaccines would be administered in the U.S. this year, with Pfizer accounting for 60% of those shots.
However, only 12.4 million doses were administered in the U.S. in the first six months of 2023.
The big picture: Updated COVID vaccine boosters are expected to be approved by the end of August in advance of a predicted seasonal wave of COVID cases, CEO Albert Bourla said.
Insurers are expected to pick up the tab — and will be charged a higher price — once Pfizer's COVID products enter the commercial market. However, there's been low interest in receiving boosters, with just 17% of the country receiving the bivalent booster authorized almost a year ago, per the CDC.
Americans have been eager to move on from COVID and get back to pre-pandemic activities. In an Axios-Ipsos survey in May, 60% said they agree that America has spent enough time fighting COVID and it's time to move on — up from 50% in February.
Despite a surge in COVID cases coupled with flu and RSV flooding hospitals last fall — and recent upticks in COVID hospitalizations — experts say they expect a COVID-fatigued public may not be eager for more shots this year. Americans have indicated more hesitance than ever around vaccines.
"We are acutely aware that all these uncertainties are making it difficult to project the future revenues of Pfizer in this area and also affecting our stock prices," Bourla said during the call.
By the numbers: Pfizer missed revenue projections — mostly due to declines in COVID products — posting $12.7 billion in revenue, down 54% from the same quarter a year earlier.
COVID vaccine revenue is expected to be down 64% compared to last year, while revenue from its Paxlovid antiviral therapy is expected to be down by 58%.
What they're saying: The third quarter, timed to the next booster campaign, is critical for forecasting future performance. Vaccination rates in the next few months are expected to be a "reliable predictor of trends in subsequent years," Bourla said.
And if COVID revenues are less than expected, Pfizer expects to detail an "enterprise-wide" cost-cutting program.
Between the lines: Pfizer said its higher revenues during the pandemic helped buoy research and development in other products such as breast cancer and weight-loss drug candidates.
The company said it plans to launch 19 new products and indications in the next 18-month span. It's also anticipating increased revenue from its acquisitions, such as $10 billion from its pending deal to buy Seagen, a cancer biotech firm, later this year.
The company is also closely watching the performance of products like its new RSV vaccines for older adults, although officials warned demand may be softer since the Food and Drug Administration stopped short of recommending that all older adults get the shot.
The intrigue: Despite slower uptake of COVID products, the company is still exploring a combination flu-COVID vaccine, Bourla said.
What we're watching: Whether the other leading COVID vaccine maker, Moderna, offers updated projections for its shot when it releases earnings on Thursday — as well as what this turmoil will ultimately mean for the future of COVID treatments.
Go deeper