Researchers fight to access Big Tech data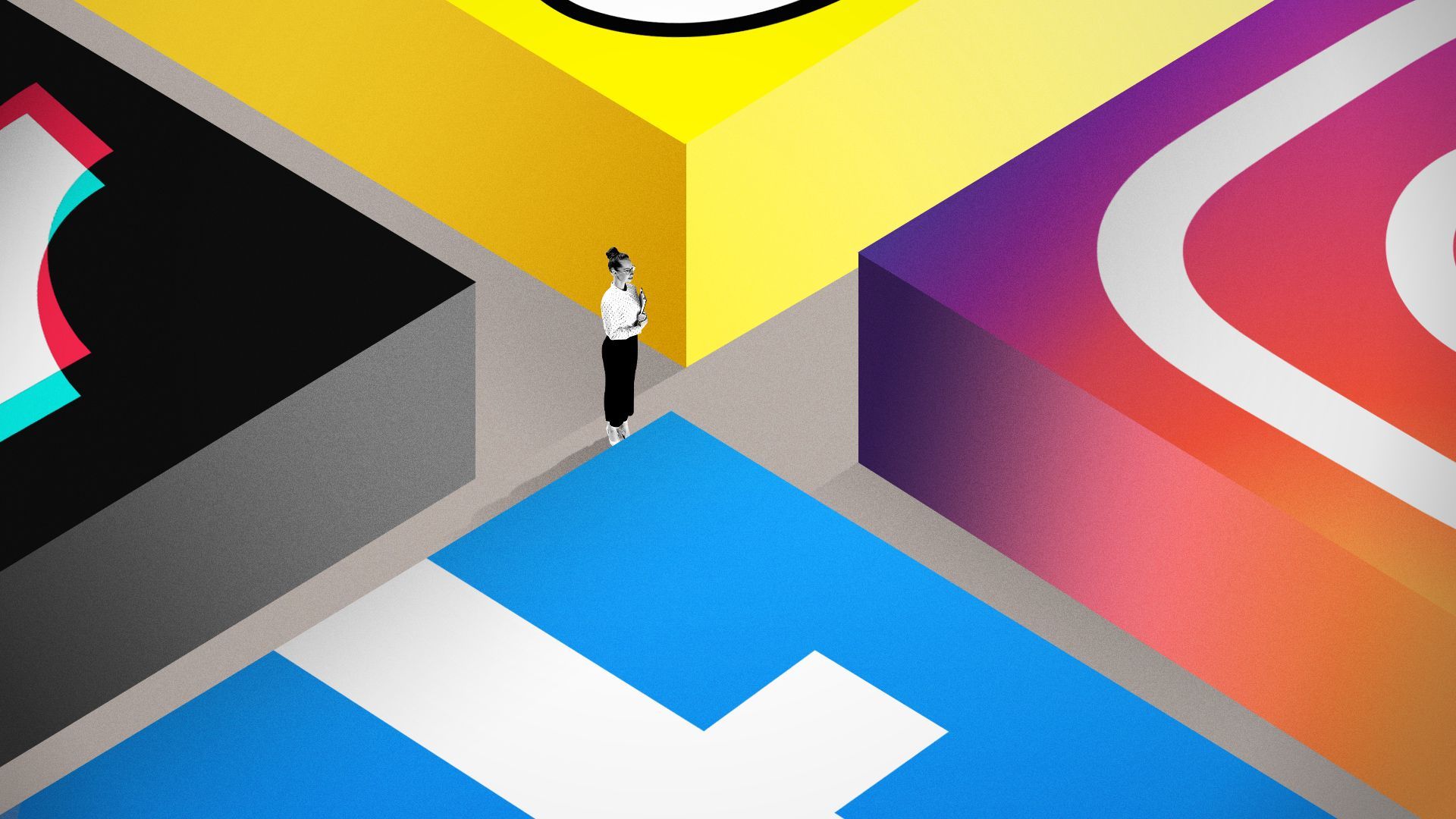 Researchers continue to face roadblocks in trying to study how long-dominant social media platforms operate even as the tech industry is expanding its power into the new realm of artificial intelligence.
Why it matters: Tech giants — fearful of helping competitors, violating user privacy, triggering legal problems or earning bad publicity from negative findings — remain reluctant to share data with academic researchers who are trying to assess their impact.
Driving the news: Elon Musk's X, formerly called Twitter, filed a federal lawsuit Monday against the Center for Countering Digital Hate (CCDH), a non-profit organization that seeks to combat hate speech and misinformation online, for research it has published on hate speech on the platform.
In a blog post, X argued that its suit was necessary to protect free expression on its platform.
Imran Ahmed, founder and CEO of CCDH, told Axios in an interview that while it's "unsurprising that social media companies seek to evade responsibility for the harms created on their platforms," few executives "are as brazen as Elon Musk has been in a direct assault on civil society's ability to hold them accountable."
The Union of Concerned Scientists' senior climate campaign manager Kate Cell told Axios that Musk's actions "are unabashedly authoritarian in nature and can lead to an atmosphere of censorship, chilling discourse and preventing civil society organizations from conducting and reporting on their original research."
State of play: The lawsuit came days after a series of major new studies were published in Science and Nature that gave researchers unprecedented access to Facebook data from the 2020 election campaign.
Those studies, which came to mixed conclusions about the impact of Facebook's content algorithm on users' political beliefs and behavior, relied on Facebook's voluntary cooperation.
Zoom out: Facebook has for years wrestled with how much access it should give researchers.
The roots of the Cambridge Analytica scandal were tangled up with Facebook's attempts to open up its platform to research.
The company was initially slow to give researchers access to promised data in 2020.
Other platforms, including TikTok, have committed to giving data to select researchers, but resulting findings have yet to be made public.
The latest Facebook studies do represent a step forward in scholarly access to social media. But Mike Wagner, the "independent rapporteur" who assessed the project, concluded that it should not be used as "a model for future industry–academy collaborations."
Government regulation and data-sharing requirements that provide privacy protections "are necessary to foster opportunities for path-breaking, comprehensive scholar­ship that does not require a social media platform's permission," Wagner wrote.
What they're saying: "Academic researchers should not have to rely on the beneficence of platforms like Meta to conduct research on essential topics like polarization," Kevin Klyman, a researcher and technology policy strategist, told Axios.
"Without a federal data protection or privacy law, the U.S. lacks protocols that help companies share data with academics in ways that protect privacy and reassure their legal departments," Klyman said. He pointed to "data for good" provisions in other countries' data protection laws as potential models for the U.S.
The intrigue: Companies are using a range of tactics to shield themselves from more transparency, experts say.
Some companies claim user privacy and trade secrets trump researchers' requests for access.
Yes, but: Companies can share data that is "fully anonymized," and researchers are also interested in studying aggregated data that makes it "impossible to identify individuals," Klyman said.
The big picture: Lawmakers and researchers have long argued that social media platform data could be used to study matters of public concern.
What's next: U.S. lawmakers have bills this year that would require platforms to open certain types of data to researchers and journalists, including the Platform Accountability and Transparency Act and the Digital Consumer Protection Commission Act.
The EU's Digital Services Act imposes similar requirements, with financial penalties for non-compliance applying from Jan. 2024.
Yes, but: Researchers aren't convinced U.S. lawmakers are prepared to take on the challenge.
"You failed to regulate social media, which means I have no confidence that you will regulate AI right," Ahmed said.
Editor's note: This story has been updated with details about X's filing suit against CCDH.
Go deeper