Hunter Biden associate describes "illusion of access"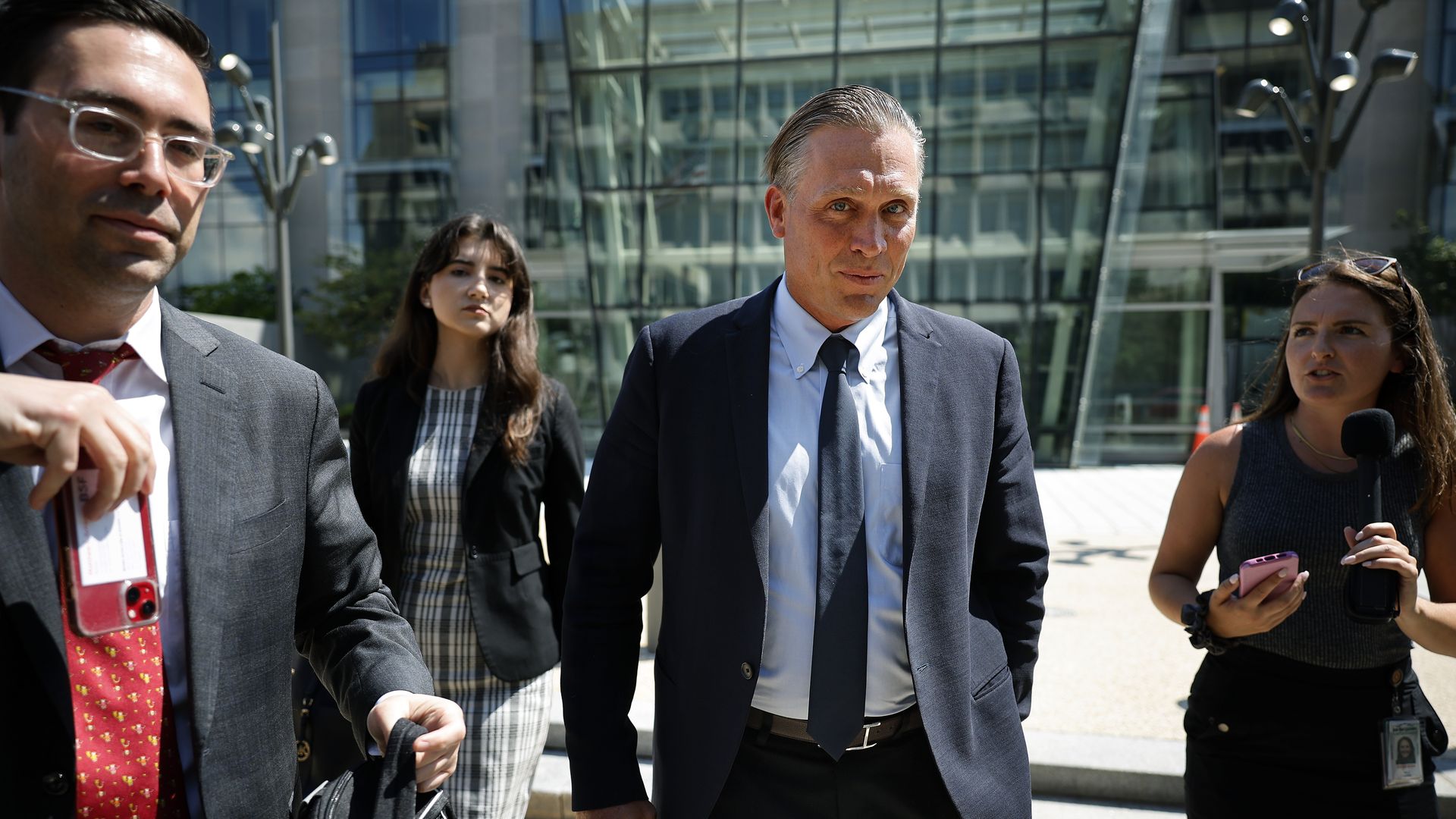 A former Hunter Biden associate told Congress that Hunter sold "the illusion of access" by putting his father on speaker phone with business partners, but that then-Vice President Biden never talked shop, according to Rep. Dan Goldman (D-N.Y.) and a source familiar with the testimony.
Why it matters: Top Republicans called for an impeachment inquiry into President Biden ahead of Devon Archer's closed-door testimony Monday — and suggested that he boosted their case — while Democrats said there was no smoking gun tying Biden to his son's business entanglements.
Zoom in: Archer, who was convicted of fraud in 2018, testified that Hunter put his father on the phone with friends and business associates roughly 20 times over 10 years.
But Archer "repeated over and over and over again that President Biden never discussed any business dealings or interests with Hunter or anyone else," Goldman told reporters after the hours-long transcribed interview.
Republicans cast doubt on the claim that Biden simply exchanged "niceties" during the phone calls. They also focused on Archer's testimony that embattled Ukrainian gas company Burisma wanted Hunter on its board for his family's "brand."
The intrigue: Archer testified that he knew nothing about the alleged $5 million bribes paid to the Biden family from a Burisma executive, as was claimed in an unverified FBI document touted and released by Republicans, according to one source familiar.
Archer also testified that Burisma believed efforts to oust Ukrainian prosecutor general Viktor Shokin were bad for the Ukrainian energy company, according to Goldman.
This runs counter to Republicans' suggestions over the years that Biden pushed for Shokin's firing — which was official U.S. policy backed by the European Union and International Monetary Fund — to benefit Hunter.
Between the lines: The interview did raise questions about Hunter's efforts to leverage the Biden family name.
House Oversight Chair James Comer's (R-Ky.) said the testimony "raises concerns that Hunter Biden was in violation of the Foreign Agents Registration Act."
"To the extent that Hunter Biden used his father ... in any furtherance of any of his business dealings, it was not in consultation or collaboration with his father," Goldman told Axios.
"Did he want to have the appearance of influence to the Burisma executives? Yes, I think he did. And that was ill-advised," Goldman added.
Still, Goldman defended Hunter as a private citizen and described the frequent phone calls as father and son checking on each other after the death of Beau Biden, Hunter's brother.
What to watch: Some Republicans are sure to attack Joe Biden for speaking with Hunter's business associates while vice president, given how definitively Biden has publicly distanced himself from his son's and brother James' businesses.
"I have never discussed, with my son or my brother or anyone else, anything having to do with their businesses," Biden said in 2019.
"Devon Archer's testimony today confirms Joe Biden lied to the American people when he said he had no knowledge about his son's business dealings and was not involved," Comer said in a statement.
"[N]ow that we have proof that Joe Biden is on record lying, that is a very, very big deal in regards to impeachment inquiry," Rep. Marjorie Taylor Greene (R-Ga.), who was not in the hearing, told Axios.
Greene acknowledged, however, that it would be difficult to persuade some of her colleagues to get on board with an impeachment inquiry.
The bottom line: "We are aware that all sides are claiming victory following Mr. Archer's voluntary interview today," Matthew Schwartz, counsel to Devon Archer, said in a statement.
"But all Devon Archer did was exactly what we said he would: show up and answer the questions put to him honestly and completely."
Go deeper