House Oversight chair accused of concealing evidence in Hunter Biden probe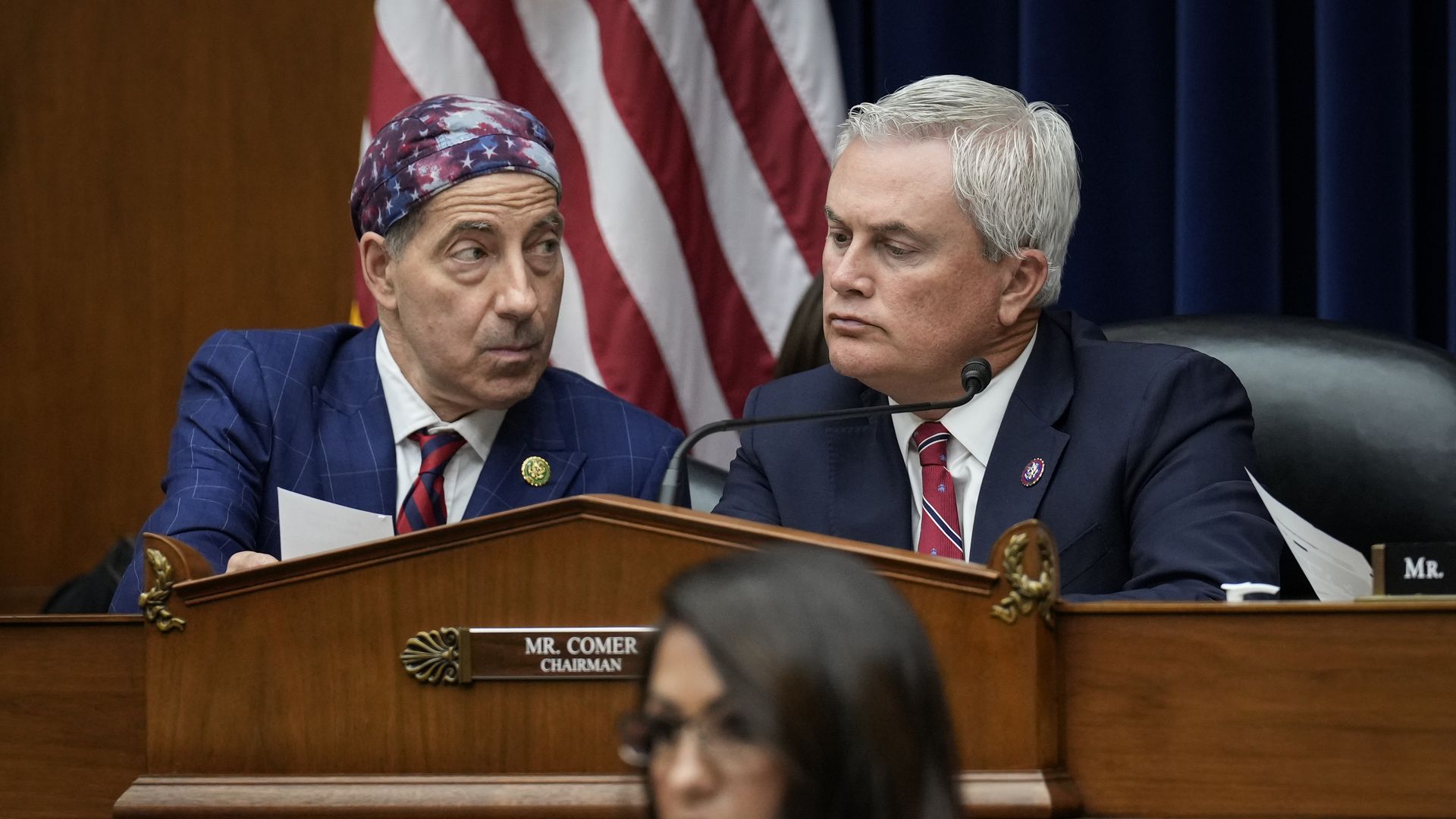 The top Democrat on the House Oversight Committee is slamming Chair James Comer (R-Ky.) for withholding a key transcript from the public, issuing a "secret subpoena" and following a "troubling pattern" of hiding information.
Why it matters: An 11-page letter from Rep. Jamie Raskin (D-Md.) comes after a blockbuster, triple-committee hearing with IRS agents who claimed DOJ mishandled the Hunter Biden case — and ahead of closed-door testimony by Hunter associate Devon Archer.
"This failure to release a transcript is the latest in your troubling pattern of concealing key evidence in order to advance a false and distorted narrative about your 'investigation of Joe Biden,'" Raskin wrote.
A GOP Oversight aide told Axios that Comer intends to release the transcript, which is going through the normal review process where the witness reviews it and provides any corrections.
Zoom in: The transcript in question comes from a recent interview — prompted by what Raskin called a "secret subpoena" from Comer — with a former FBI supervisory special agent who was involved in the Hunter Biden investigation led by U.S. Attorney David Weiss.
In the interview on July 17, Raskin claims the agent "directly undermined Committee Republicans' narrative of political interference with the Hunter Biden investigation."
He outlines five ways the agent's statements provided important context for claims of misconduct raised by two IRS whistleblowers, including that it is policy for prosecutors to consider many factors before seeking a warrant in an election year or if a political candidate or attorney are involved.
The agent also allegedly acknowledged that it is routine for agents to disagree with prosecutors, and it is not necessarily a sign of political bias.
Raskin is demanding that Comer release the full transcript to the public.
The other side: Comer pushed a different idea of the interview with the special agent, saying in a statement following the interview that it "confirmed key portions of the IRS whistleblower's testimony."
An earlier version of Raskin's letter claimed that Republicans had withheld the transcript even from the minority — a claim Oversight Republicans publicly challenged with a screen shot of the first page of the letter.
The final version of Raskin's letter only demanded Comer release the transcript to the public.
Zoom out: This isn't the first time Raskin has hit Comer for not operating in good faith on the committee.
The ranking member sent a letter in April accusing Comer for going on TV and misrepresenting the investigation into the Bidens, and refusing to share the alleged Hunter Biden laptop with the minority.
In the newest letter, Raskin again says Comer won't provide access to the laptop hard drive, has not been transparent with Democrats about whistleblowers and has mischaracterized obtained bank records.
He slams Comer for relying on questionable witnesses such as Gal Luft, touting unverified allegations in an FBI form, failing to establish financial links between the president and Hunter Biden or his associates and allowing Rep. Marjorie Taylor Greene (R-Ga.) to display "lurid pornographic images" in committee.
"Last year, you vowed to conduct "a sober investigation" if you became Chair," Raskin wrote.
What to watch: The Oversight Committee will conducted a transcribed interview on Monday with Devon Archer, a former close business associate of Hunter Biden.
Go deeper