Hunter Biden's plea deal on hold after court roadblock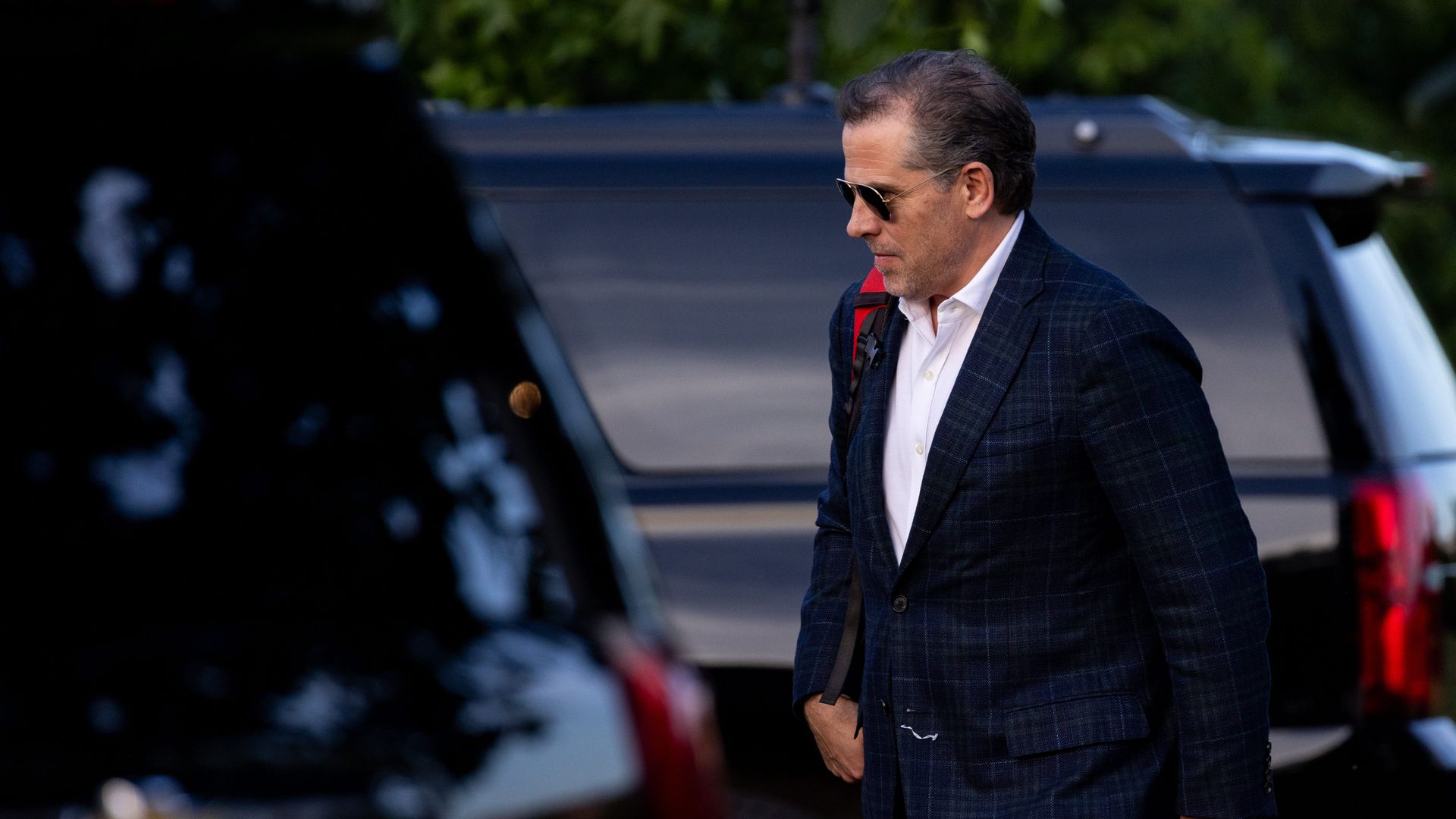 Hunter Biden's plea deal on two misdemeanor tax charges was in jeopardy on Wednesday, as Biden pleaded not guilty after a judge said she wasn't ready to accept the terms of a revised deal.
Why it matters: Hunter Biden's legal team was stunned by what it expected would be a formality of a hearing that would allow the president's son to avoid prison time.
The case now is on hold for at least a few weeks while both sides submit new materials to Judge Maryellen Noreika and she takes time to review them.
The delay came at the end of a raucous and tense hearing that featured two recesses as prosecutors and Biden's attorneys privately and publicly feuded over what they had agreed to.
Hunter Biden's plea deal to avoid jail time included a guilty plea to two tax misdemeanors for failing to pay taxes and a diversionary agreement on a gun-related felony for owning a weapon while using drugs.
The first recess was prompted when Hunter testified that he believed the guilty plea agreement on tax misdemeanors was connected to the diversionary agreement on the separate gun felony, which the prosecutor said was incorrect.
After the judge gave the two sides time to iron out things, tensions flared as Biden lawyer Chris Clark snapped at Justice Department prosecutor Leo Wise that this wasn't the deal — and they might as well "just rip it up."
Noticing that reporters were listening nearby, both lawyers relocated to the other side of the courtroom, out of earshot.
After both sides huddled again, Biden reversed his previous testimony and said he did not think the misdemeanor guilty plea was dependent on the other agreement.
The second recess was prompted by Noreika's questions whether the diversionary agreement shielded Hunter Biden from future prosecution under other laws including the Foreign Agent Registration Act.
Wise also told the court that there is an "ongoing investigation." Asked for more information by Noreika, Wise said he was "not in a position where I can say."
Biden's legal team was shocked when Wise told the court that prosecutors believed they still could charge Biden with FARA violations.
Clark said that was not his understanding, to which Wise replied: "then there's no deal."
The hearing almost concluded with a new court date a month away, before Clark pleaded for another recess to see if the sides could hash out their differences.
As the two sides haggled, Biden's plea deal was orally amended to be more explicit in what Biden was immune from in the future — but it still could be tweaked in the coming weeks.
Zoom out: Biden's lawyers reached the initial deal with the Trump-appointed U.S. Attorney David Weiss. Sentencing on the charges is at the discretion of Noreika, also a Trump appointee.
The plea deal had drawn major scrutiny from Republicans, who alleged that Biden was benefitting from a "two-tiered" justice system.
Catch up quick: Biden agreed in June to plead guilty to not paying taxes in 2017 and 2018. The federal charges were from a period in which Biden, by his own admission, was in the throes of an addiction to crack cocaine.
Biden initially failed to pay $1.1 million to $1.5 million in federal taxes before the deadlines for them, the Justice Department said Wednesday.
Clark told CNN in 2022 that his client had "fully paid" his tax debts, and was "current" on tax obligations.
The Justice Department also charged that Biden possessed a Colt Cobra revolver in Delaware in October 2018 while "knowing that he was an unlawful user of and addicted to a controlled substance."
What to watch: Any conclusion to this legal investigation of Biden would not be the end of the political investigations he faces.
His longtime business partner, Devon Archer, is set to give testimony to the Republican-led House Oversight Committee in the next week.
The two leading candidates for the GOP nomination, former President Trump and Florida Gov. Ron DeSantis, have made clear they intend to talk about Hunter Biden and his business dealings to go after President Biden in the general election.
Go deeper: Hunter Biden's Rorschach test
Editor's note: This article has been corrected to reflect that the prosecutor going back and forth at the hearing with Biden lawyer Chris Clark was Justice Department prosecutor Leo Wise, not U.S. Attorney David Weiss.
Go deeper