Top committee Dem accuses Comer of misrepresenting Biden family probe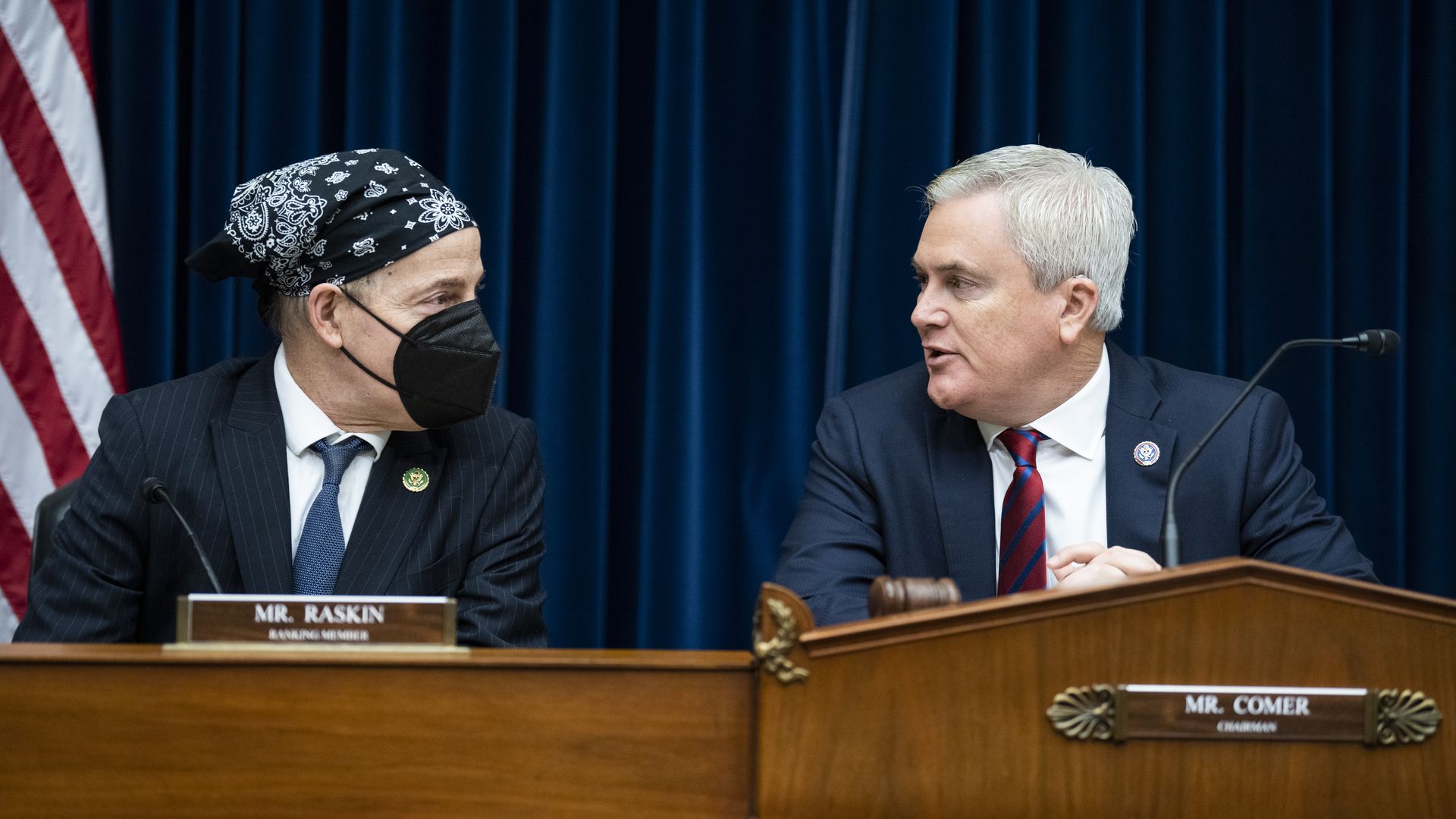 The top Democrat on the House Oversight Committee is accusing Chair James Comer (R-Ky.) of misrepresenting his investigation into the Biden family and refusing to share information — including a copy of the Hunter Biden laptop hard drive.
Why it matters: Comer has made allegations of influence peddling by the Biden family a focus of the committee and has publicly touted hearing from four critical witnesses. Top Democrats are now questioning his claims.
Driving the news: In a scathing letter sent to Comer on Thursday, Oversight Ranking Member Jamie Raskin (D-Md.) accuses the Comer of "going on cable television to tout investigatory steps undertaken in secret or, more disturbingly, which may not have been taken at all."
"It has been nearly three months since you assumed responsibility of the Committee, and in that time, I have grown increasingly alarmed by your efforts to shield information from Committee Democrats, including information collected as part of your investigation into members of the President's family"
Raskin cites multiple quotes from Comer to media, in which the Republican chair claims talking to four different people affiliated with "the Biden influence peddling all across the globe."
The letter claims Democratic committee staff asked Republican counterparts about the statements and were told "no new witness information... had actually been provided" and that the statements "in fact referred only to two individuals."
The two individuals are Hunter Biden business associate Eric Schwerin and President Biden's former aide, Kathy Chung, the letter says.
In a statement responding to the letter, Comer claimed "[m]ultiple individuals have approached the Oversight Committee as whistleblowers with a desire to share information confidentially," adding that it "should be no surprise that whistleblowers do not trust" Raskin.
What they're saying: "Your misrepresentations and refusal to disclose relevant information to the Committee call into serious question your investigative techniques, the 'facts' you have uncovered, and the narratives you appear intent on composing," Raskin writes in the letter.
"Ranking Member Raskin is playing lawyer for the Biden family instead of engaging in real oversight for the American people," Comer said in his statement. "But unlike Ranking Member Raskin's distortions, bank records don't lie."
Raskin is now demanding access to documents and materials relating to Hunter Biden, including from the laptop hard drive and information on how Republican staff received the hard drive.
He is also asking for the names of the four witnesses Comer has alluded to as well as "access to any witness information you have relied on in any public statements," according to the letter.
What to watch: The letter comes as Oversight staffers have spent weeks digging into suspicious activity reports (SARs) related to the Biden family, provided by the Treasury Department.
"There's more there than we thought," Comer told Axios at the end of last month.
"Despite evidence to the contrary, Chairman Comer has continued to claim that '[p]ublic reporting indicates there are over 150 [SARs] related to the Biden family businesses' to justify issuing subpoenas," Raskin said in a statement to Axios, adding the documents have "clearly debunked this 'public reporting.'"
The big picture: It's not the first time Democrats have questioned Republican witnesses.
Go deeper