Cities' heat solutions are mainly Band-Aids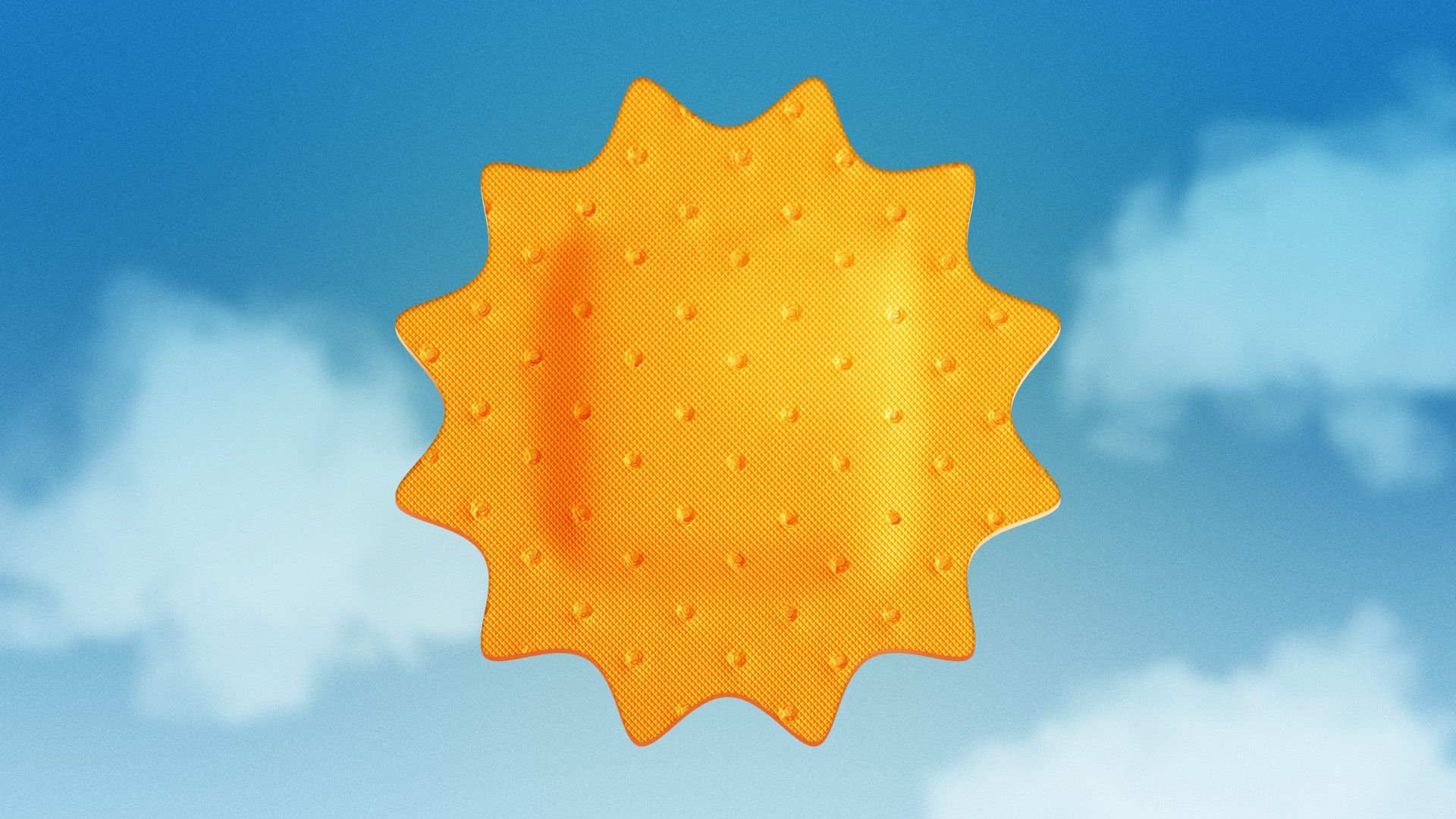 Public awareness campaigns, mobile cooling stations, subsidized air conditioners: Cities are taking lots of steps to address this summer's record-breaking heat, but they're largely short-term Band-Aids.
Why it matters: Conventional heat remedies aren't enough to outrun the quickening pace of swelling, unlivable temperatures caused by climate change.
July was just declared the Earth's hottest month — with far worse misery predicted.
Cities are warming twice as fast as global averages due to the "urban heat island" effect — with low-income residents and outdoor workers suffering and dying disproportionately.
A 2019 study of 520 major cities published in PLOS One found that by 2050, "22% of cities will experience climate conditions that are not currently experienced by any existing major cities" — even under "optimistic" projections.
Driving the news: As this month's breathtaking heat waves play out, cities are understandably focused on minimizing deaths and casualties — but these here-and-now strategies are no match for long-term climate change.
Aggressive tree-planting can provide some (eventual) relief — but even a lush tree canopy will likely only reduce daytime summer temperatures by 10°F at best.

That can make a big difference when it's 92°F out, but only goes so far when it's 118°F or 119°F, as it has been in Phoenix lately.

Ditto for "smart surfaces" programs, which have cities painting heat-reflective coatings on pavements — which can reach 150°F — for a few degrees of temperature reduction.
Community cooling centers are proliferating, but they're just a stopgap against relentlessly brutal temperatures that last for days or weeks on end.
What's happening: Cities are appointing chief heat officers and devising heat action plans, but it's not clear if those strategies can keep pace with this kind of heat. Increasingly, it seems like the tools just don't exist, or aren't politically, financially or technologically feasible.
Chief heat officers "seem to be playing the role of emergency room physicians rather than primary care physicians focused on preventative care," says Rushad Nanavatty, a managing director at RMI, a nonpartisan nonprofit focused on the clean energy transition.
"You need the stuff that chief heat officers are often focused on — air conditioning, cool surfaces and materials, the cooling centers — but it's the preventative stuff that really gets at the root causes," Nanavatty tells Axios.
"Access to thermal comfort is increasingly becoming a fundamental human right, given the way the world is going."
The big picture: While there's increasing urgency to combat the heat, cities are stuck doing triage as the mercury hits levels they've never fathomed.
It's tempting for civic leaders to focus on resilience — beat-the-heat measures that can save lives — as one part of adaptation (adjusting the landscape to the new climate realities) but at the expense of mitigation (removing carbon from the atmosphere).
A more holistic and systemic approach is needed, involving all levels of government and private-sector firepower.
"The focus on climate change for the last 25 years in terms of public and private funding has been on greenhouse gas mitigation, and it's really only in the last 3-4 years that funders are putting any money into adaptation and resilience," says Greg Gershuny, executive director of the Aspen Institute's Energy and Environment Program.
"It's really not nearly enough," says Gershuny. "It needs to be a lot more, because those are the things that are going to kill people and really impact people right now."
Case study: In Phoenix, which is poised to become the first major U.S. city to reach an average monthly temperature higher than 100°F, the heat response has involved a barrage of measures that are becoming typical in cities — which some lament are too little, too late.
Heat supplies — including towels, hats and umbrellas — are being distributed as part of a volunteer outreach program called "We're Cool" — but only three days a week.
"Clearly it's not enough, based on what we see in the records. Heat-associated deaths rose last year. Heat-associated illnesses rose last year," David Hondula, Phoenix's chief heat officer, told Arizona's ABC15.
🌡 Sign o' the times: Maricopa County, where Phoenix is located, "published its Heat Action Planning Guide in 2017, but it's taken five years to bring these solutions to the streets," per Grist.
"The delay highlights the tension between the often slow pace of community revitalization and the urgent need for shade and cooling."
Yes, but: Some cities are racing to address this exponentially worsening problem in a meaningful way.
In Athens, Greece — one of the few cities worldwide with a chief heat officer — they're planning to use "sewer mining" to turn brown water into safe irrigation water, and to use wastewater from an aqueduct to water new green spaces.
Singapore, a city-state aiming for net-zero emissions by 2050, has a carbon tax that helps fund a nationwide green plan.
Miami-Dade County has worked with the National Weather Service to lower the temperature threshold for heat warnings. The county also has distributed 1,700 air conditioners to public housing residents and continues to implement a comprehensive heat action plan.
Zoom in: "I think of it in terms of short-, medium- and long-term solutions," Jane Gilbert, Miami-Dade's chief heat officer, tells Axios.
"Immediate term, the best thing we can do is help people take the right precautions — think about when they're outside, make sure they have access to water, shaded breaks" if they work outdoors.
"In the medium term, it's housing retrofits," she continued. "And in the long term, you plant a tree — it could take 5-10 years before it's really providing full shade."
What they're saying: "If we're serious about building or creating heat-resilient urban environments, we have to get more serious about urban planning and urban form," Nanavatty says.
"What you want to see is heat-resilience logic getting baked into the thinking and actions of the people who are directing these patterns of urban growth and development."
That includes enacting low-carbon building codes, zoning reform to create less car-dependent cities, and neighborhoods suffused with shade and public green spaces.
The bottom line: Whether cities thrive or suffocate will come down to matters of political and financial will — and putting more muscle behind heat strategies.
"It's really about, how do we finance these things," Daniella Levine Cava, mayor of Miami-Dade County, tells Axios. "I think people will just get on board as they experience it and witness it and know that they need to pay more attention."
Go deeper