Amid historic U.S. heat wave, workers have few protections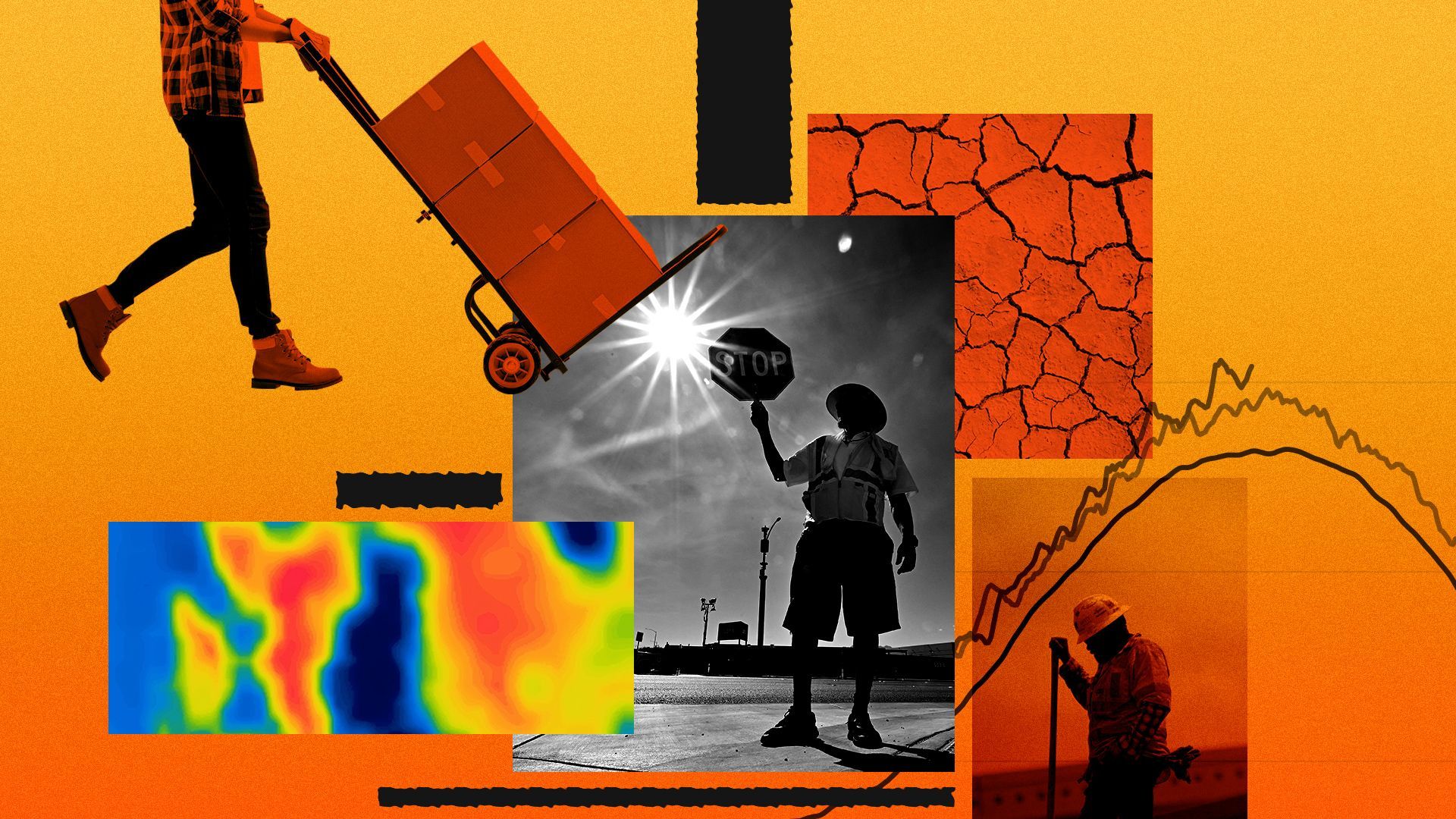 Construction crews, warehouse workers and other laborers are working in dangerously hot conditions through the historic heatwave sweeping the southern U.S. — and employers have few specific legal requirements to keep them safe.
Why it matters: Heat is deadly and people who work outside or without air conditioning are at heightened risk to develop a heat-related illness or worse.
State of play: No federal law protects workers specifically from extreme heat, Arizona State University employment law professor Michael Selmi told Axios Phoenix.
The Occupational Safety and Health Act (OSHA) prescribes a "general duty" for employers to keep their workers safe. But it's a broad provision that businesses could likely challenge in court, he said.
And even if the feds found an employer violated OSHA for forcing employees to work in excessive heat, the penalty is often a modest civil fine, Selmi said.
What's happening: The Biden administration announced it would add heat safety rules to OSHA in 2021. But they aren't close to being complete because the the federal rulemaking process takes years.
Seven states — California, Maryland, Nevada, Oregon, Colorado, Washington and Minnesota — have laws guaranteeing laborers some heat protections, the Washington Post reports.
Between the lines: U.S. lawmakers have recently called for more wide-ranging changes to boost worker safety, including for Postal Service workers.
Zoom in: The Texas Legislature approved a bill this summer that stripped cities' authority to enforce many local regulations, including one in Austin and Dallas that requires employers to give 10-minute rest breaks for construction workers every four hours.
The Austin City Council is exploring legal options to reinstate the rest break requirement before the law takes effect Sept. 1
The city of Houston sued Texas this month seeking to block the law.
And the San Antonio City Council was looking to create its own rest break requirement, but pared down the plan after the bill passed.
Meanwhile, the Miami-Dade Commission took an initial vote to require heat-safety programs, access to drinking water and regular breaks for agricultural and construction workers earlier this week.
This month, 30-year-old Efraín López García died after experiencing heat exhaustion while picking fruit outside Miami.
Reality check: In most places, the only way to ensure heat-related protections is to join a union, Selmi tells us.
Unionized electricians in San Antonio have access to more rest breaks than the suggested minimum, Dale Hanson, who works in government affairs for the International Brotherhood of Electrical Workers local union in San Antonio, tells Axios.
"It's our health that's at stake," Hanson tells Axios. "We're the ones performing the manual labor in these conditions."
Be smart: Just because employers aren't legally required to provide heat-mitigating resources doesn't mean they shouldn't.
Joseph David, a senior industrial hygiene specialist with Travelers insurance company, told us the workers compensation provider helps businesses develop safety plans to decrease the likelihood of heat illness or death.
It recommends employers climatize new employees with short exposure to heat to build their tolerance. Businesses should also provide workers with cooling vests, light-colored clothing, breaks and plenty of cool water, he said.
Contributors: Megan Stringer, Naheed Rajwani-Dharsi, Martin Vassolo and Emma Hurt.
Go deeper