Rejected plea deal leaves Hunter Biden's team fuming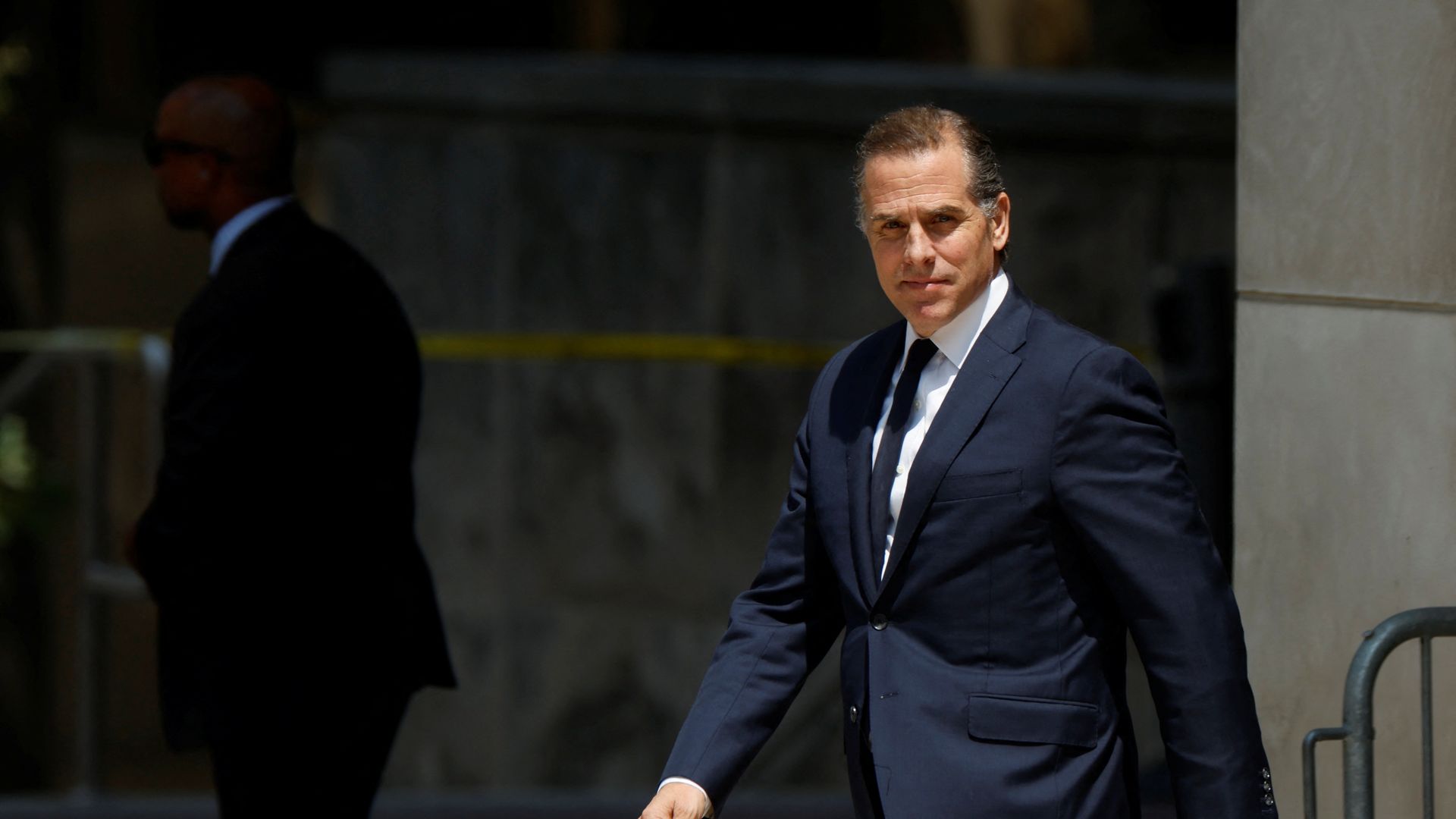 WILMINGTON, Del. — Hunter Biden's legal team was angry and dejected late Wednesday after a plea deal to help the president's son avoid prison blew up in a chaotic, three-hour court hearing.
Why it matters: Judge Maryellen Noreika's rejection of Biden's plea deal on tax charges ensures that legal issues will continue to shadow Biden just as Republicans on Capitol Hill are turning up the heat in investigating him and his father.
Wednesday's hearing also revealed a disconnect between Biden's lawyers and prosecutors over the terms of the plea deal — and even subtle divisions among those on Biden's side.
Zoom in: Hours after the hearing, Biden's team was still fuming, suggesting that Noreika seemed intent on not letting the plea agreement go forward after deliberately questioning lawyers on both sides about the terms of the deal.
But the judge's questioning did reveal a disagreement over whether the agreement on the tax charges was linked to a gun charge against Biden. Prosecutors said it wasn't; Biden's team thought it was — and they repeatedly argued about it in open court.
Noreika frustrated those involved in the case when, after two hours of questioning, she said she wasn't sure whether the structure of the proposed plea deal was constitutional.
One member of Biden's team ruefully compared Noreika to Judge Lance Ito, who presided over the O.J. Simpson murder trial in 1995 and was widely criticized for letting it become chaotic.
Others were quick to note that Noreika was appointed to the bench by former President Trump, and suggested they'd have to take politics into consideration going forward.
Zoom out: At times, Biden's team appeared exhausted by the continuing back-and-forth in court.
Biden attorney Chris Clark repeatedly mentioned how the investigation of Biden had gone on for five years — and cited 10-hour-long meetings "going line-by-line over my client's taxes."
Biden himself also partially threw up his hands at one point, frustrated that closure to his case wouldn't be coming.
Noreika seemed to sense the frustration at the end of the hearing.
"I know you wanted to get this done," she told Biden. "I'm sorry, but I need more information. We need to get this right."
The big picture: Even if the charges against Biden are settled in the next month, the Justice Department has indicated its investigation of him is ongoing.
And House Republicans plan to hold investigations into the investigation, as they continue digging into the Biden family's foreign business dealings.
The intrigue: Renowned D.C. lawyer Abbe Lowell, who is handling Biden's congressional inquiries, came out of the courtroom audience Wednesday and gradually inserted himself into the hearing — a move likely to raise questions about his taking a larger role in the case.
At one point, Lowell went over to Justice Department prosecutors and began introducing himself.
Lowell and Clark have been publicly courteous, but also have tried to carve out distinct lanes in representing the president's son.
As prosecutors and Biden's team argued during contentious recesses Wednesday, Lowell conferred with Biden, his other lawyers and prosecutors.
A Fox News reporter in the room reported hearing Lowell say: "I'm involved in the fray now. I was hoping not to be."
Go deeper