Scoop: Homeland Security short billions due to border efforts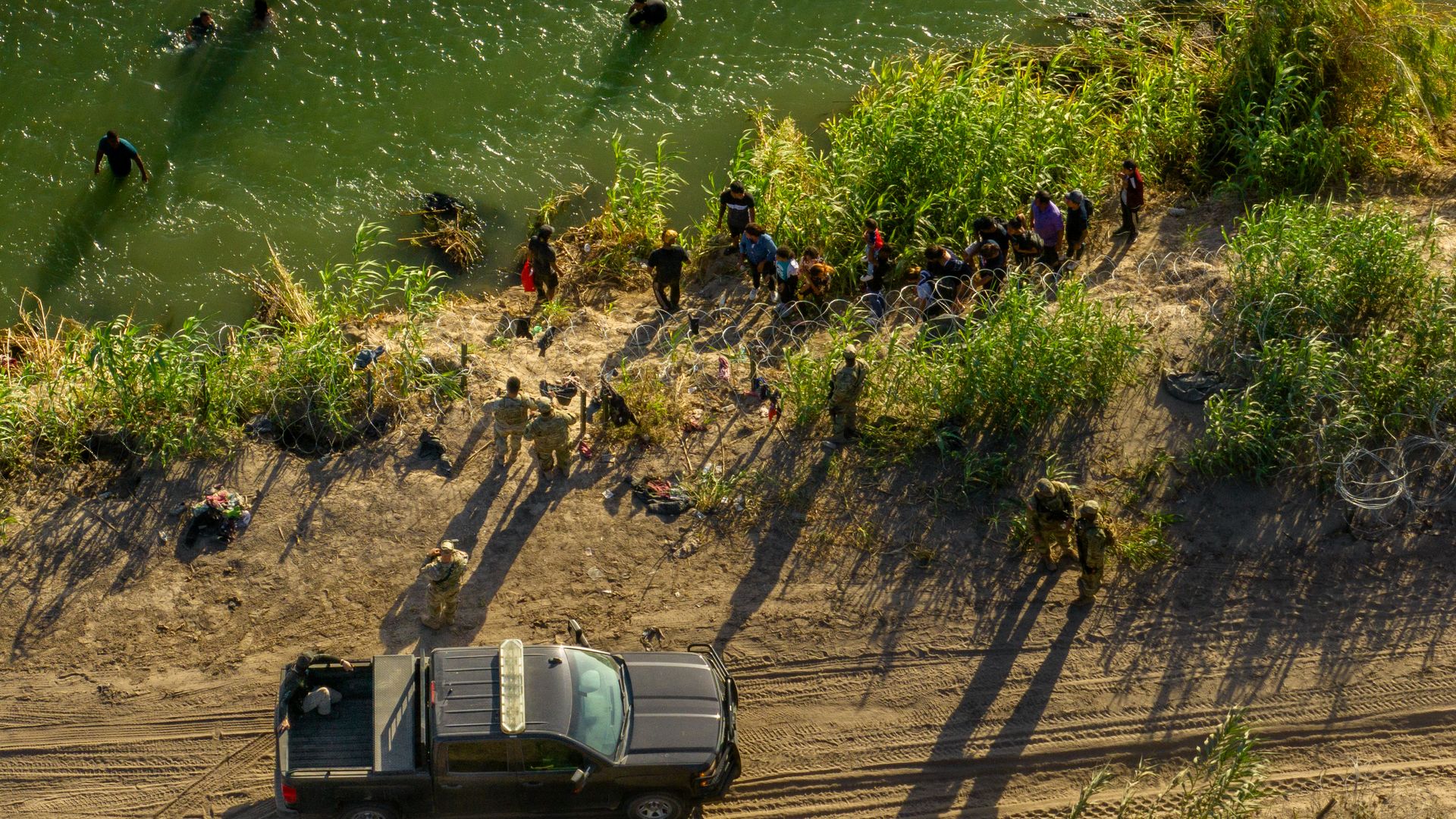 The Department of Homeland Security is scrambling to fill billions of dollars in shortfalls across its various agencies — the vast majority driven by its efforts to maintain order at the U.S.-Mexico border, Axios has learned.
Why it matters: The gaping deficit is a reminder of the extensive resources the border has demanded of the federal government in recent years, especially as Congress has balked at any significant funding increases.
DHS has already told Congress it plans to reshuffle nearly $1 billion internally, roughly half of which will help fill gaps at agencies involved in immigration and border security, according to three sources familiar with the plan.
DHS is also expected to ask Congress in the coming weeks for around $2 billion in supplemental funds to address shortfalls related to border security, some of the sources said.
Between the lines: The pressure to request more money — as House Republicans actively threaten to impeach DHS Secretary Alejandro Mayorkas and push for broad spending cuts — reflects the gravity of the department's financial strain.
From the White's House's point of view, a Biden administration official told Axios, "It's a reminder of the cost of Congress' failure to fix our broken immigration system."
Zoom in: Efforts to manage large numbers of migrants and asylum seekers illegally crossing the U.S.-Mexico border — as well as anti-drug trafficking measures — have put DHS agencies hundred of millions of dollars in the hole for this fiscal year.
DHS is planning to ask Congress for an extra $2 billion to ensure it can maintain those efforts through the end of September, two sources familiar tell Axios.
The expected request comes after around half a billion dollars was already moved internally through a process called "reprogramming and transfer," which requires notification of Congress — but technically not its approval.
Congress spends a lot of time appropriating funds to federal agencies each year, and members do not always take kindly to being overruled by the reprogramming process.
The intrigue: Immigration and Customs Enforcement (ICE) is receiving a significant share of the new funds — setting a record for its departmental spending.
The money will fund detention spaces, alternative-to-detention tracking programs and transportation work, according to the sources.
ICE is tasked with the most politically divisive and contentious aspects of the immigration system: arrests, detention and deportation.
Zoom out: Biden's DHS already has been forced to reprogram funds multiple times throughout his presidency, with resources strained by the record numbers of migrants crossing the border.
Biden's new, restrictive border policies have helped keep the numbers more manageable in recent months — even as large groups of migrants and asylum seekers continue to gather and wait throughout northern Mexico.
A federal judge this week blocked a key asylum rule that officials have at least partially credited for the declining numbers.
Biden officials are concerned that if they are forced to end the restrictions in two weeks, it could lead to border crossings again surpassing 10,000 a day and overwhelming government resources, according to a court filing.
What they're saying: "Managing a broken immigration system operating under decades-old laws takes significant resources and funding," a DHS spokesperson told Axios.
"We appreciate the $2.7 billion in the omnibus passed in December and we will continue to work with the White House and our federal partners to engage Congress on any potential need for supplemental appropriations needed to safely, securely and humanely manage the Southwest border."
Go deeper