Go deeper: The left's push to #AbolishICE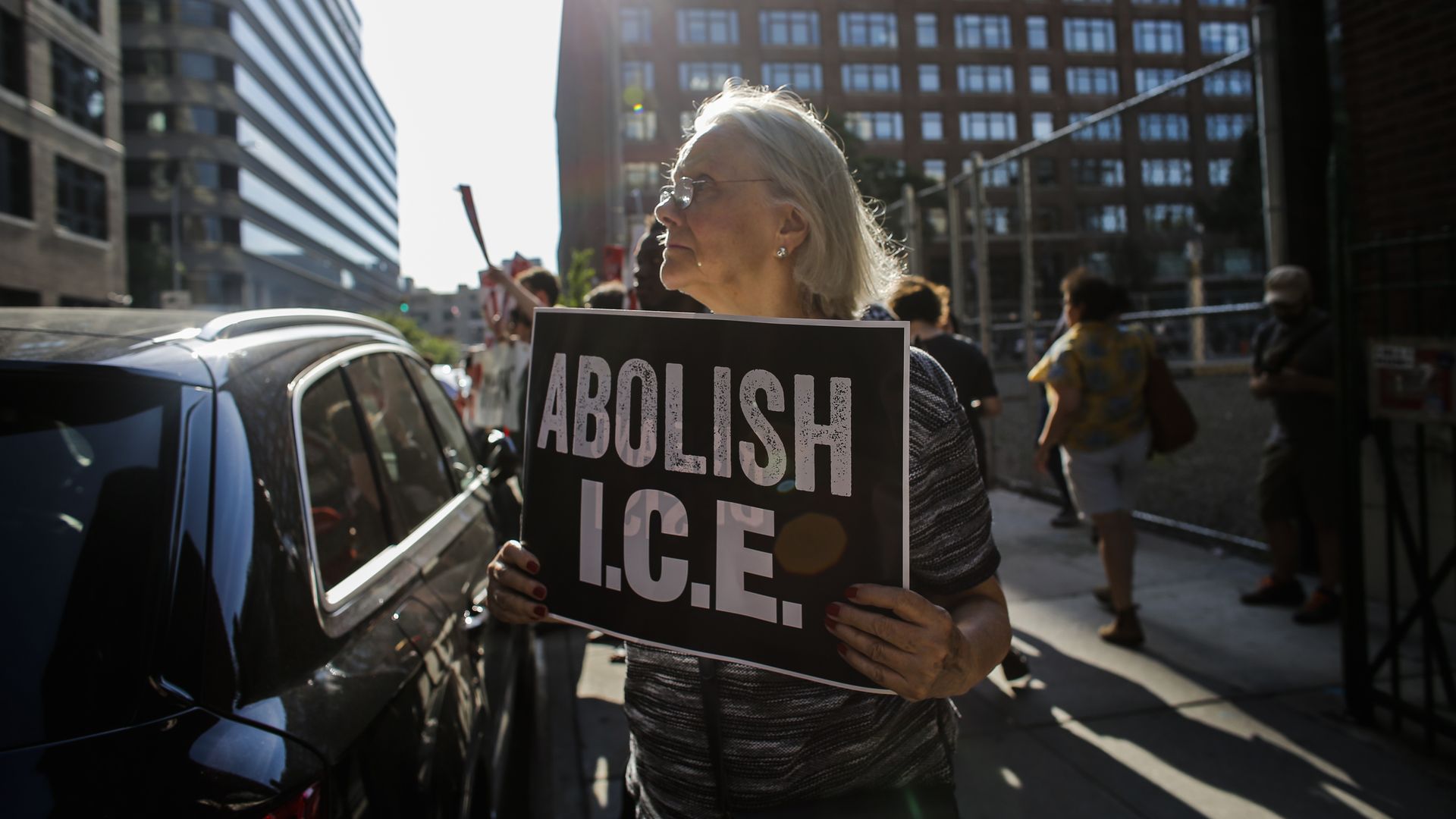 Alexandria Ocasio-Cortez, the 28-year-old who defeated top Democrat Rep. Joe Crowley in Tuesday's New York primary for the 14th district, has run on an issue that is picking up traction: The call to abolish ICE.
Why it matters: Expect to see a lot more of this in Democrats' platforms as we near the midterms, and 2020. Rep. Mark Pocan, who plans to introduce legislation to abolish ICE, told Axios that "as long as the president is abusing what the agency is intended to do, there's going to be a growing opposition."
Be Smart
A senior Democratic aide tells Axios that #AbolishICE conveys an inaccurate end-goal and gives the impression that Democrats want open borders. The aide said that lawmakers recognize other critical functions the organization carries out, and that no current member of Congress who has called for the abolishment of ICE "means it in the literal meaning of that phrase."
"In a hypothetical world where there was a Democratic congress and a Democratic president, people would rename ICE and reorganize it. ... There are very few policy positions that can be adequately explained by a hashtag. Public policy just isn't that simple."
— A senior Democratic aide, to Axios
The aide said of New York Mayor Bill de Blasio, who said on Friday that ICE should be abolished: "Bill de Blasio certainly knows better."
A Democratic staffer with knowledge of conversation in the Congressional Hispanic Caucus, which has been leading the immigration fight, told Axios that members "want smart, targeted enforcement; we're for secure borders...and having an ICE agency that is transparent, that acts humane and does their job...those are not mutually exclusive."
The state of play
ICE has drawn heavy criticism as the Trump administration's immigration policies came under fire in recent weeks, leading to protests at ICE detention centers and offices.
President Trump has chimed in, criticizing "Extremist Democrat politicians" for calling for "the complete elimination of ICE."
19 agents that head ICE's Homeland Security Investigation's Unit even said in a letter to DHS Secretary Kirstjen Nielsen that they want out from under the umbrella of the organization, as ICE's reputation is making it difficult for them to investigate human trafficking, narcotics smuggling, and national security threats, the Texas Observer first reported.
What they're saying
Leadership
Minority House leader Nancy Pelosi's chief of staff Drew Hammill told Axios that Pelosi believes ICE can't "be allowed to continue without an immediate and fundamental overhaul.  No one can watch ICE play such a central role in the heartbreak and horror of family separation without reasonably concluding that a drastic overhaul is desperately needed, and soon."
House Democratic Whip Steny Hoyer said in a statement to Axios: "Instead of abolishing ICE, we need to focus on winning back the House so that Congress can conduct greater oversight on the practices and effectiveness of ICE...ICE has important and needed functions to strengthen national security, keep America safe, and regulate international commerce, but under President Trump, ICE is pursuing harmful policies that do not reflect our values...These policies are unacceptable and must end."
Candidates:
Cynthia Nixon, running for governor of New York: "ICE is a terrorist organization, and its egomaniacal leader is Donald Trump."
Matt Haggman, a progressive Democrat running for Florida's 27th district: "I'll fight to shut ICE down. it's time for a new day."
Lawmakers:
The bottom line: This narrative could, and will likely, become a lot more complicated fast.
Go deeper