Scoop: Forbes union study shows pay disparities of newsroom workers of color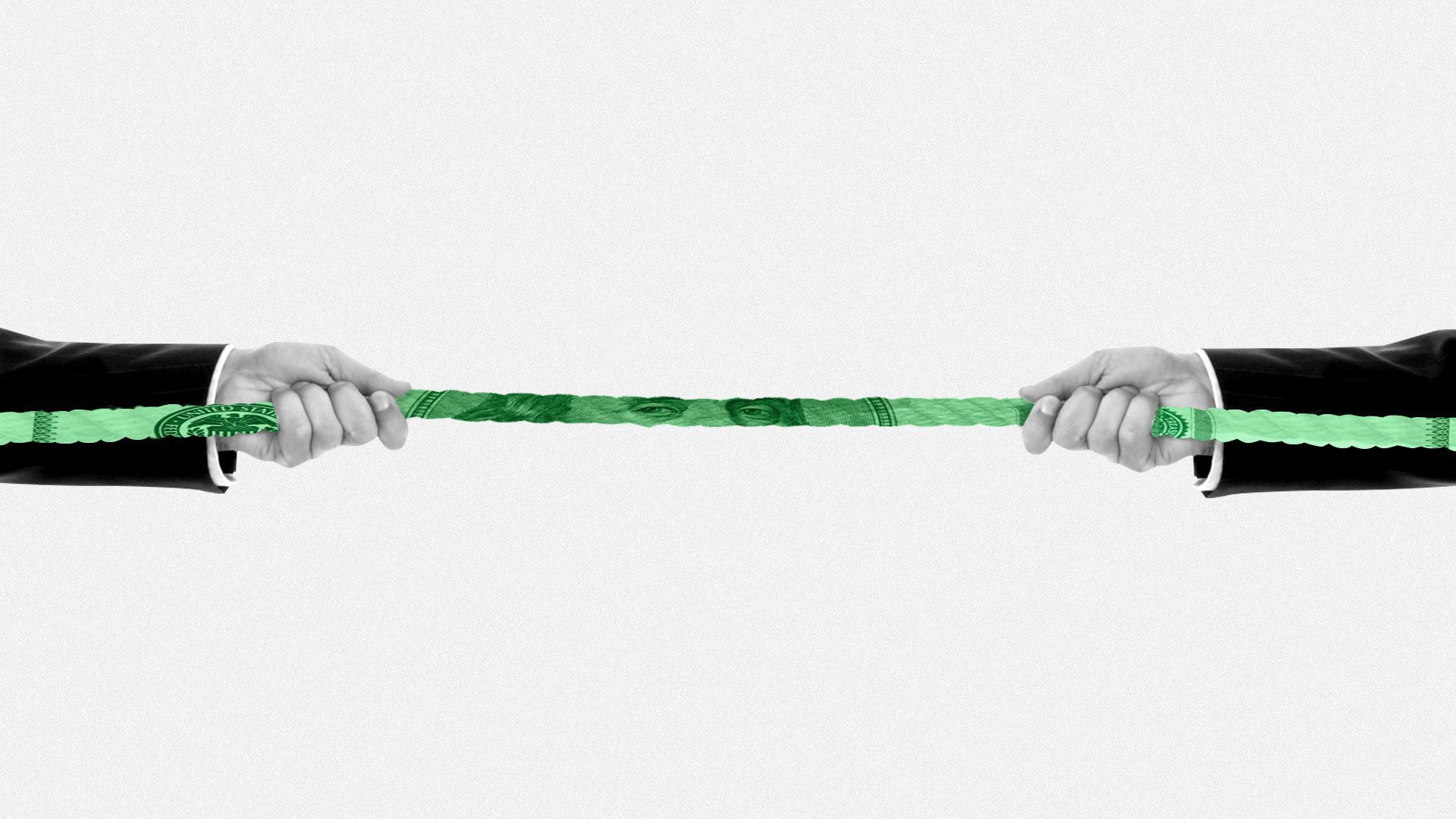 Stark disparities in salaries and tenure exist between white newsroom workers and people of color at Forbes, according to a union study obtained by Axios.
Why it matters: The study results come as Forbes' union and management continue to battle for a contract, bolstering the union's concerns of inclusion that it's raised since joining the NewsGuild of New York in 2021.
Details: The survey, parts of which were shared in March, found the union's 61 full-time white members make $94,360 on average, almost $15,000 more than its eight Black members and $7,000 more than its 10 Asian members.
The six Hispanic or Latino staffers in the union outearn white members, on average, earning $99,750 annually.
The study also said the 20 longest-tenured members are all white and that no current staffers who have worked in the Forbes newsroom for at least 10 years are people of color.
The Forbes union previously shared on Twitter that women in its bargaining unit make $11,237 less than men. The specific numbers, according to the full study obtained by Axios, are that men in its unit make $99,630 on average, compared to $88,350 for women.
What they're saying: In response to the survey, Forbes managing editor Joyce Bautista Ferrari said in a Slack message to staff seen by Axios that the guild "cherry-picked" the data and said it "fails to take into consideration different types of jobs that exist in the newsroom, skills required for varying roles, years of experience, expertise and many other factors that affect compensation decisions."
The guild, which represents around 100 Forbes newsroom workers, acknowledged some of those factors in its study.
"It's difficult to draw too many conclusions from the data by race because Forbes has routinely struggled to hire and retain staffers from underrepresented backgrounds, and the newsroom itself is smaller relative to other national media organizations with similar reach," the study read.
The Slack exchanges between management and staffers, as well as the additional pay disparity data, have been previously unreported. Forbes declined to comment for this article.
"I think we were expecting a little more compassion and acknowledgment that this was something they're looking into and hoping to address," Hank Tucker, vice chair of the Forbes union and a staff writer, said to Axios, regarding Forbes' response to the survey.
Of note: Forbes has taken on DE&I initiatives. In 2020, it launched the Forbes Scholars program in partnership with Morehouse College to place HBCU (historically black colleges and universities) students and graduates into the newsroom for the summer.
Context: Other newsroom unions have created studies on pay equity and shared them internally and publicly during contract negotiations.
NewsGuild published a study in 2021 of 14 unionized newsrooms owned by Gannett in which women earned $9,845 less than the median salary of men. A Gannett spokesperson at the time said the information was outdated and criticized the methodology.
NPR's union found in 2022 that 75% of employees within its three highest salary bands identified as white. NPR executives acknowledged the pay gap issues internally.
The big picture: Tensions between the union and management come as Forbes prepares to transition its ownership to 28-year-old tech entrepreneur Austin Russell, who is relying on a number of outside investors to help fund his bid to buy the company.
Should the deal close by its deadline on Nov. 1, Russell may choose to shake things up at the company, including its management structure.
"I think people are, in general, cautiously optimistic," Tucker says. "Austin Russell has been in a town hall with us where he's saying, basically, he's going to be pretty hands off from the newsroom. ... Maybe he'll be more receptive to address some of [the pay issues] and resolve it, and we'll be able to move on from that."
Go deeper