Forbes' would-be new owner hunts for more American investors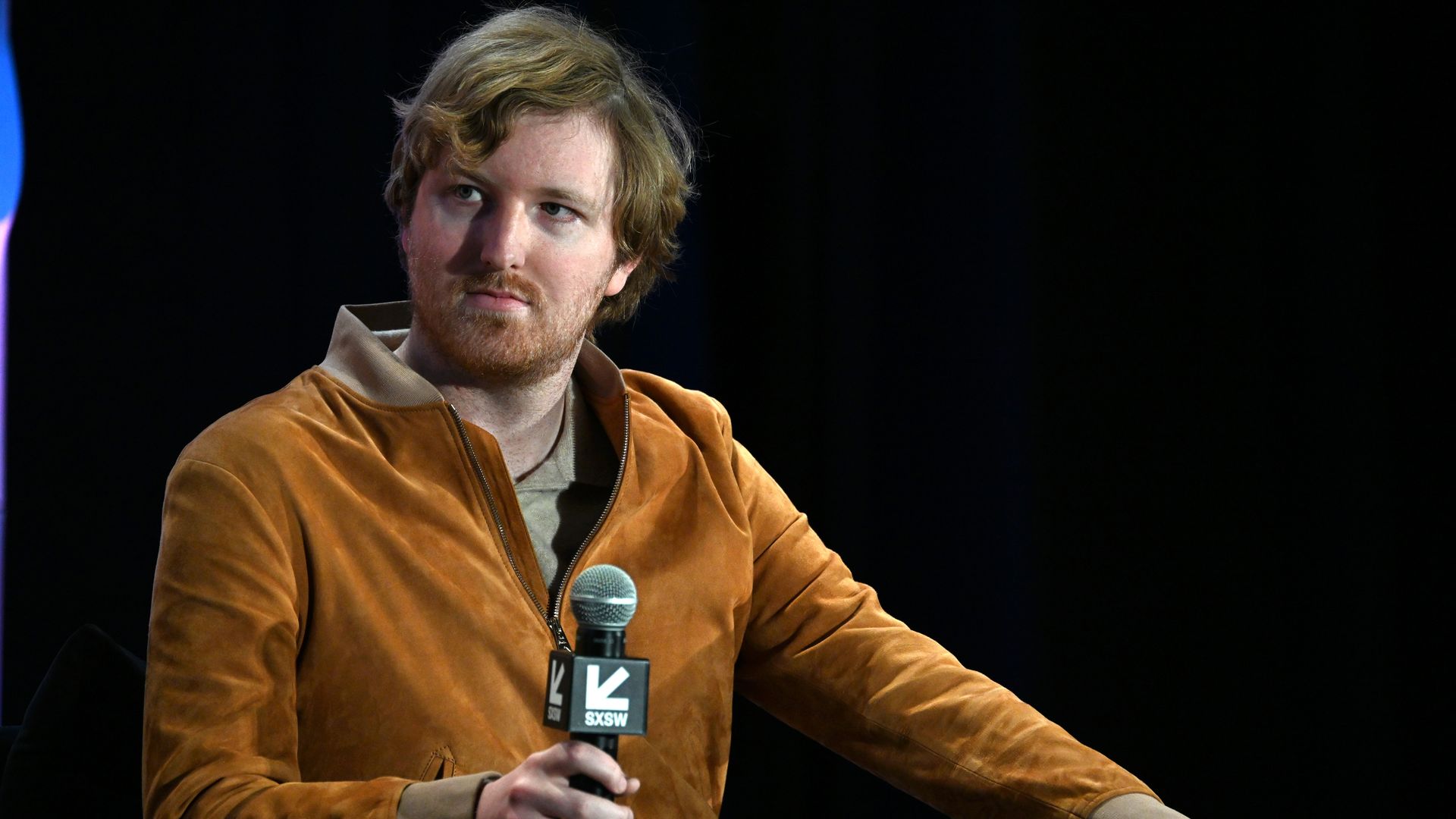 Austin Russell, the 28-year-old entrepreneur who says he has struck a deal to buy 82% of Forbes, is working to pull more American dollars into his takeover bid ahead of a Nov. 1 deadline to close the deal, sources familiar with the deal told Axios.
Why it matters: The deal structure he inherited when he took over the buyout process from Sun Group, an India-based investment group with ties to Russia, included a slew of foreign investors, as well as an all-male list of potential board members.
Russell is looking to change the makeup of the investor pool and the board before the Nov. 1 deadline to ensure more Americans are involved in the deal and the board is more diverse, two sources familiar with his thinking told Axios.
Details: The current majority owners of Forbes, a Hong Kong-based investment group called Integrated Whale Media, will retain a 10% stake in Forbes valued at roughly $80 million, sources told Axios. (The deal values Forbes at roughly $800 million total.)
The general partnership structure for the buyout representing the remainder of the company, valued at $720 million, includes four entities: two that make up Russell's 82% ownership stake, Sun Group and an Abu Dhabi investment firm listed as Capital Investment LLC, formerly listed as Abu Dhabi Capital Group.
Driving the news: In the past two months, the deal has shifted so that Sun Group has a much smaller portion of carried interest on the deal, 8%, than the previous deal, which gave it 35%.
The Abu Dhabi investment firm will get 5%. Russell's two ownership entities will get a total of 87% — 15% goes to an entity that Russell controls that allocates bonuses to management and 72% goes to an entity managed by Russell's family office.
Because 5% of the bonus pool has already been allocated, the two Russell-controlled entities are left with 82% control over the investment group acquiring Forbes, giving Russell majority control over the company when the deal closes from a financial perspective and a voting control perspective.
The Committee on Foreign Investment in the United States reviews deals of a certain size that involve foreign investors. But it does not have the jurisdiction to review passive investments in transactions in which a foreign investor owns less than 10% of an entity and doesn't have control, such as a board seat or voting power.
State of play: More Americans have been brought into the bid in recent weeks to represent hundreds of millions of dollars, although it's unclear where exactly all of the money originates.
At least $100 million of the roughly $300 million originally committed by Sun Group vice chair Shiv Khemka will now flow through two of Khemka's daughters, who were born in the U.S. and live in New York.
Roughly $200 million is being committed by Nikhil Sinha, an American academic turned businessman based in Silicon Valley. Sinha, two sources noted, is not committing any of his own cash.
Sinha said in a statement to Axios, "There is no capital being invested by me from the Sun Group or any other non-U.S. investor," but he did not say where he was getting the $200 million from.
Sinha today is CEO of OneValley, a startup incubator formerly known as GSVlabs. OneValley is a relatively small company. It has raised $17 million in capital, per Crunchbase, and has roughly 100 employees, per LinkedIn.
GSVlabs is affiliated with GSV, a Silicon Valley-based investment group that has been involved in the Forbes bid.
Between the lines: Russell, who remains CEO of his own publicly traded firm, Luminar Technologies, inherited the deal structure to buy Forbes from Sun Group a few months ago, after Sun Group was dropped as the lead investor in the bid due to concerns it might be blocked by regulators.
Russell's family office said in a statement that "all capital for the acquisition has been fully contractually committed," and noted, "The majority of commitments are directly from American citizens, and this majority calculation does not include capital from the Khemka family."
As part of that transition, some of the paperwork about the deal that has been submitted to CFIUS for review and circulated among limited partners in the deal included a list of six board members, which doesn't include any women, according to sources who have reviewed the paperwork this month.
What they're saying: A spokesperson for Austin Russell said, "The new Forbes board has not been decided, with top tier and diverse media, tech and AI leaders currently being curated to oversee the next generation of Forbes. Only names announced by Austin's family office will be accurate, which will take place prior to closing."
Forbes did not comment. Sun Group did not respond to a request for comment. Integrated Whale Media did not comment.
What to watch: The complicated structure of the bid continues to evolve as the investment group tries to raise cash and wrangle investors.
Some of the investors who were eyeing the deal, including Kazakhstani businessman Bulat Utemuratov, are no longer involved in the talks, sources told Axios.
Integrated Whale Media has been trying to sell Forbes for years.
The Forbes family would give up its 5% stake and Steve Forbes will leave the board as part of the deal, a source familiar with the deal told Axios.
Go deeper