Cannabis testing declines as businesses adapt to widespread legalization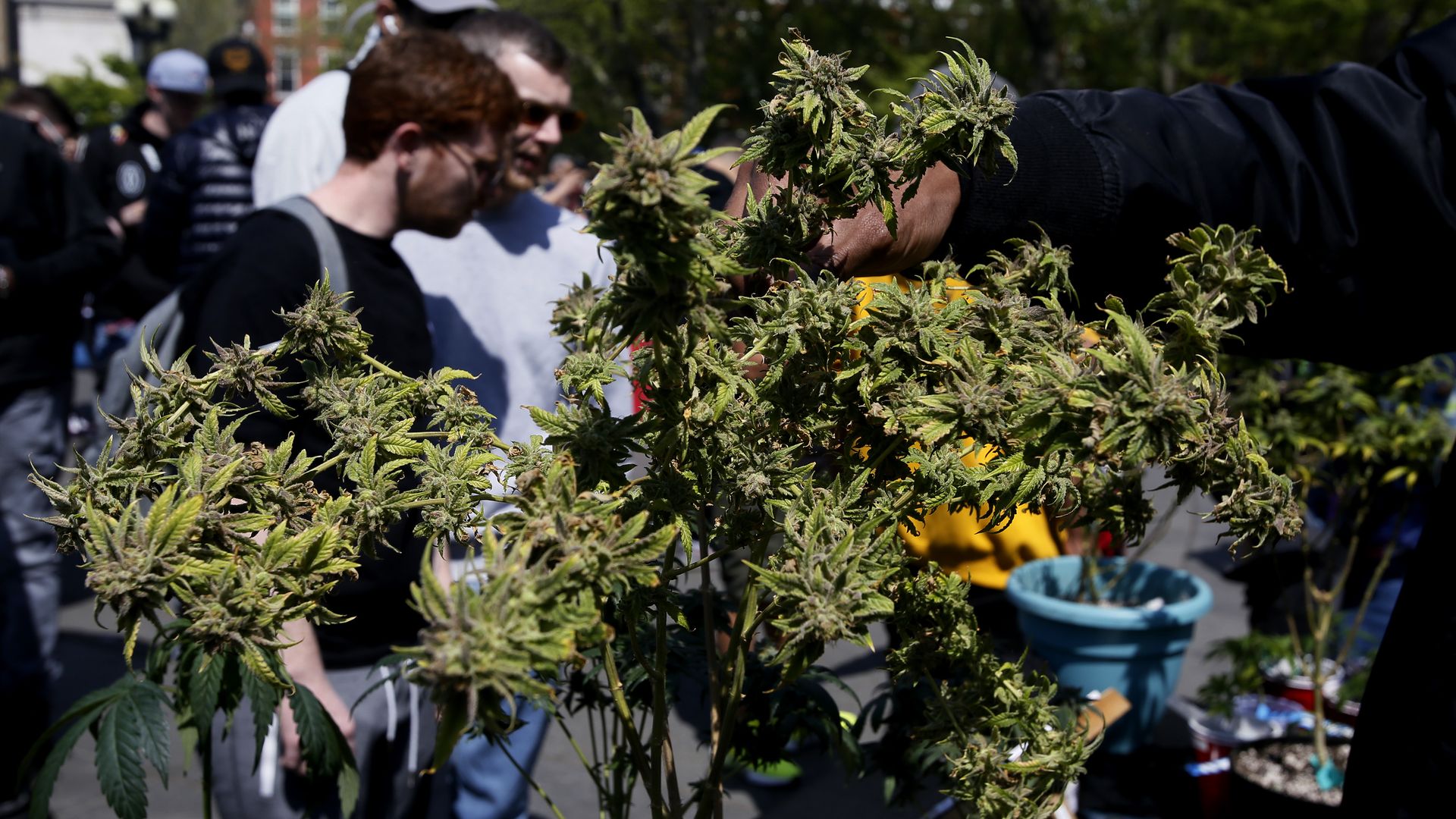 Fewer businesses are testing employees or prospective hires for cannabis use in response to widespread legalization of the drug, according to data from Quest Diagnostics, one of the largest drug-testing laboratories in the country.
Why it matters: The drop in testing comes amid "overwhelming" support for legalization for medical and recreational purposes, indicating that the drug is becoming more socially acceptable.
With unemployment near record lows and marijuana use having steadily increased in recent years, dropping the test could allow businesses to pick up new hires who otherwise may have been ineligible for employment based on their test results, said Suhash Harwani, a senior director for Quest Diagnostics.
State of play: In addition to rapidly changing legalization laws, businesses also face an expanding maze of mandates seeking to protect employees who lawfully consume cannabis while off the clock.
California, New York, Washington and D.C. have passed laws that prevent employers from either terminating certain employees or denying a person a position based solely on a positive marijuana test.
The federal legal landscape surrounding marijuana and the workplace is also shifting, with the Department of Transport finalizing a rule earlier this year that will allow regulated employers to test workers for marijuana use orally.
Despite efforts to legalize cannabis nationwide, it remains illegal on the federal level, while state laws regulating it have changed rapidly over the last few decades.
Currently, at least 23 states and D.C, Guam and the Northern Mariana Islands have legalized marijuana for recreational use or possession.
Minnesota became the latest state to legalize recreational use, though other states may soon follow.
Most states that do not allow recreational marijuana either have medical cannabis programs or allow the consumption of low-THC, high-cannabidiol products for limited medical reasons.
Only in Kansas, Nebraska and Idaho is marijuana fully illegal.
By the numbers: Recent analysis of millions of employee drug tests indicates that more U.S. workers are using cannabis but that marijuana-induced workplace accidents may also be on the rise.
Positive drug tests among U.S. workers hit the highest level in decades in 2021, which was in part driven by an 8.9% increase in positive marijuana tests, according to Quest Diagnostics.
A separate Quest Diagnostics report found that the percentage of employees who tested positive for marijuana use following an on-the-job accident hit 7.3% in 2022, which was up from 6.7% in 2021 and the highest recorded level in 25 years.
The big picture: Sports leagues, too, are relaxing their marijuana rules.
Amazon, the second-largest employer in the U.S., said in 2021 that it would no longer screen certain workers for the drug.
It said it would still screen employees in positions regulated by the Department of Transportation, such as drivers, though it would treat marijuana consumption in the same way it does alcohol use.
Go deeper: Virginia Gov. Youngkin "not interested" in legalizing marijuana sales
Go deeper