Peru's anti-government movement reignited months after deadly protests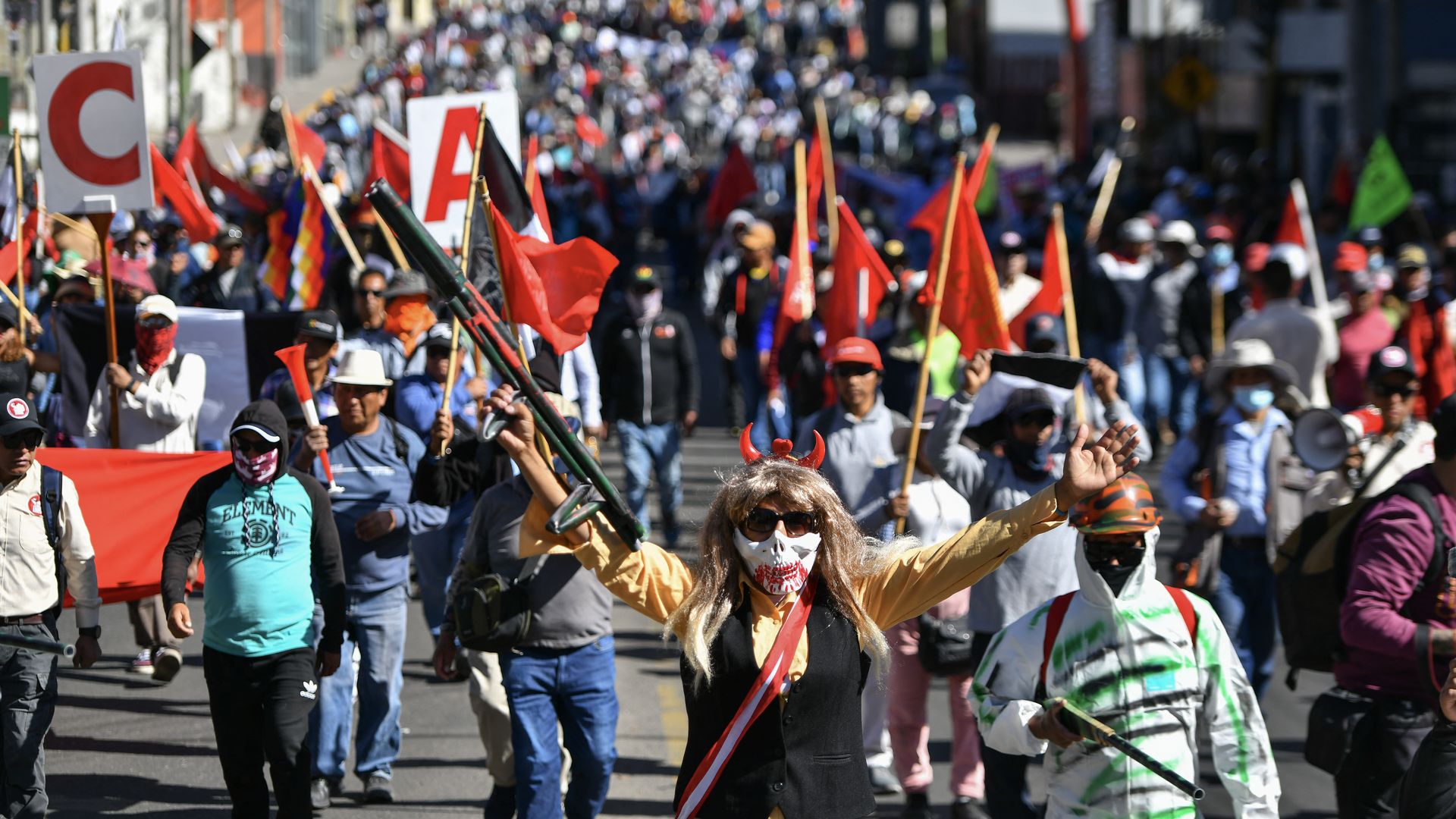 Peruvian protesters on Wednesday reignited protests demanding early elections and the resignation of President Dina Boluarte, months after more than 60 people died in similar mobilizations.
Why it matters: This time around, the protests were called for and coordinated by mine workers and unions, who've threatened a work stoppage to exert pressure. Mining is a major contributor to the economy of Peru, the world's second largest producer of copper.
Human rights advocates said they were monitoring for violence after Boluarte said any protests would be taken as a "threat to democracy" and cabinet members warned that police would "legitimately make use of force."
What to know: Anti-government protesters are looking to rebuild the momentum from early this year, when thousands of Peruvians — many of them Indigenous and from high-poverty areas — marched calling for early elections after Congress removed former President Pedro Castillo from office when he tried to rule by decree. The protests were met with a violent crackdown.
About 60 people died and almost 2,000 were injured, according to the human rights ombudsman's office.
Government and security officials, including Boluarte, are under investigation in connection to the crackdown. Boluarte denies any wrongdoing, and her lawyer has claimed authorities' reaction was in "legitimate defense."
Reports from local NGOs, as well as Amnesty International and the Inter-American Commission on Human Rights, found police and military used excessive force and carried out extrajudicial killings.
Context: Boluarte, one of Castillo's two vice presidents, assumed the role of president by default in December, prompting criticism that the will of voters was cheated.
Boluarte initially said she supported holding early presidential elections, but said last month she planned on staying in the role until 2026, when Castillo's term would have ended.
Holding elections ahead of schedule requires congressional approval, but lawmakers have voted the option down five times this year.
What they're saying: "The resignation is the most ideal scenario in this social and political crisis we are living, and the massive rejection from Peruvians. Yet President Dina Boluarte and Congress refuse to listen," Santos Saavedra Vásquez, leader of the farmer's union CUNARC, told local newspaper La República.
Of note: Congress and Boluarte have some of the lowest approval rates in the Americas: a June poll says only 6% approve of Congress and 12% of the president.
Subscribe to Axios Latino to get vital news about Latinos and Latin America, delivered to your inbox on Tuesdays and Thursdays.
Go deeper