Peru is locked in political crisis with no clear way out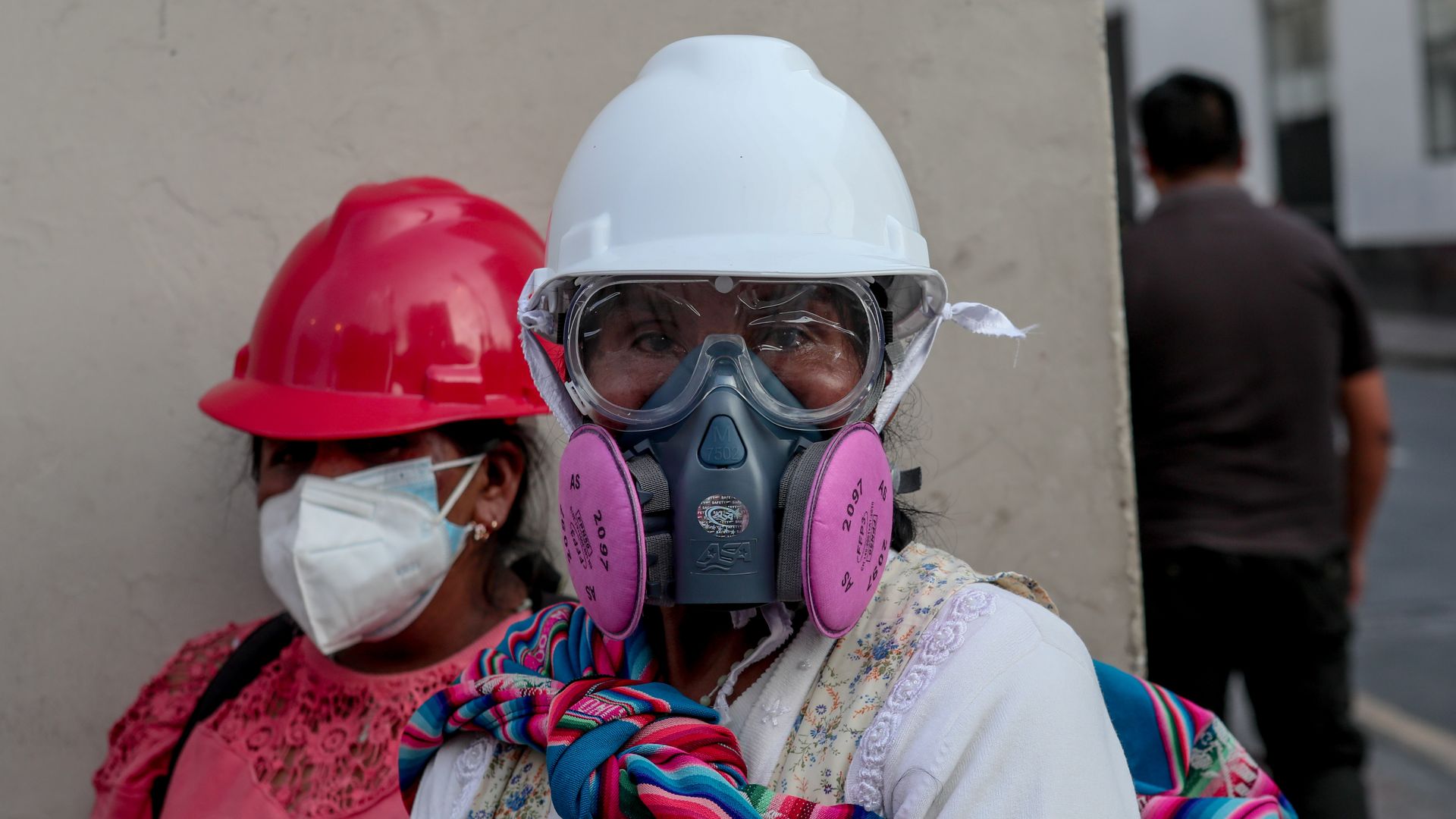 The monthslong unrest rocking Peru reflects a larger discontent with how politicians have traditionally run the nation.
The big picture: The crisis has become so entrenched and widespread that there's no clear path out of the tumult.
Now, the economy is hurting even more than it already was, according to an analysis by business platform BN Americas.
That's putting even more strain on Peru's poorest residents and Indigenous communities, who have long felt abandoned by politicians and were at the heart of protests when they first began.
State of play: Nearly 60 people have died and more than 1,200 have been injured during protests that began after the December ouster of President Pedro Castillo, who had tried to disband Congress as lawmakers voted to impeach him.
Protesters are demanding that national elections be moved up from 2026 to this year, but Congress has voted against doing so four times.
Human rights activists and protesters allege the government has used excessive force to stem protests.
New President Dina Boluarte, who was Castillo's vice president, has defended the government's response and said that she remains open to dialogue.
Between the lines: Many Peruvians have long held that politicians only care about the capital and are clinging to power to avoid being investigated for corruption because they have political immunity while in office.
They say lawmakers gloss over pressing matters like improving health care or education and that they're elitists who don't understand Peruvians' everyday struggles.
Castillo, who was the first president in Peru's modern history from a rural area, made Indigenous and rural Peruvians feel they would finally have a champion in government.
Instead, Castillo's 17 months in office were marked by the same battling relationship that has existed between Peruvian presidents and Congress during the past decade. Peru has had six presidents in as many years.
What they're saying: The discontent with the government is widespread, political scientist Paula Távara Pineda, of the Pontifical Catholic University of Peru, tells Axios Latino.
Polls show around 76% of people in Peru disapprove of Boluarte.
89% disapprove of Congress.
60% of Peruvians say the protests are justified, and three out of 4 people said that elections should be held this year.
"It may seem even more chaotic to push for elections to be held now, but it's what's needed so someone more credible has a seat at the table," Távara Pineda says.
What to watch: Congress' term is set to end this Friday, and it's unclear if lawmakers will debate holding early elections by then. The new term is scheduled to start in March.
Subscribe to Axios Latino to get vital news about Latinos and Latin America, delivered to your inbox on Tuesdays and Thursdays.
Go deeper