Experimental drug slows Alzheimer's decline in early-stage patients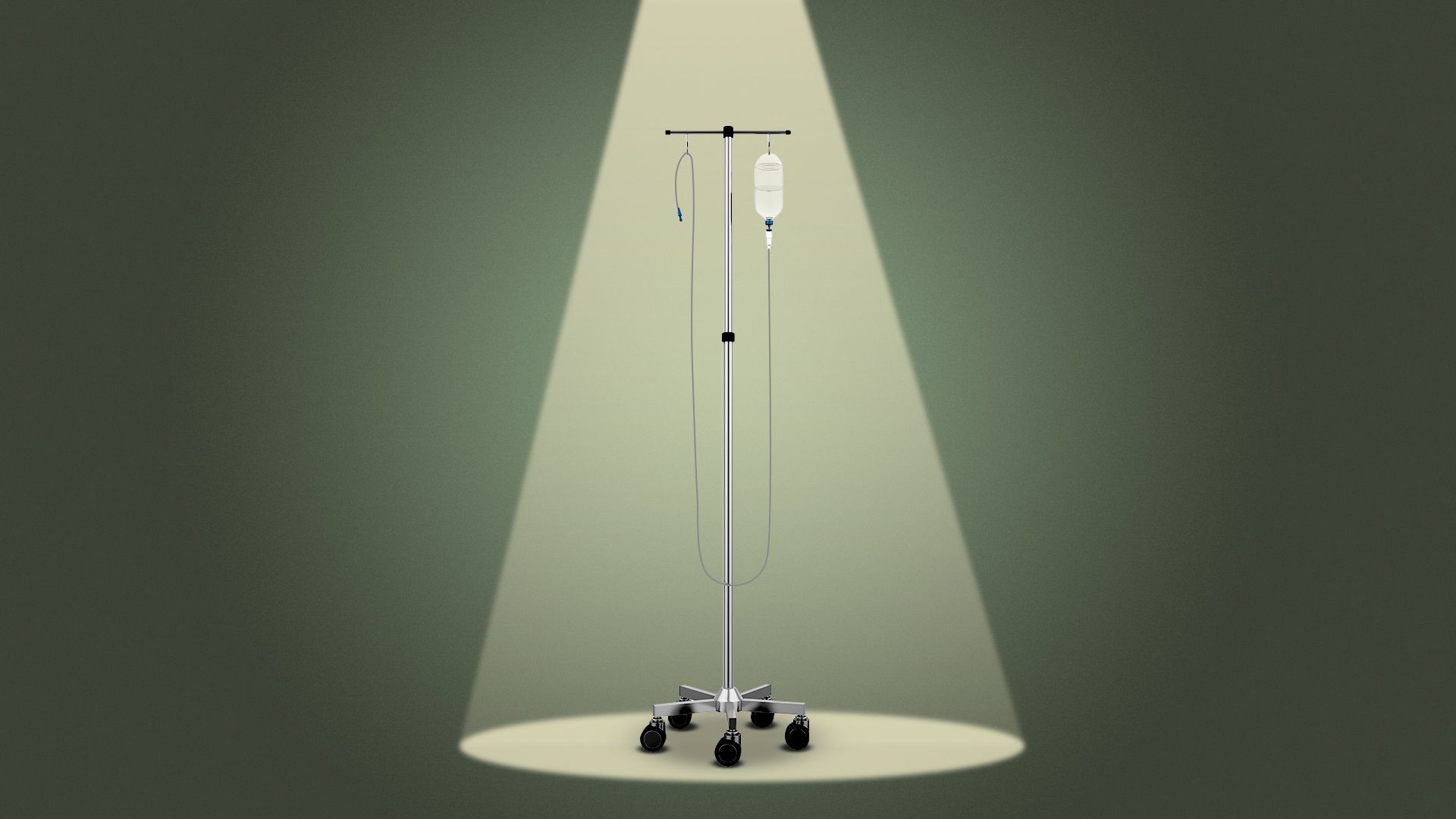 An experimental Alzheimer's drug from Eli Lilly was shown effective in slowing the disease's progression by about a third — and more so when it was administered as early as possible, when patients only suffered mild cognitive impairment.
Driving the news: The drug giant on Monday released full clinical trial results for its treatment donanemab, which could become the second FDA-approved drug of its kind to receive full approval, and accompanying Medicare coverage.
It was shown to be 35% effective at slowing the rate of the disease, and 60% effective in early stage patients.
"It's a very important landmark in the field," said Howard Fillit, co-founder and chief science officer of the Alzheimer's Drug Discovery Foundation, adding that the 60% efficacy in early-stage patients is "the most we've seen with any drug ever."
"I think it's going to be a real game-changer for people with Alzheimer's and their loved ones," Fillit added.
The big picture: Eli Lilly officials said at the Alzheimer's Association International Conference in Amsterdam that the company has already applied for FDA traditional approval and expects to get a decision by the end of this year.
Donanemab would follow Leqembi from Eisai and Biogen, and Aduhelm, also from Biogen, in gaining FDA approval.
But there still are safety concerns, according to experts, who pointed to cases of brain-swelling and bleeding among patients enrolled in the trial.
Details: Lilly's 18-month trial evaluated over 1,700 participants aged 60 to 85 years with early symptomatic Alzheimer's disease, half of whom took donanemab and half took a placebo.
The drug, like Leqembi, looks to reduce the amount of proteins known as amyloid plaques that are believed to contribute to the development of Alzheimer's.
Additionally, the trial looked at patients with tau, another protein that can get tangled in the brain and is believed to then lead to cognitive decline. By lowering amyloids, the drug can slow the spread of tau.
"This is one of the first times tau PET imaging agent has been used in clinical trials," Fillit told Axios. Because the increase of tau tangles correlates with clinical symptoms, taking them into account "is really a better way to stage people."
By the numbers: In people with low or medium levels of tau, the drug was shown to delay decline by approximately 35%, which essentially translates to slowing the disease by about four and a half to seven and a half months, Dawn Brooks, Eli Lilly's global development leader for donanemab, told Axios.
When including patients with high levels of tau — whose disease has progressed further — to the overall calculation, donanemab slowed decline by 22% to 29%, depending on the assessment tool used to measure.
On the 214 participants with mild cognitive impairment, the earliest stage of Alzheimer's, donanemab slowed decline by 60% or 46%, depending on the assessment measure.
The drug slowed decline on participants under the age of 75 by 48% or 45%, and on participants over 75 by 25% or 29%, again depending on the assessment tool.
What they're saying: "People living with early, symptomatic Alzheimer's disease are still working, enjoying trips, sharing quality time with family — they want to feel like themselves, for longer," said Mark Mintun, vice president of neuroscience research and development for Eli Lilly.
"The results of this study reinforce the importance of diagnosing and treating disease sooner than we do today," he added.
Worth noting: In every assessment tool, the overall effect of donanemab continued to grow throughout the trial, with the largest differences versus the placebo seen at around 18 months.
Lilly researchers said during a press briefing that the data appeared to suggest that donanemab's effects continued even after treatment was done, although more research needed to be conducted to confirm that hypothesis.
Yes, but: Participants who took donanemab saw more adverse effects than those who took the placebo, including brain swelling and bleeding.
There were 16 deaths in the donanemab population, with three considered to be related to the treatment.
Nearly 37% of donanemab patients experienced brain swelling or bleeding (a higher rate than Leqembi), compared to around 15% on those that took the placebo.
"One has to balance that in every discussion with a patient, there has to be a discussion of risk and benefit," Mintun said at the Alzheimer's Association conference.
What we're watching: It's still unclear how much donanemab would cost, but if it gets FDA full approval and eventually hits the market, it would be covered by Medicare if a patient's prescribing physician agrees to collect and share data on the drug's real-world performance.
Go deeper