Trump's spiciest feuds with popular GOP governors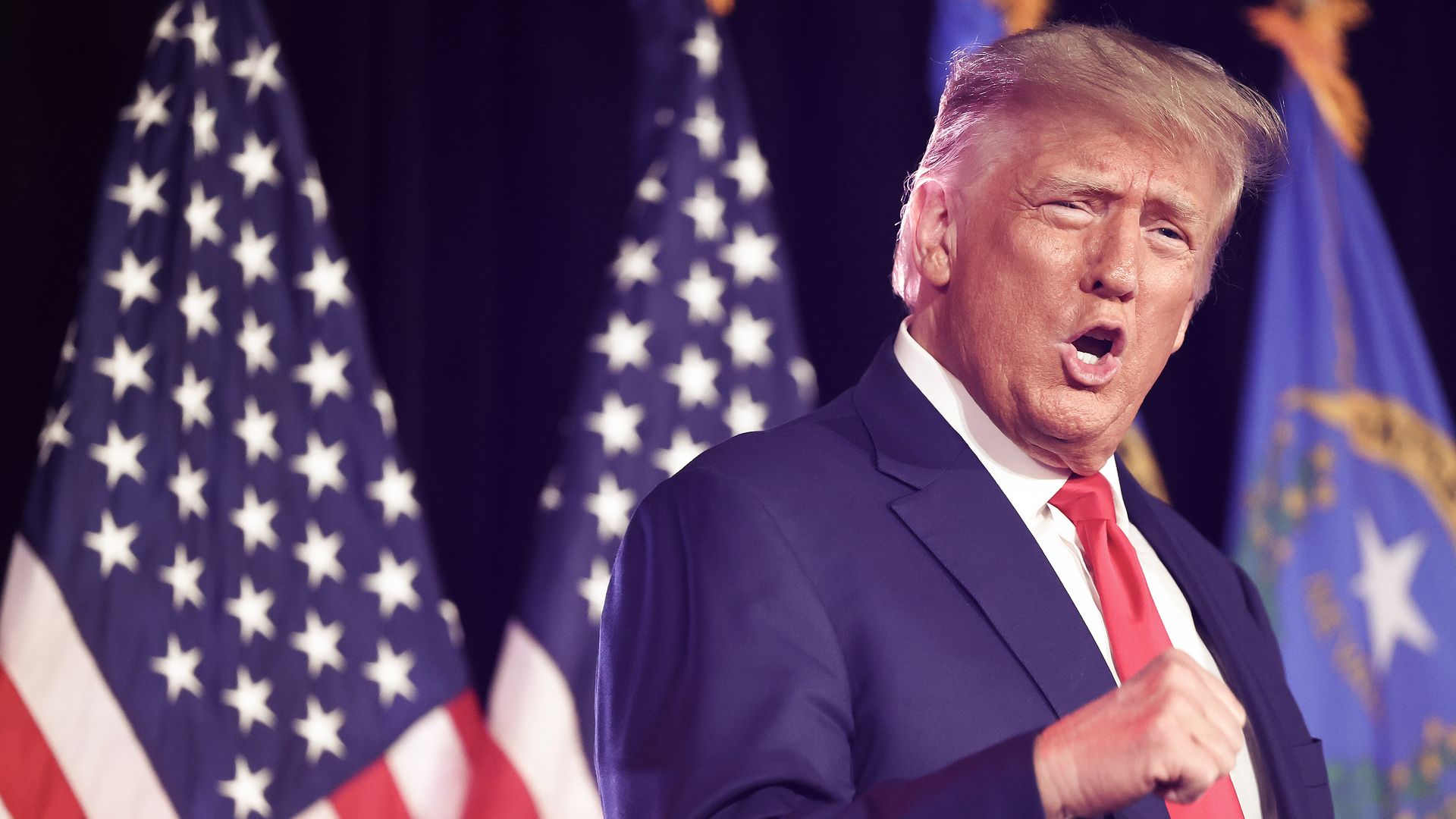 Former President Trump keeps turning on Republicans he helped into power, most notably with a growing number of feuds against high-profile GOP governors.
Why it matters: Trump is flexing his commanding lead in the crowded primary to exert his influence, underscoring a widening rift between his dominance and some powerful party members.
"This is him saying you might be the 500-pound gorilla in your state, but I'm the 1,000-pound gorilla," Republican strategist Ken Spain told Axios.
"He wants to come in over the top and demonstrate that he's the Alpha Republican."
Driving the news: Trump has feuded at one point with Republican Govs. Brian Kemp (Ga.), Kim Reynolds (Iowa) and Ron DeSantis (Fla.), all of whom he endorsed at some point and now says they've proven to be disloyal.
Trump slammed Reynolds on Monday for vowing to stay neutral in the crowded Republican primary.
He endorsed Reynolds in 2018, when she narrowly won a full term with 50.3% of the vote.
Reynolds, who cruised to victory in 2022 winning 95 of the state's 99 counties, has appeared recently with DeSantis, prompting criticism from Trump's campaign, the New York Times reports.
A spokesperson for Trump's campaign did not respond to Axios' request for comment.
In Georgia, Trump and Gov. Brian Kemp have had a tense relationship since the 2020 election, when Trump pressured him on President Biden's victory in the state.
Trump, who offered an unexpected endorsement of Kemp during a heated runoff in 2018, has repeatedly railed against him since 2020.
But Kemp has defied Trump's attacks and held a commanding victory during Georgia's 2022 Republican primary, winning 73% of the vote over Trump-backed former Sen. David Perdue.
In Florida, Trump's biggest competitor in the 2024 primary is the repeated target of his attacks of disloyalty.
"I got him elected," Trump told Fox News about DeSantis last month. "And I thought it was very disloyal when he said 'Yes, I'd run.' I got him past two races."
Trump endorsed DeSantis for governor in 2017, calling him "a brilliant young leader."
The big picture: Trump has also clashed with New Hampshire Gov. Chris Sununu and Arizona Gov. Doug Ducey. Both of the governors won by double-digit margins in 2022 and 2018 respectively.
But Republican strategists say it's unlikely that any Trump offensives will move the needle in either direction.
"His attacking Doug Ducey has nothing to do with their vote," Arizona-based GOP strategist Barrett Marson told Axios. "No one said, 'Oh, the way he treated Doug Ducey, I'm not going to vote for him.'"
"Trump voters are ride or die. And they will go over the cliff with him," he said.
Go deeper: Trump's basement campaign
Go deeper