Kavanaugh calls SCOTUS "government at its finest" amid ethics concerns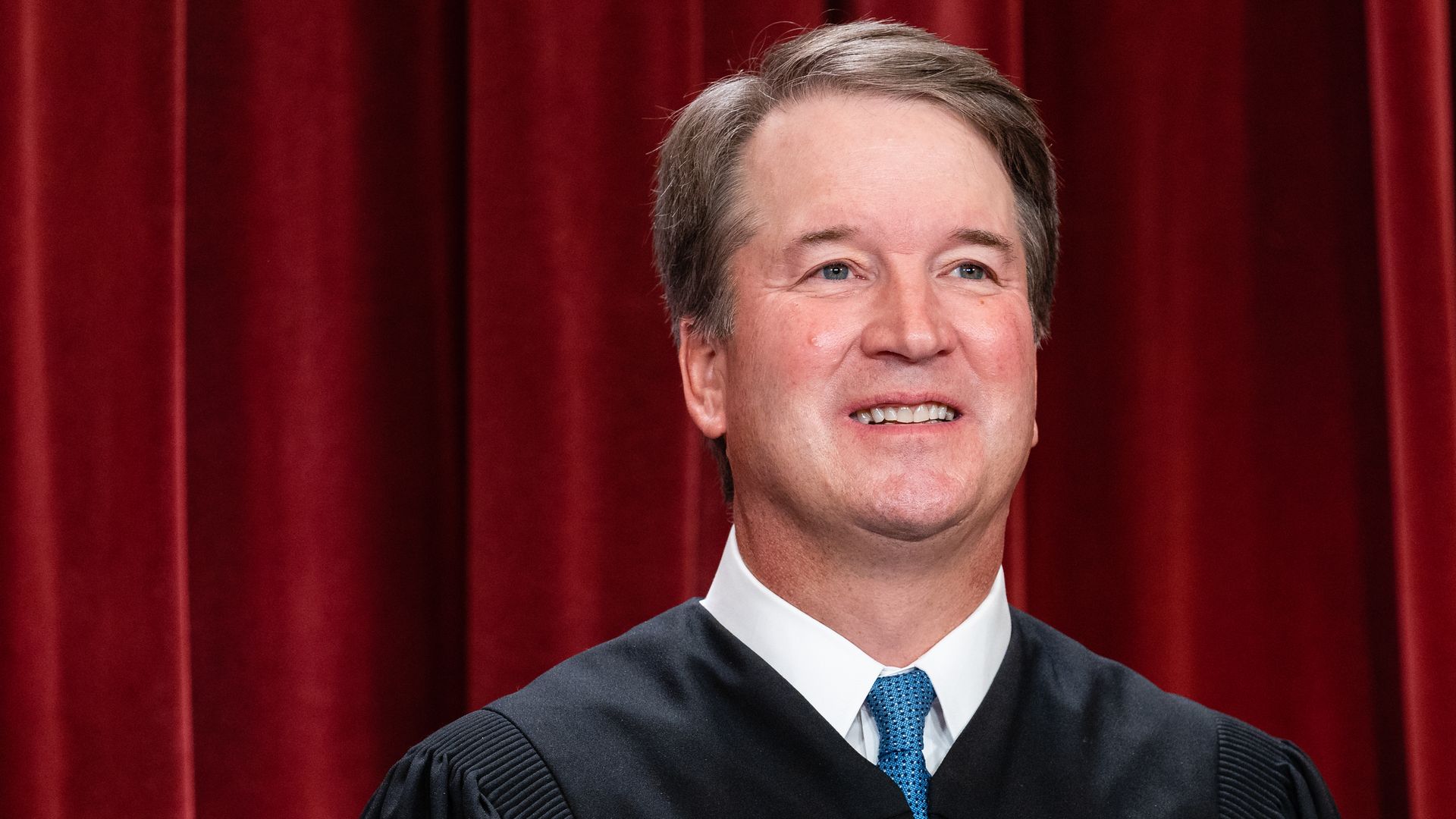 Justice Brett Kavanaugh lauded the operations of the current Supreme Court as "government at its finest" in public remarks on Thursday, despite ethical and political controversies facing the court, the Washington Post reports.
Why it matters: Kavanaugh's remarks at the annual 8th Circuit Judicial Conference in Bloomington, Minnesota, were the first public appearance of a justice since the court ended its latest highly charged session.
What they're saying: Kavanaugh avoided speaking to the court's more controversial decisions and instead focused on how he and the other eight justices work together, saying, "We work as a group of nine, as a team of nine."
"We don't caucus in separate rooms," Kavanaugh said. "We don't meet separately. We're not sitting on different sides of the aisle at oral argument, so to speak, on the bench"
His description contrasted what the public saw in the opinions of one of the final cases of the session, in which Chief Justice John Roberts admonished justices for criticizing the court for "going beyond the proper role of the judiciary" in their dissenting opinions.
Robert's criticism may have been directed at Justice Elena Kagan, who said the court exceeded "its proper, limited role in our Nation's governance" in striking down the student loan proposal.
The big picture: Kavanaugh also steered clear of the multiple ethics concerns revealed this year, insisting that it is an apolitical institution.
"The court is an institution of law, not of politics, not of partisanship," Kavanaugh said at the conference.
Investigations by ProPublica revealed that both Justices Clarence Thomas and Samuel Alito accepted gifts and other benefits from Republican donors who had interests before the court.
Politico reported that Justice Neil Gorsuch sold a 40-acre property to the chief executive of a leading law firm that often has business before the high court just nine days after he was confirmed by the Senate.
AP reported on Monday that staff for Justice Sonia Sotomayor had "prodded" public institutions that hosted her to buy books.
These ethics concerns, and more, have spurred Senate Democrats to push the Supreme Court to create or adopt an ethics code for justices, as it is the only court in the federal judiciary that does not have a formal code.
Go deeper: Supreme Court ideology continues to lean conservative, new data shows
Go deeper